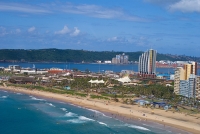 Best Restaurants in Durban
Eating out in Durban is a multicultural activity, with its large and diverse cultural communities each bringing their own distinctive flavour to the table.
Durban''s Indian population, one of the largest outside of India, permeates its cuisine at nearly every level. Take-away curry restaurants abound on every corner, offering samoosas and Durban''s own traditional food, the ''bunny chow'': a hollowed-out loaf of bread filled with a hot helping of beef, mutton, chicken, prawn or bean curry. Thanks to the generous helpings of peri-peri chillies, the curries tend to be very spicy at most traditional restaurants; most waiters will be able to recommend dishes suited to more sensitive palates, though. If you find yourself battling with the spiciness, you can end your meal with a bowl of mild soji (semolina pudding) and cream. Iconic restaurant Silverani''s in Berea is a great place for true Durban curries.
Because of the large Muslim population, many Indian restaurants follow Halaal guidelines. Vegetarian options tend to be somewhat lacking overall in Durban restaurants however, apart from vegetable curries.
Durban''s strong and proud Zulu culture makes its own contributions to local cuisine, though you''ll find it mostly in more rural areas. Traditional restaurants in the Valley of 1000 Hills and Eshowe offer hearty meals of amadumbi (Zulu potatoes), uphuthu or pap (hard maize porridge), mogodu (tripe), and more adventurous options like boiled chicken feet and sheep heads.
Restaurants tend to be clustered in residential districts like Glenwood''s Helen Joseph Road, Morningside''s Florida Road, or Durban North''s Kensington Drive. There are cosmopolitan options to suit every taste, including Chinese, Italian, Portuguese, Greek, Mexican, Moroccan, Mediterranean fusion and sushi.
There is cheap food and fine dining for every budget when deciding where to eat in Durban, ranging from burger joints like Steers and Wimpy to the elegant Roma Revolving Restaurant, which offers a romantic atmosphere, decadent food, and spectacular views as it rotates on the 32nd floor of a South Beach skyscraper.
Most restaurants close their kitchens promptly at 10pm; however you''ll find a few late-night dining options in the party districts like Florida Road and Suncoast Casino, and Chartwell Drive in Umhlanga. Pizza and pasta eatery Spiga d''Oro is popular with locals, staying open until 3am on weekends.
Tipping is always encouraged, as many waiters don''t receive a wage. 10 percent is the standard minimum, going up to 15 percent for very good service. Most restaurants accept credit cards, but don''t let it out of your sight as identity theft is a concern in South Africa.