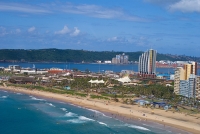 Things to do in Durban
Durban''s beautiful subtropical climate means the city enjoys a relaxed outdoor lifestyle that makes it a great destination to visit at any time of the year. Renovations for the FIFA World Cup in 2010 have given its tourist infrastructure a sparkling new finish, and ensure that there''s always plenty to see and do in Durban.
The first place to start for Durban sightseeing is definitely the beach, with its famed Golden Mile stretching four miles (6km) from the neon-lit Suncoast Casino in the north to uShaka Marine World in the south. The Golden Mile is famous for its mild water temperatures, great surfing, and beautiful setting. There are plenty of beach bars and restaurants to choose from when enjoying a sundowner cocktail or local beer. The beaches are patrolled by colourful Zulu rickshaw pullers, who will give you the royal treatment and a ride over the short distance of the promenade.
uShaka Marine World in South Beach is Durban''s newest major tourist attraction, with massive aquariums displaying fish and marine life from all over the world, and a Wet n'' Wild Waterpark with eight water rides ranging from gentle to extreme. You can even go shark diving or snorkelling for an up close and personal experience. It''s a relatively short walk from the Golden Mile, and opens right onto the beach.
Durban''s Botanic Gardens, centrally located in Greyville and accessible by bus or taxi, are beautifully-maintained, and have one of the best collections of plants in the world. They host regular Sunday afternoon concerts, and are a great place to take the kids for a relaxed picnic. The Gardens are popular for wedding pictures as well, and bridal parties of all cultures can be spotted there on Saturdays.
More adventurous travellers will want to take advantage of the plethora of water sports available in Durban, including surfing, swimming and kiteboarding from the Golden Mile; snorkelling and scuba diving among the shipwrecks at Aliwal Shoal; or just going for a boat cruise in the harbour. Those more comfortable on land can enjoy hikes through the Mangrove Swamp or spotting zebras, rhinos, hippos, and other game in the Kenneth Steinbank Reserve or Tala Valley.
Most attractions in Durban are relatively safe, as long as travellers refrain from wearing expensive jewellery and clothing and showing expensive cameras. It is always best to stay in a group when walking around in urban areas.