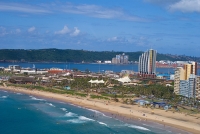 Durban Shopping
Durban is home to several of the largest shopping malls in the southern hemisphere as well as a plethora of traditional markets, boutiques, craft fairs and independent stores, ensuring a wide variety of experiences for visitors looking for gifts, souvenirs, and mementos of their Durban holiday.
For those who crave a breadth of choice, the nearby coastal town of Umhlanga boasts the Gateway Theatre of Shopping, with over 420 stores offering everything from designer clothing and jewellery to furniture, electronics, music and books. It''s also home to the Kizo Gallery, which specialises in local art. Gateway is a great family excursion as well, with dozens of restaurants, an IMAX movie theatre, a wavehouse, a skate park designed by Tony Hawk, and a new indoor funfair with go-karts and other rides.
The Pavilion, just inland in the suburb of Westville, is another popular Durban shopping destination. In addition to stores, it has a miniature golf course, movie theatres, skate ramp, and a great selection of restaurants.
The more adventurous shopper might head to the Victoria Street Market in Durban''s central business district to catch the scent of herbs and spices and traditional muti (medicine) sold by traditional Zulu healers. You can bargain your way to a great deal on many handcrafted local items, including elephant hair bracelets, soapstone carvings, wooden drums, and tribal masks. Other distinctive Durban souvenirs include hand-woven baskets made of wire, colourful saris, traditional Zulu "shwe-shwe" fabric, and Indian spices. It''s a must-see, but be careful not to show expensive cell phones, cameras, jewellery, or cash, and keep a watchful eye for pick-pockets.
Other markets to visit include the weekday Workshop market, which surrounds a local shopping centre in the central business district set inside an old train workshop; Essenwood Market, which offers fashion, art, music and food beneath the trees in a park in centrally-located Musgrave on Saturday mornings; and the hawkers at the beachfront, who offer many traditional Durban things to buy, including popular souvenirs like miniature Zulu shields and knobkerries, paintings, wire sculptures and Ndebele beaded jewellery.
Stores in Durban close early, at 5pm on weekdays, 6pm on Fridays, and 3pm on weekends, but major shopping centres tend to stay open longer in the evening, particularly on Saturdays and Sundays. While nearly all stores and shopping centres accept credit cards (Visa, but not American Express), markets and less formal traders will only take cash.