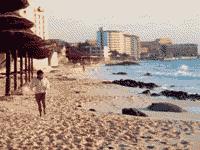 Cancun Overview
Cancun is the ultimate holiday resort in Mexico. One of the most popular holiday destinations in North America, the sprawling complex of hotels and resort complexes is overflowing with American tourists from the December holidays to Spring Break in April.
There are two sides to Cancun: one is the hotel zone, comprised entirely of all-inclusive resorts and hotels and populated just as exclusively with tourists. The other is downtown Cancun, which is a Mexican city with a number of restaurants, nightclubs, shopping malls and markets to visit.
Cancun has a reputation as a party hotspot along the lines of Las Vegas or Ibiza, and tourists in Cancun are usually looking for a holiday filled with beaches and bars rather than historical monuments or cultural attractions.
Cancun's beaches certainly don't disappoint, with sparkling white sand and clear blue waters offering the perfect setting for watersports like sailing, surfing, and paragliding. Nearby islands like Isla Mujeres and Cozumel offer quiet waters well-suited to scuba diving and snorkelling. Kids will enjoy the chance to swim with dolphins at the giant aquarium in the Xel-Ha eco theme park.
However, travellers hoping to explore Mexico's history will be able to do so at Mayan archaeological sites not far from Cancun, including the ruins at Tulum, the pyramids at Uxmal, and the famous temple of Chichen Itza.
The rampant drug war currently happening in Mexico has not left Cancun untouched, and there have been several incidents there in the last year. However, Cancun is still considered a safe destination, and city officials are working hard to maintain the safety of all tourists in Cancun.