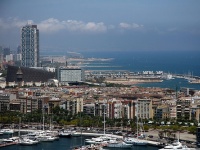 Barcelona Kids Attractions
The historic city of Barcelona offers more to its younger visitors than meets the eye. Children travelling in Barcelona will have a grand time discovering all that this exciting city has to offer and the waterfront is a great place to start where old and new ships still dock and children can enjoy a sightseeing cruise to view Barcelona from a different angle. Children will also love the cross-harbour cable car, which offers an exhilarating ride over the harbour and spectacular panoramic views.
Taking the children shopping while travelling in Barcelona is usually not a favourite pastime for parents or the children being hauled around, but stop off at one of the city''s famous (chocolate shops) and pick up an imaginatively shaped treat for the kids, such as a chocolate sailing ship, mushroom house or ferris wheel, and you''ve got yourself a deal.
With beautiful warm weather for most of the year, and very mild winters, Barcelona is one of those cities blessed with plenty of outdoor attractions and activities. Take the kids to the beach to splash around in the turquoise Mediterranean, cycle round the neighbourhoods of this bicycle friendly city, or jump on the city''s hop on hop off tourist bus. Children will love the constantly changing scenery and exciting attractions to be seen along the way.
When the weather cools down, why not head to one of the many museums dotted around the city, or the Barcelona Aquarium or Zoo where fun new learning opportunities abound and children can be captivated by the wonders of science and nature.