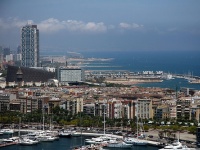 Things to do in Barcelona
Legendary rocker Freddie Mercury once described Barcelona''s beautiful horizon as ''a jewel in the sun'', a prudent observation made evident when gazing upon the city''s magnificent miles. Barcelona can best be described as a visual city. It is a sightseer''s paradise from its seven beaches to the 10 hectares (25 acres) of municipal park land allotted throughout the city. From the hills of Montjuic and Tibidabo, one can take in the scope of Barcelona and look down on the scenic tree-lined La Ramblas boulevard, the iconic pedestrian mall running from the city centre to the Port Vella, the city''s oldest harbour.
Barcelona also carries with it a rich history. Founded over 2,000 years ago, the city''s architecture reflects its Roman heritage, and carries the mark of various influences since. Particularly notable are the Catalan architecture movement founded in Barcelona, and Gaudi''s distinctive creations are among many of the city''s buildings declared as World Heritage Sites.