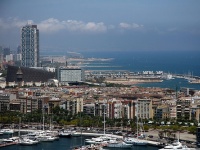 Best Restaurants in Barcelona
In 2002 Barcelona was awarded the title of most city in Europe by the prestigious Le Guide des Gourmands, the first non-French city so named in the (at the time) 15 years of the publication''s run.
Being the capital city of the Autonomous Community of Catalonia, Barcelona''s restaurants specialise in Catalan cuisine, typically flaunting the extensive use of garlic, olive oil and fish for many kinds of meals. It is not uncommon, for example, to find fish mixed with red meat in a stew. The (bread smeared in tomato and seasoned with olive oil and salt) is a signature Catalonian delicacy served with every meal in most restaurants. Tapas, now popular worldwide, originated in Spain and is a firm favourite in the city of Barcelona.
Catalonia is a premier wine region for Spain and the birthplace of Cava sparkling wine. Dark red grapes in the region make for the darker ''black'' wine, or , a stronger red concoction. Dry white wines come second to the Cava in popularity among tourists and locals alike.
Barcelona restaurants open around 8am and typically remain open until midnight. Supper hours are very late, with most residents opting to dine between 9pm and 10pm.