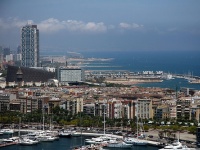 Best Restaurants in Barcelona
In 2002 Barcelona was awarded the title of most city in Europe by the prestigious Le Guide des Gourmands, the first non-French city so named in the (at the time) 15 years of the publication''s run.
Being the capital city of the Autonomous Community of Catalonia, Barcelona''s restaurants specialise in Catalan cuisine, typically flaunting the extensive use of garlic, olive oil and fish for many kinds of meals. It is not uncommon, for example, to find fish mixed with red meat in a stew. The (bread smeared in tomato and seasoned with olive oil and salt) is a signature Catalonian delicacy served with every meal in most restaurants. Tapas, now popular worldwide, originated in Spain and is a firm favourite in the city of Barcelona.
Catalonia is a premier wine region for Spain and the birthplace of Cava sparkling wine. Dark red grapes in the region make for the darker ''black'' wine, or , a stronger red concoction. Dry white wines come second to the Cava in popularity among tourists and locals alike.
Barcelona restaurants open around 8am and typically remain open until midnight. Supper hours are very late, with most residents opting to dine between 9pm and 10pm.
ABAC
The only 1-star Michelin restaurant in Barcelona, ABAC is "el bulli" style, but you can actually get a reservation. The tasting menu (without wine) is about EUR125-175 per person. The sensory experience and the amazing meal that accompany the price is well worth digging a little deeper into the wallet than normal. ABAC is known as one of the best restaurants in Spain.




CUISINE:

Spanish


Address:

Av. Tibidabo 1


Website:

www.abacbarcelona.com/eng
Paco Meralgo
Say it aloud and you'll notice the play on words if you know Spanish. Paco Meralgo is a fabulous tapas (new style/alta tapas) bar in the Eixample. Fresh food, simply prepared. A great place to go for Catalan tapas, quieter than Cerveceria Catalana. Open seven days a week for lunch from 1pm-4pm and dinner 8pm-12:30am.




CUISINE:

Tapas


Address:

c/ Muntaner 171 (chaflan Corsega)


Website:

www.pacomeralgo.com
Quimet & Quimet
This old family-run room is not an ordinary tapas restaurant and is on the fly in more ways than one. With standing room only, perfect for fast eats, the chef rolls out seemingly random (but delicious) concoctions from a huge list of ingredients lining the walls. A superb but also random wine list is best enjoyed quickly with the unique snacks before carrying on one's way. Advisable to call beforehand and check opening hours.




CUISINE:

Local


Address:

C/Poeta Cabanas 25
Comerç 24
This very trendy tapas hot spot dishes out extraordinary treats under the creative direction of Carles Abellan. Unusual food combinations are frothed, seared and caramelised until they compliment one another. The dishes are more of a tasting experience than a full meal but enough of them can add up to an eclectic way to try local cuisine.




CUISINE:

Local


Address:

Carrer Comerç 24


Website:

comerc24.com
Amaltea
Serving creative vegetarian cuisine, with dishes from all over the world and a keen eye for presentation, Amaltea is a well-known and frequented Barcelona vegetarian eatery. The décor is stylish but down to earth, ensuring that all the limelight is afforded to the colourful dishes of food that emerge out of the kitchen. For lunch there is a choice of four starters, mains and various house desserts with a fixed menu. Open for lunch Monday to Saturday and dinners on Friday and Saturday evenings.




CUISINE:

Vegetarian


Address:

Diputació 164 (esquina Villarreal)


Website:

www.amalteaygovinda.com
Can Ravell
Some serious eating goes on here, in a little decorated and unpretentious room in back of a delicatessen food store. Using speciality ingredients from around the world, gourmet food never felt so exclusive. Despite a city-wide reputation, the tiny restaurant feels like a guarded secret. Can Rovell is open from 10am to 9pm on Tuesday and Wednesday and closes an hour later from Thursday to Saturday. On Sundays this delectable restaurant serves lunch from 10am to 4pm and it is closed on Mondays.




CUISINE:

International


Address:

Carrer Aragó 313


Website:

www.ravell.com
Viena
For the best sandwiches in the city, and maybe the country, this hole in the wall take-away sandwich shop doesn't put on airs. Surrounded by fine dining restaurants and elegant tapas establishments, staff at Viena simply and quickly throw together the world's best ingredients between two delicious slices of bread and slides it across the counter. The restaurant is open from 8.30am to 11.30pm during the week and 12.30am on weekends.




CUISINE:

Local


Address:

La Rambla del Estudis 115


Website:

www.viena.es
Rubi
Not called Rubi for nothing, this vibrant restaurant and nightspot is ideal for couples and friends looking for a chic but understated modern restaurant. With bright crimson booths, an elegant bar and high ceilings, Rubi has become one of Barcelona's quintessential nightspots. In true Barcelona style, Rubi is friendly and laid-back. Serving contemporary fusion cuisine made from only the freshest produce from local markets, Rubi also bakes homemade breads and desserts. After 11.30pm the restaurant shifts gears and the venue is transformed into a groovy bar with Latin American and funk tunes, heating things up a little. Open for dinner, Tuesday to Sunday.




CUISINE:

Modern Eclectic


Address:

Calle Banys Vells, 6 bis
Oviso
One of the many unassuming sidewalk café bars on Placa George Orwell in the Gothic Quarter, Oviso offers reasonably priced food and an intimate, bohemian ambiance. Good for breakfast or an afternoon snack, this bar restaurant often serves as a place to begin a night out or to end a long day. Great for people watching, Oviso attracts many artists and students and is a good choice for idling away a few hours in a friendly and relaxed atmosphere.




CUISINE:

Local


Address:

5 Calle de Arai, Placa George Orwell
Can Majó
On the beachfront, Can Majó serves delicious seafood that can be enjoyed on the outdoor terrace overlooking the Mediterranean. Specialities include paella, but the fish is also superb. Choose from a daily catch including barnacles, prawns, crab, oysters and clams. Reservations required. Closed Monday. No dinner Sundays.




CUISINE:

Spanish


Address:

Almirall Aixada 23, Barceloneta


Website:

www.canmajo.es
Botafumeiro
One of the most well known seafood restaurant in Barcelona, Botafumeiro consistently presents the finest regional cuisine of Galicia and prides itself on the freshness of its fish, clams, mussels, lobster, crayfish and scallops, which are either kept in large tanks near the entrance or flown in daily from Galicia. The impeccable treatment of customers and the private atmosphere makes this a perfect dining experience for both business and pleasure. Open for lunch and dinner daily. Reservations essential.




CUISINE:

Spanish


Address:

El Gran de Gràcia 81


Website:

www.botafumeiro.es
Travel guide by (c) Globe Media Ltd. By its very nature much of the information in this travel guide is subject to change at short notice and travellers are urged to verify information on which they're relying with the relevant authorities. We cannot accept any responsibility for any loss or inconvenience to any person as a result of information contained above.