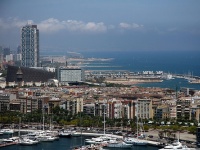 Barcelona Shopping
Non-EU visitors to Spain have a little extra incentive to bring souvenirs home: tax free shopping. So long as the goods bought are items that could be taken back to you country with you and the bill exceeds EUR90.15, you will make a saving of 16 percent on purchases.
In Barcelona, the city is a shopper''s playground. A three mile (5km) shopping line tracks from Las Ramblas, through Placa de Catalunya along Passeig de Grà cia and up Avenue Diagonal. Most of it is pedestrianised and pleasant to navigate on foot. The Tomb bus is a service specifically tailored for shoppers in the city, covering all the major retail centres, it departs every seven minutes from Catalonia Square and makes 28 stops up until Placa Pius XII.
Barcelona is a very fashion conscious city and several big names such as Giorgio Armani, Burberry and Bally are represented in exclusive stores here while there are also local Spanish mega-fashion stores like Zara, Mango and Adolfo Dominguez. Travellers on a budget might want to take advantage of seasonal sales. Winter sales officially start around 10 January and summer sales around 5 July, savings are generally high, between 50 to 70 percent, during these times.
Shops open at about 9am and close between 8pm and 9pm daily. Some shops close for a lunchtime siesta between 2pm and 4pm.