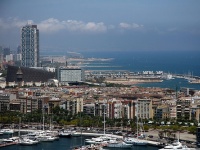 Barcelona Nightlife
With a lunchtime siesta, there''s no excuse for not having enough energy to make it through a long night of partying up a storm on the streets of Barcelona. Alfresco dining is a good way to start an evening of revelry and has become a way of life in many of the city''s squares. Good spots to sip on a glass of wine and people-watch are the Plaça del Sol in Grà cia and Passeig del Born, Plaça del Pi and Plaça Reial in the Old Town.
Barcelona is a trendy city with a fickle club scene that changes just about as often as its locals change their minds on what they''d like to drink. During the summertime, (beach bars) open along the white sands of Barcelona''s urban beaches, each with its own vibe and music, and are popular with both locals and tourists alike.
Key spots are Barri Gòtic and Las Ramblas which, despite its medieval atmosphere, boasts a great selection of bars and clubs to choose from, though keep your possessions close to your body as pickpockets operate in these areas. This is where you''ll find some of Barcelona''s most popular and trendiest nightclubs and bars. L''Eixample, north of the city, is the place to go for Barcelona''s gay scene. Port Olimpic is great for night owls with plenty of bars, clubs and great seafood restaurants, while the yacht marina is a great place to enjoy sundowners on a warm summer''s evening.
With the rest of Europe right on its doorstep, Barcelona is dripping with culture and there are plenty of regular performances of ballet, music, dance and opera at various venues such as the Joan Miro Foundation and the Greek Theatre, or the Liceu Opera House. And for a more relaxed evening, visitors can enjoy Flamenco at various venues throughout the city such as Tablao de Carmen and Travel Bar Flamenco Guide, which are both located in the old quarter''s centre.