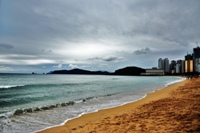 Getting Around Busan
Busan is an extremely accessible city. Visitors can either fly into Busan via Gimhae International Airport or they can arrive by road, rail or ferry. Busan is a mere three hours from Seoul on the KTX (bullet train), while normal and express buses leave every hour between Seoul and Busan. Other options include the slower trains which stop at a number of smaller towns on their way to Busan from Seoul. Busan''s harbour is South Korea''s largest and the biggest sea port in Asia. The harbour has regular ferries departing for China and faster airfoil ferries transporting passengers between the Korean Peninsula and Japan.
Busan has an easy to use integrated bus and subway system that connects all parts of the city. Tourists visiting Busan will easily be able to get to all the main tourist sights, beaches and shopping districts via the Busan Subway. Subway tickets generally cost between 1,100 and 1,300 won, or 3,500 won for a one-day pass, further concessions are available for those staying in the city for more than just a weekend. All subway announcements and subway maps are written in Korean, English, Chinese and Japanese. The buses are almost as easy to use as the subway. English maps of the bus routes are sometimes not available and often inaccessible, so busses are only recommended if you know that that particular bus is going where you want to go. There are also a multitude of taxis ready to transport you to most areas of the city.
The main areas where you will find taxis are in Seomyeon, Pusan National University, Haeundae, Nampodong and Gwangalli. However, if you get a taxi late at night and wish to go to a particularly remote area many taxi drivers are likely to refuse as they have little chance of picking up a fare for the return journey. Taxis charge 2,200 won for the first 2km and a further 100 won per 143m thereafter. Deluxe taxis are also available at a higher price; these taxis are easily recognisable as they are black and red coloured. Visitors using taxis to get around Busan should always insist on the meter.