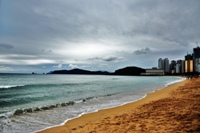 Busan Kids Attractions
With an incredible proportion of its population still of school-going age, it is unsurprising that Busan is teeming with excellent attractions and activities for kids to amuse themselves with. For starters, the gargantuan department stores of Lotte World and Shinsegae provide endless hours of fun shopping and other mall activities, like video arcades and 3-D cinemas, and Lotte World goes one step further by staging the Lotte Aquatique Show (a cascading musical fountain show) every hour on the hour.
For kids craving a little bit more, the Amusement Garden in Grand Children''s Park is a good bet, featuring a zoo and roller coaster rides that are reached after an enjoyable walk along a forest path; while famous Taejongdae, a seaside recreational park, is immensely popular for its picturesque lighthouse, fun boat rides and delicious food stalls.
Other Busan tourist attractions that will appeal to visitors of all ages include the beaches of Haeundae and Gwangalli, the Busan Aquarium, and the Busan Tower.