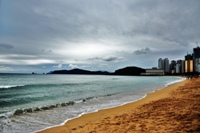 Best Restaurants in Busan
In Busan, the main shopping areas are also home to some of the city''s best restaurants. Seomyeon, Nampodong and the area surrounding Pusan National University (PNU) each have an extensive range of western and Korean dining options, including the ever-popular Outback Steakhouse chain. Visitors to PNU should definitely try the popular Kebapistan Turkish Kebab House or the Welcome Pho Vietnamese Eatery, both of which offer a tasty selection of exotic dishes.
However, Busan is most famous for its seafood, and visitors to the city are strongly encouraged to give some of the local fare a try. Diners don''t need to go to any specific restaurant to sample Busan''s ocean bounty: a walk along the Haeundae or Gwangalli beachfronts in the early evening will serve as a great introduction, as the myriad seafood stalls open up and begin serving freshly grilled fish, squid and prawn dishes. Try the local speciality dong-nae pajeon, a seafood and green onion pancake.
For visitors looking for a little something special, the Millak Town Raw Fish Centre (located at the northern end of Gwangalli Beach) is expensive, but is widely regarded to be Busan''s premier seafood and fresh fish restaurant.