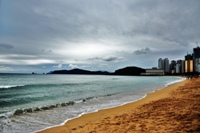 Busan Shopping
Busan is a shopper''s delight, with outdoor markets spanning many city blocks as well as towering malls and department store complexes. Korea''s biggest department stores are represented here, including Lotte in Seomyeon and Shinsegae in Centum City (which holds the distinction of being the largest department store in the world).
The Seomyeon shopping district also has an extensive range of underground shops and informal markets, where haggling is acceptable. The Nampodong area, also known as Gukje Market, is one of the best places to find bargains and all manner of authentic and faux labels. The area surrounding Pusan National University (PNU) is geared toward young and trendy shoppers, and is home to designer stores and quaint boutiques stocking the latest Korean fashion.
Two other shopping areas which double as interesting cultural sights are the Jagalchi Fish Market, a typical Asian ''wet market'' of epic proportions; and the Choryang Foreigner Shopping Area, a seedy but fun place to walk around, where you can buy anything from American oatmeal to Russian vodka.