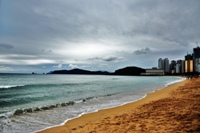 Things to do in Busan
Of the many attractions that Busan has to offer, its beaches remain at the top of the list of things to see. Koreans and foreigners alike flock to Busan during the summer vacation period to enjoy the city''s beautiful beaches and extensive range of delicious seafood options. Haeundae and Gwangalli are the most well-known beaches in Busan; for a slightly less crowded day at the beach, visitors should take a taxi to Songjeong Beach or try the even more outlying Dadaepo Beach.
Busan''s other great tourist attraction is its Aquarium, which is the largest in Korea and has an impressive variety of marine life on display. More notable sights in Busan include Beomeosa Temple, one of Korea''s Five Great Temples, located in a serene natural setting outside the city; Haedong Yonggungsa Temple, which has a dramatic cliff-top setting; and Busan Tower in Nampodong, a great place to take in panoramic views of the city and its mountain and ocean scenery. Other places of interest in Busan include the UN Memorial Cemetery, the Busan Museum of Modern Art, Hur Shim Chung Spa, Geumjeong Fortress and Taejongdae Island. The Jagalchi Fish Market and Choryang Foreigner Shopping Area are worth checking out for their cultural interest alone.