Best Outdoor Furniture
Vixen Hill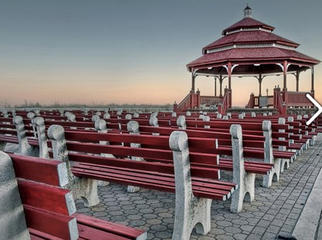 PLAY VIDEO
READ ARTICLE
For 30 years, Vixen Hill has set the standard in craftsmanship and offered factory pricing on their cedar products. Their traditional open or screened "Gardenhouse" gazebos provide a perfect private retreat - right at home. Cabanas or outdoor showers enhance recreational areas. Three season porch systems make adding a new porch or remodeling an existing porch easy while enhancing the beauty of your property. All are pre-engineered for easy installation while maintaining Vixen Hill's superior construction standards.
Expand visit website
Best Outdoor Furniture
Best Outdoor Furniture
Design Within Reach
Design Within Reach is the source for smart solutions. Visit any of the DWR Studios or Tools for Living stores and you'll never see a "do not touch" sign. Customers are invited to linger, bring their dog or kids and join design events. At DWR.com, find the entire stock, plus additional finishes and styles not shown in catalogs or Studios. Whether you experience DWR by Studio, phone or online, you'll receive knowledgeable assistance from people who come from design backgrounds.
Expand visit website
Best Outdoor Furniture
Henry Hall Designs
Since its inception, Henry Hall Designs has continued to create an exciting new place in outdoor furniture, resulting in timeless, innovative products with a constant focus on how people want to relax and socialize. Based in San Francisco, the company specializes in fine outdoor furniture shaped by international appeal and offers a refreshing diversity in styles, eras, and materials. With every new collection, the company aims to inspire and indulge the luxury of enjoying one's own environment. The collections offered are a testament to the discriminating taste of the high class and style-savvy.
Expand visit website
Best Outdoor Furniture
Porsche Design Studio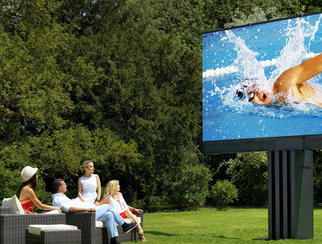 PLAY VIDEO
READ ARTICLE
The C SEED 201 is the largest outdoor viewable television in the world with its 201-inch backlit LED screen. When the television is not being watched, it is stored underground in a waterproof shaft. The touch of a button on the TVs remote control opens the lid of the storage shaft. A pillar-shaped support column then rises to as high as 15 feet. Once the stand reaches its set height, seven large screen panels unfold to form the 201-inch LED television.
Expand visit website
Best Outdoor Furniture
Lee Industries
Lee Industries was born in 1972 and it has been their mission to create innovatively-styled, high-quality home furnishings while adhering to a set of values that focuses on the customer, the community, and the environment. In doing this, they have committed themselves to manufacture earth-friendly products, using sustainable processes by people who care about the environment.
Expand visit website
Best Outdoor Furniture
Brown Jordan
Since 1945, Brown Jordan has designed luxury leisure furnishings and accessories that transcend time and liberate the senses. Established by Robert Brown and Hubert Jordan in Pasadena, California, Brown Jordan was the first company to create furniture for full-time outdoor use. The first of these innovative designs, constructed of tubular aluminum and vinyl lace, was fittingly called "Leisure" and marked the birthplace of outdoor furniture. Brown Jordan furniture is designed to complement your leisure lifestyle. The Brown Jordan portfolio features more than 30 collections in a range of design styles.
Expand visit website
Best Outdoor Furniture
Lloyd/Flanders
Lloyd/Flanders is proud to carry on the traditions of Marshal B. Lloyd, who developed a timeless and unique process for creating fine woven furniture. It is this dedication that earns them the reputation of creating heirloom furnishings with a distinctive east coast style to be enjoyed by many generations across the entire world.
Expand visit website
Best Outdoor Furniture
Tidelli
Tidelli has been a casual furniture manufacturer since 1989. Brazilian-based and family owned, Tidelli, is the leader in the outdoor market in South America. Tidelli continues to use state of the art technologies, designs and materials. Represented in all major cities in North and South America, Tidelli produces cutting edge innovative products for any market or lifestyle.
Expand visit website
MOST POPULAR IN CATEGORY
Lloyd/Flanders
Kettal
Tidelli
Best Outdoor Furniture
Evitavonni
Evitavonni provides a complete vision for your home, embodying international design with style and elegance. Their complete personal service begins with a consultation with an experienced designer to bringing customer's ideas to life. The installation team then consults the designer to create the customer's vision. One team. Once Service. Quality at every stage. Exquisite design for your lifestyle.
Expand visit website
Best Outdoor Furniture
Restoration Hardware
Restoration Hardware provides an exceptionally well-merchandised world of high quality textiles, furniture, and accessories for patio and indoor living alike. Quality materials including premium-grade teak, handcrafted aluminum, and all-weather wicker make Restoration Hardware an attractive source for stylish patio furnishings that speak to a free spirited individuality.
Expand visit website
Best Outdoor Furniture
Kettal
Founded in 1964, Kettal started by distributing aluminium camping and beach furniture and then went on to manufacturing aluminium and wooden furniture. Kettal has evolved with the market to achieve a position of leadership. Today Grupo Kettal gathers four renowned brands Kettal, Triconfort, Hugonet, Evolutif, each with a distinguished style and distributed in every continent and in over 60 countries.
Expand visit website