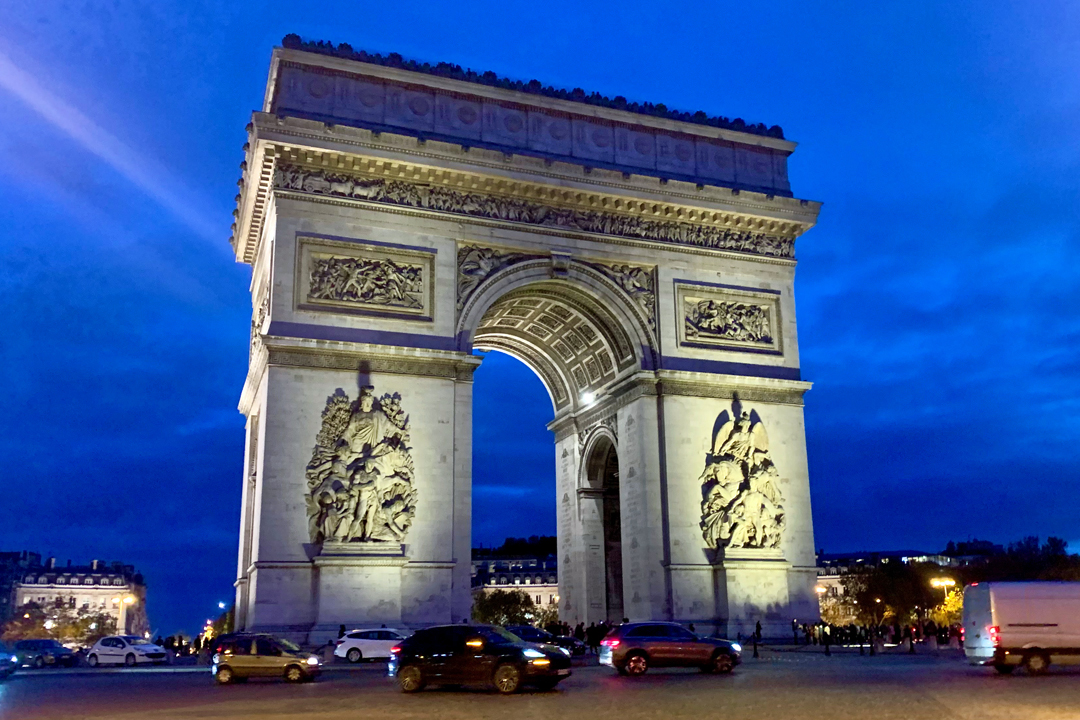 Linda Fasteson
Jet lag. Delayed or canceled flights. Three hour advance airport arrival for international flights. Traveling can be exhausting. The importance of having everything is taken care of, from beginning to end, and of having time to relax is more important than ever.
Viking Cruises offers three day extensions on either end of their river cruises, allowing more time in the embarkation and debarkation ports. It is am opportunity to begin your cruise refreshed and to add whatever you like to your experience.
Practical matters
The extensions, like the river cruises, are worry-free from the start. You are met outside baggage claim, escorted to your taxi and greeted at your hotel by a Viking host. Refreshments await along with the assurance of being well taken care of.
Your Viking host provides information on practical matters, such as when and how much to tip, how to best use the local transportation, how to get to places of interest to you, and safety precautions, such as how to avoid being pickpocketed.
Maps are provided and marked with your places of interest. Suggestions are made for making the most of your time, however you choose to spend it. The host is available for additional advice during designated hours.
A neighborhood walk is offered to point out practical locations, like the nearest bank and ATM machine, a pharmacy, local grocery and department stores and the nearest metro and bus stop.
A bountiful breakfast buffet is included at the hotel for a good start to each day, and the walk also covers a variety of recommended neighborhood restaurants for the cuisine of your choice. It might include Michelin-star chef Julian Boscus' tasting menu at his gastronomic restaurant Les Origines on Rue de Ponthieu and the intimate family-owned favorite for traditional French cuisine, L'Artoise, which opens at an early-for-Paris 5:30 p.m., perfect for the jet-lagged. For lunch or a sweet treat you can join Parisians at a patisserie like Julien, a popular neighborhood bakery that offers an array of sweets and savories.
The joy of slow travel
Once the essentials have been taken care of, there is plenty of time to wander neighborhoods and take in the splendor of this stylish, romantic and cultural city. There is opportunity to experience its art of living and why this city is known as The City of Lights and the City of Love.
Linger with your café crème and macarons, at Ladurée on the tree-lined Champs Élysées. Savor these luscious pastel cookies with the distinctive crisp exterior and chewy centers that gained even more renown when featured in Sofia Coppola's "Marie Antoinette."
Then stroll past shops like Dior, Chanel, Louis Vuitton, and Montblanc on the Champs Élysées, the most famous avenue in Europe. It's great fun, even if only to go window shopping, or as the French say, faire du lèche-vitrines, (window licking).
Indulge in Afternoon Tea at the luxurious Place Vendôme's Hotel Ritz, made famous by Lady Di and Dodi Fayed. Or simply stop by a little cafe off the beaten path, perhaps strike up a conversation, and gain a sense of local life.
Stop at little neighborhood specialty shops on a street like Rue Cler. Assemble a collection of cheese, wine, chocolate and whatever else you like for a picnic by the Seine or in one of the city parks and gardens.
At the exquisite Luxembourg Gardens you can enjoy the scent of the rose garden or relax on a bench and watch a game of pétanque or children playing with little rented sailboats in a duck pond. The palace there was built for Queen Marie de Medici, who grew tired of the Louvre. The garden was inspired by Florence's Boboli Gardens.
Wonder how Paris came to be considered the most beautiful city in the world? In the mid-19th century Napoleon III, great-nephew of Napoleon Bonaparte, commissioned Baron Georges Eugène Haussmann to rebuild what was then a dark, overcrowded and dirty city little changed from the Middle Ages. Paris became the most prestigious capital of Europe, one with broad, straight tree-lined avenues, parks, open space and grand public squares. He improved the water supply and added sidewalks and streetlights.
The Arc de Triomphe is centered on Place de L'Etoile, named for the pattern of twelve avenues, including the Champs Élysées, radiating outward like a star. Haussman's legacy includes elegant apartment buildings with mansard roofs and intricate wrought iron balconies that line these avenues.
For a romantic bird's-eye view of Haussmann's creation, head with your special someone for the panoramic terrace atop the Arc de Triomphe as sunset approaches. Over 300 structures and historical sites are illuminated and the City of Lights is aglow. By day, take in another magnificent view from the top floor of the elegant Galleries Lafayette.
For creative inspiration, explore the "petite boulevards" like like Rue de l'Abreuvoir in Montmartre that inspired artists like Degas, Matisse, Van Gogh, and Toulouse-Lautrec. Climb the 300 steps to the top of the dome of Sacré-Coeur Basilica for a breathtaking view.
Much of the grand architecture of Paris, like the Eiffel Tower, is a result of the eight Universal Exhibitions held here between 1855 and 1937. The "Iron Lady" is is especially enchanting when her lights twinkle on the hour after dark.
The most glorious way to cross the Seine is across the Art Nouveau Grand Pont Alexandre III, an extravagant bridge replete with cherubs, nymphs, elegant lampposts, and gilded winged horses atop soaring columns. It was built for the 1900 Universal Exposition to create an unobstructed view and passage from the Champs-Élysées on the Right Bank to Les Invalides, the former soldiers' hospital that is now the finest military museum in the world, on the Left Bank. Napoleon I's red porphyry sarcophagus is in the circular crypt beneath Les Invalides' gleaming gold dome.
The right bank of this route impresses with the Grand Palais, one of the finest venues for international exhibitions, and, across the street, the magnificent Petit Palais, home to Paris' Museum of Fine Arts.
Early Paris can still be experienced by strolling the winding lanes of Île de la Cité, where remnants of its medieval past remain. Construction began there in the 12th century on Notre Dame Cathedral, one of the finest examples of French Gothic architecture. It is still under repair for the devastating fire in 2019. It remains immortalized by Victor Hugo in "The Hunchback of Notre Dame" and as the site where Joan of Arc was beatified.
With everything taken care of and time to experience the soul of this magnificent city, you can leisurely savor the glow of the City of Lights and the romance of the City of Love. What better reason to spend some extra time in Paris?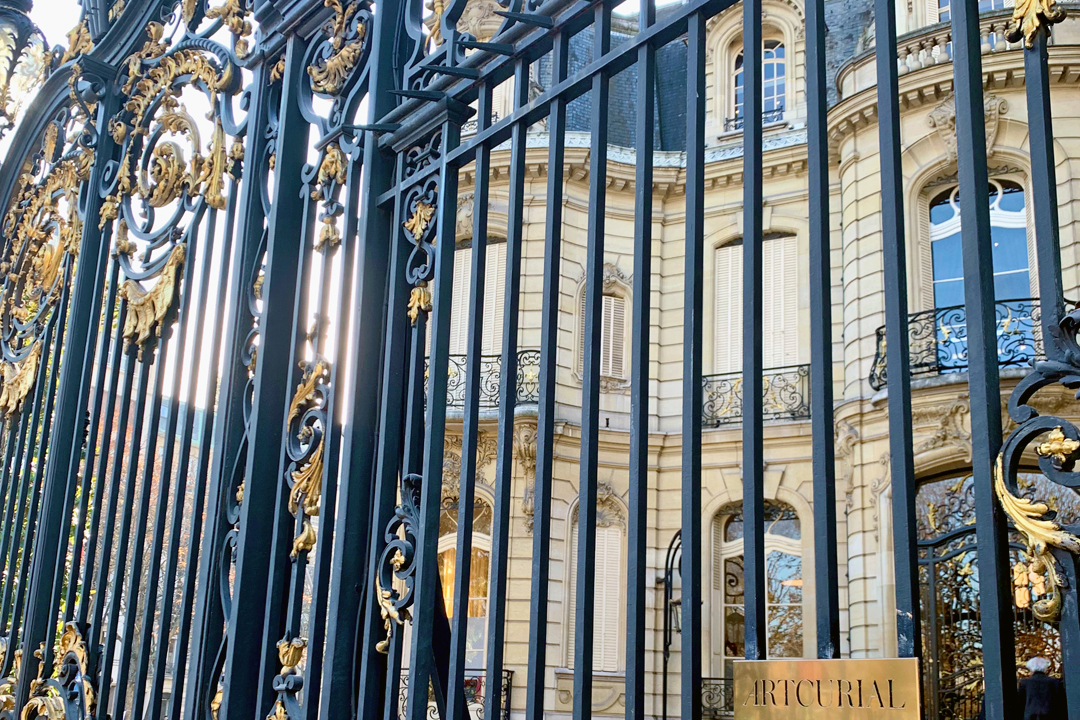 Linda Fasteson
Marcel Dassault building, Champs Élysées, Paris.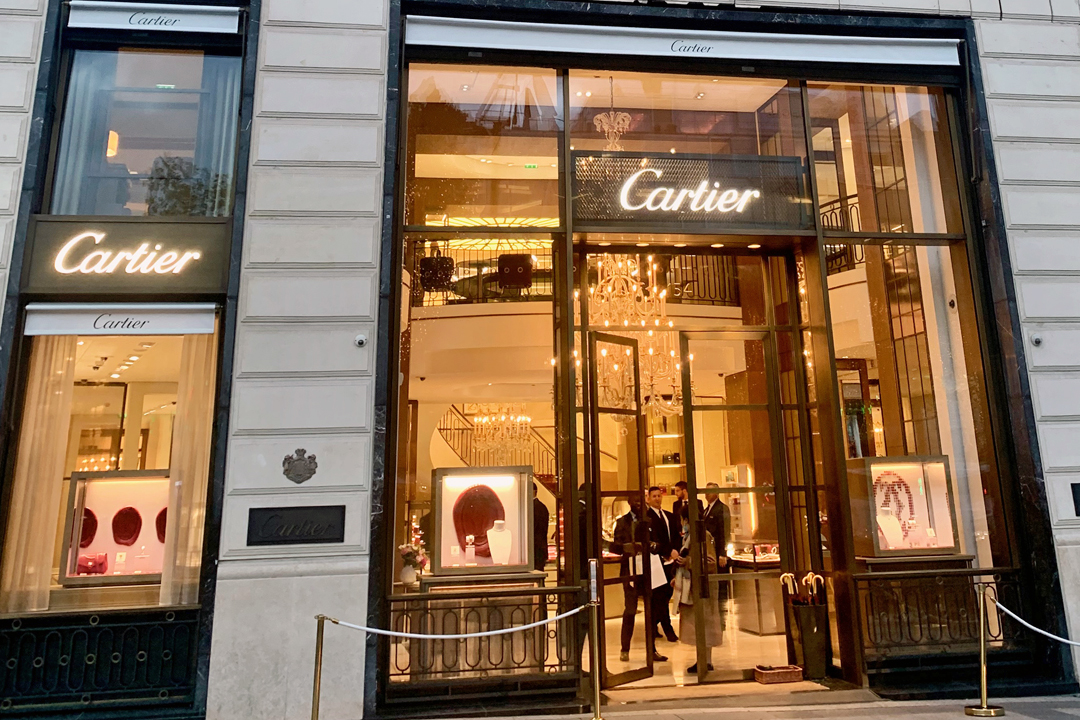 Linda Fasteson
Cartier, Champs Élysées, Paris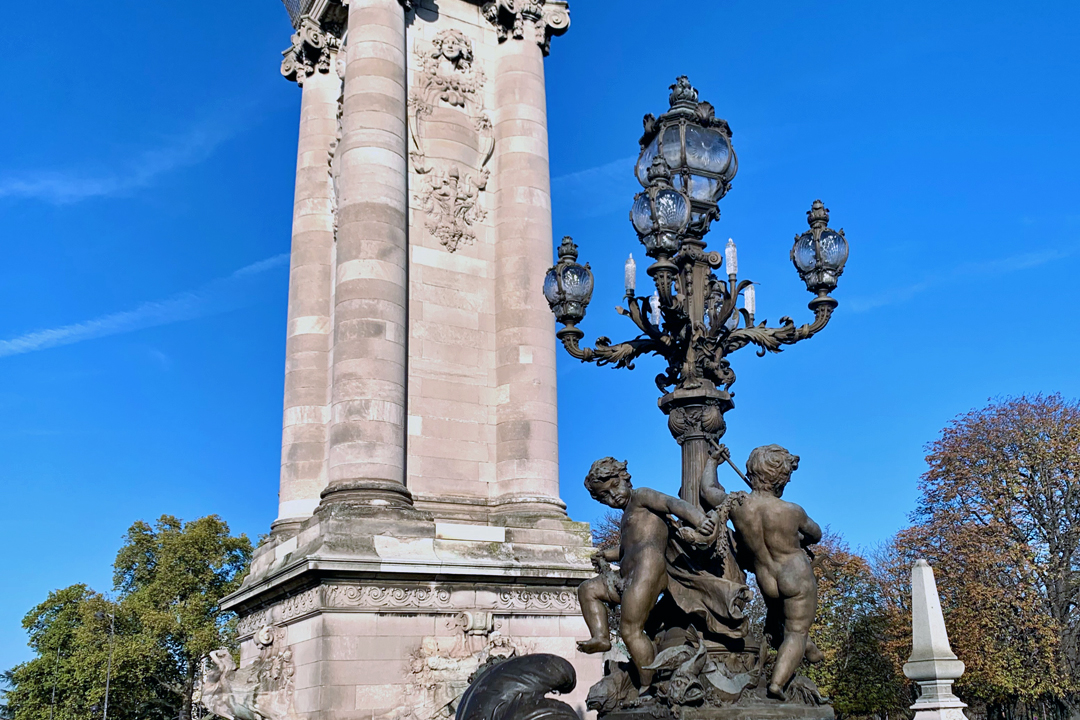 Linda Fasteson
detail, Pont Alexandre III, Paris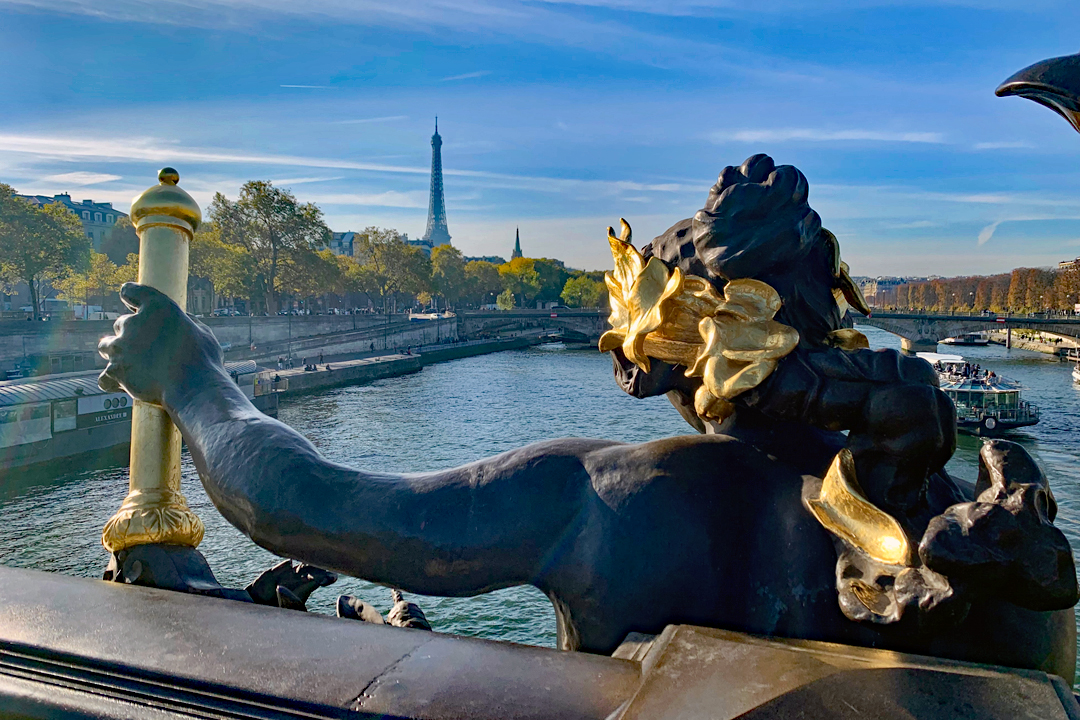 Linda Fasteson
Vew of Eiffel Tower from Pont Alexandre III, Paris.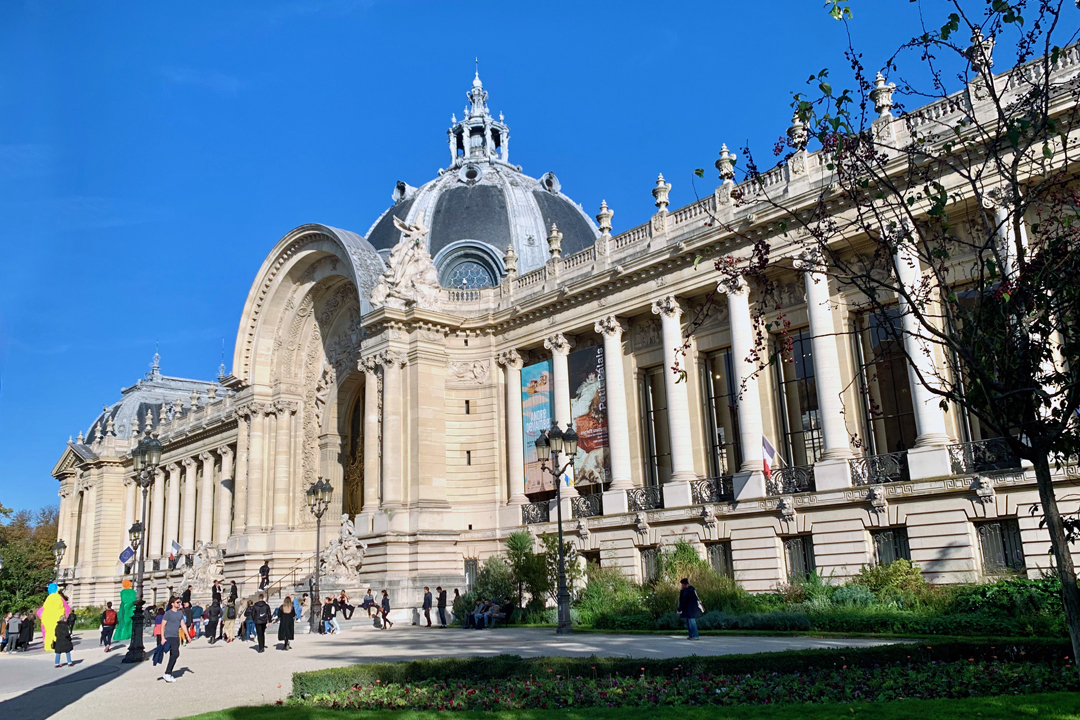 Linda Fasteson
Petit Palais, Paris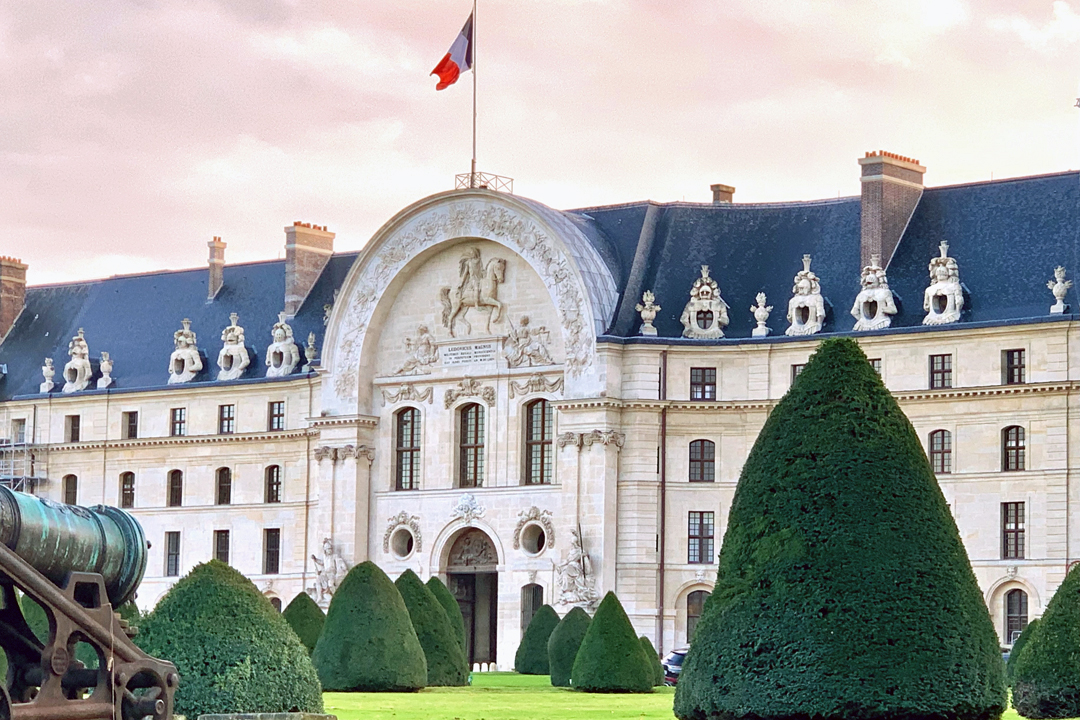 Linda Fasteson
Military Museum, Paris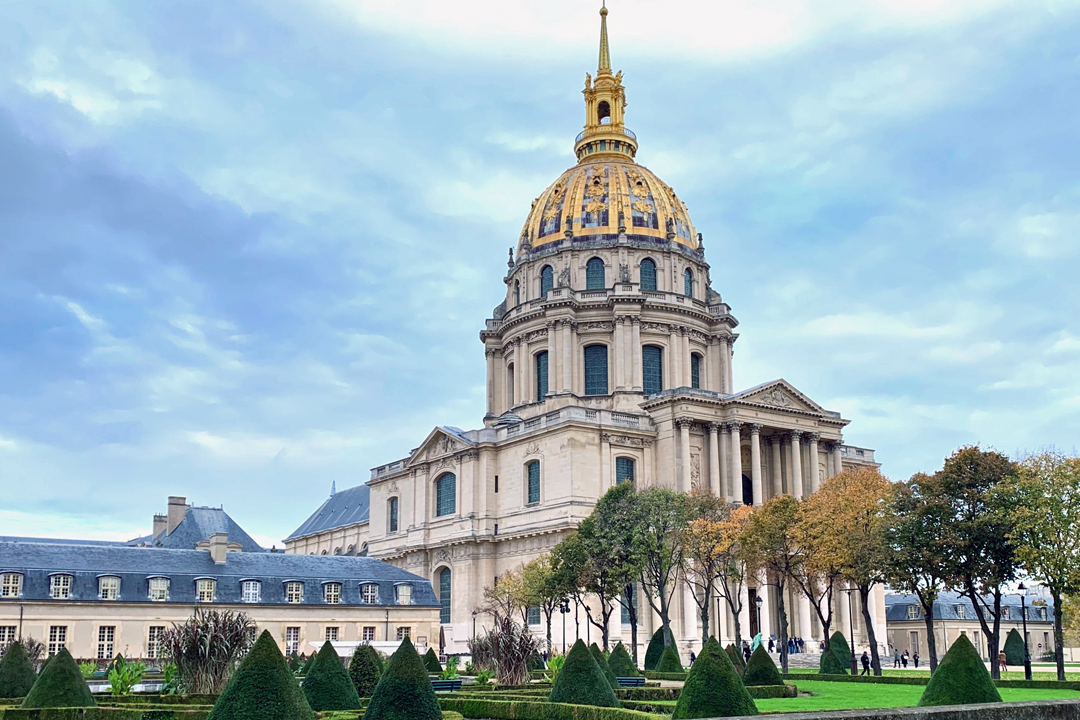 Linda Fasteson
Les Invalides, Paris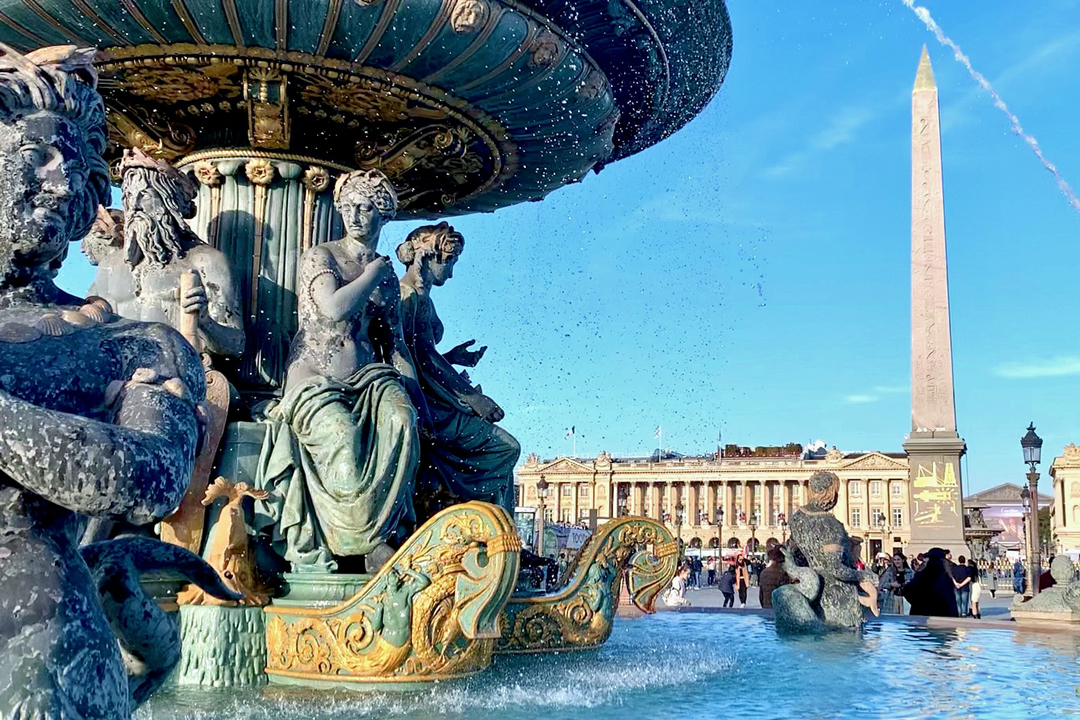 Linda Fasteson
Fountain and Egyptian Obelisk, Place de la Concorde, Paris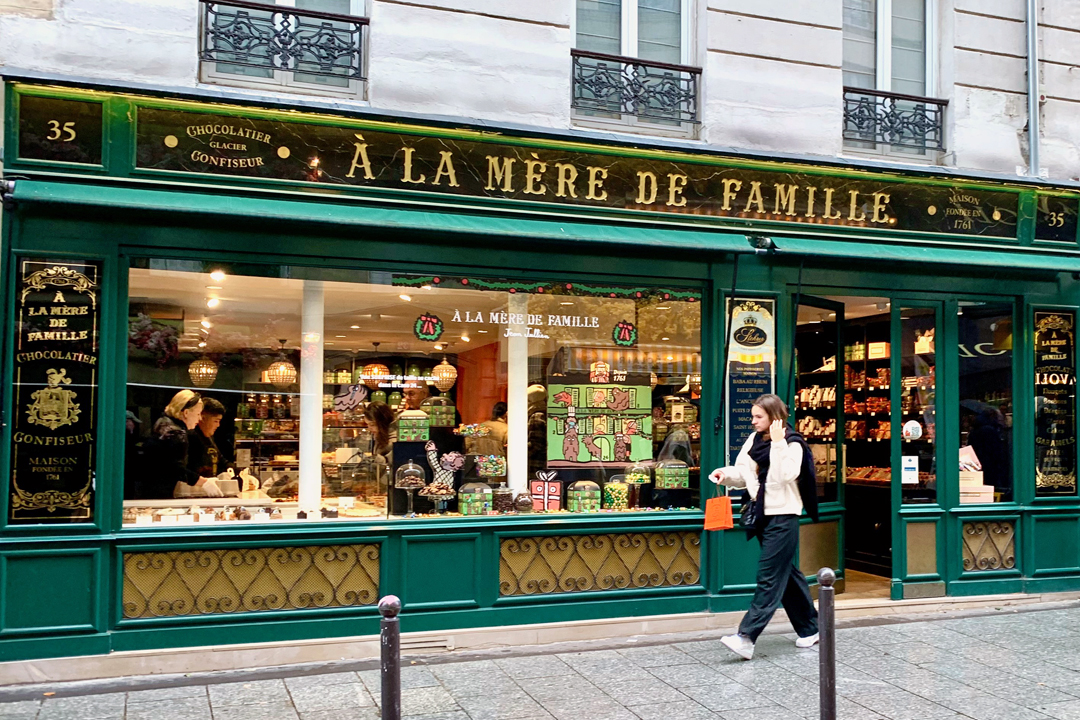 Linda Fasteson
À la Mere de Famille, Rue Cler ,Paris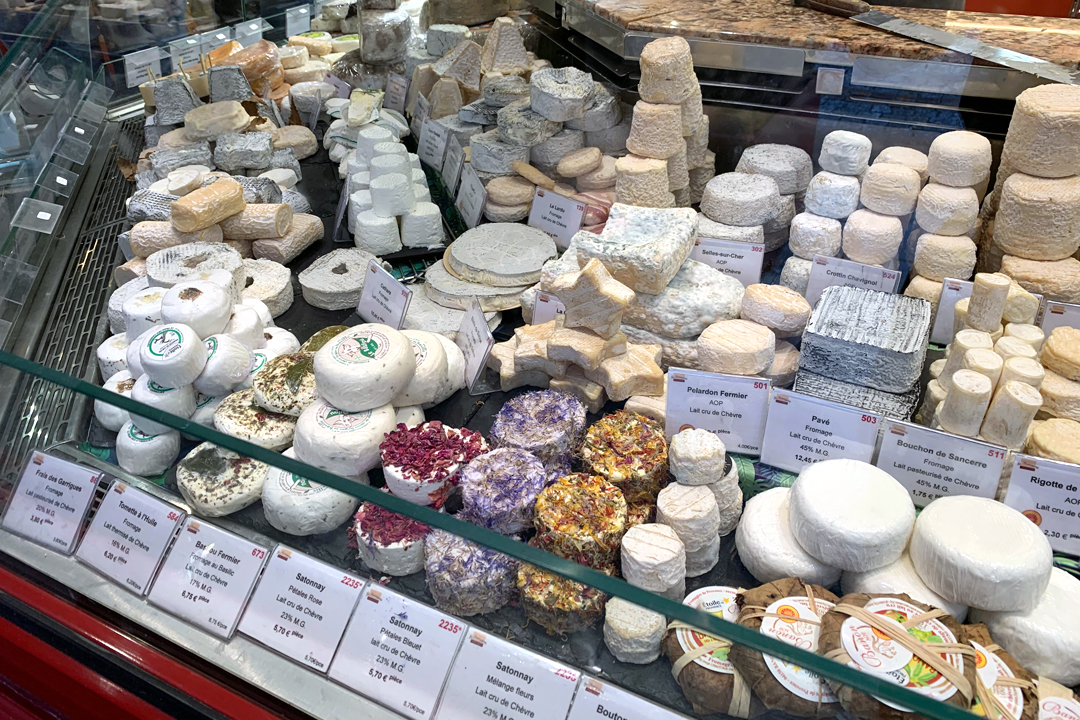 Linda Fasteson
Cheese Shop, rue Cler, Paris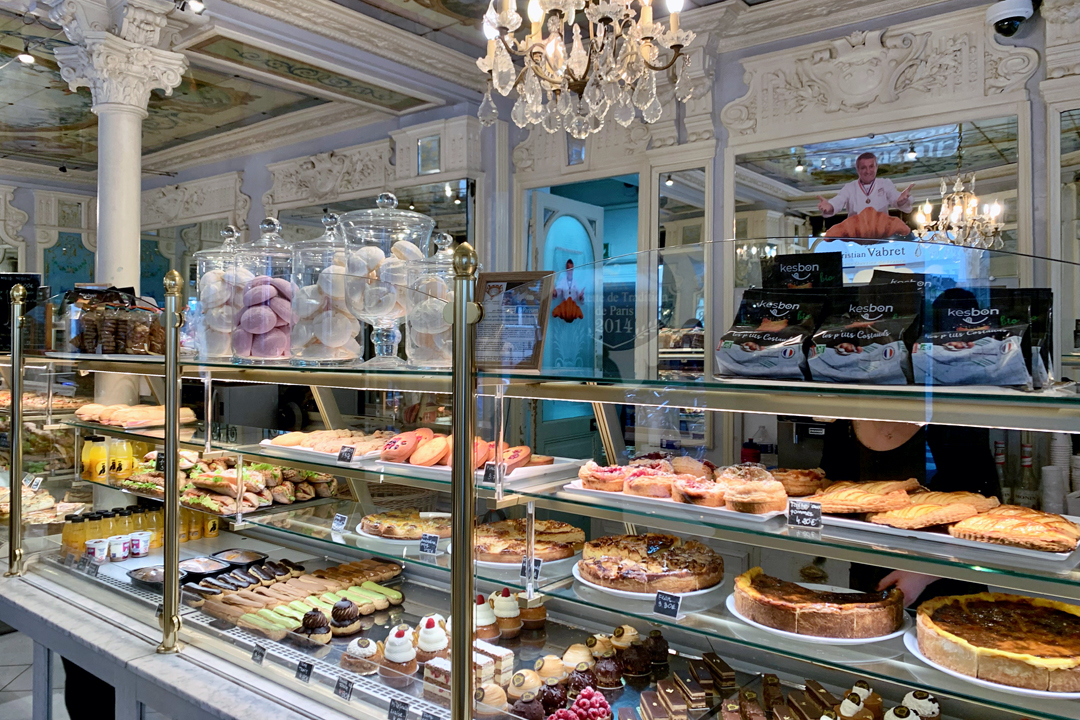 Linda Fasteson
Patisserie and Viennoiserie, Le Marais, Paris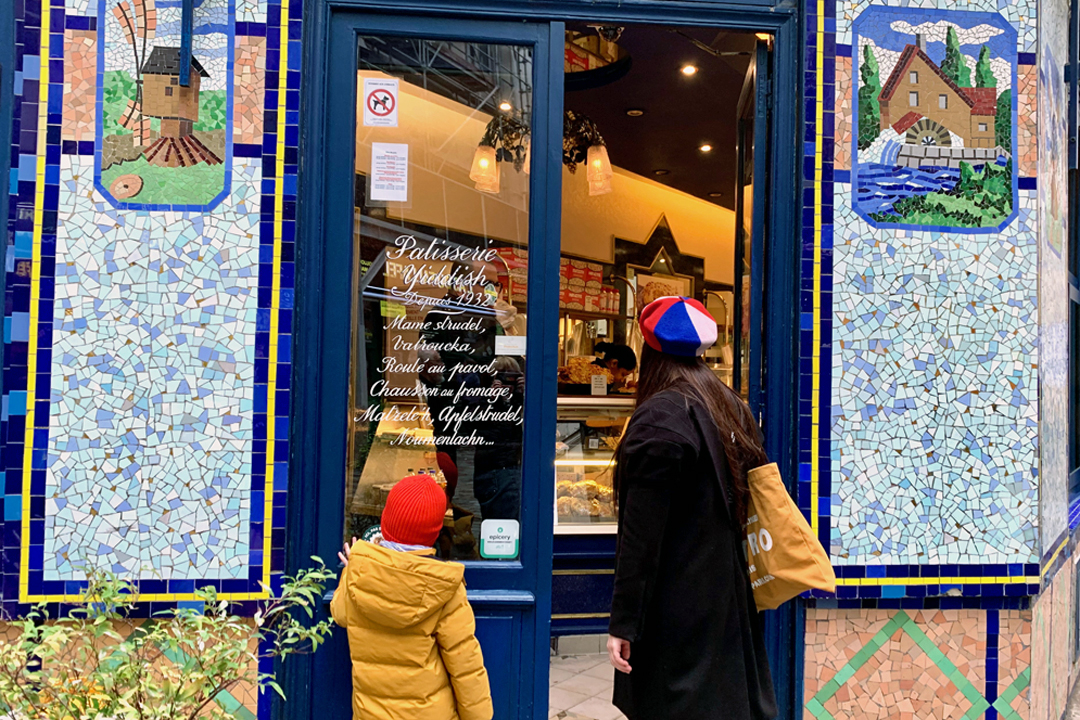 Linda Fasteson
Yiddish Patisserie, Le Marais, Paris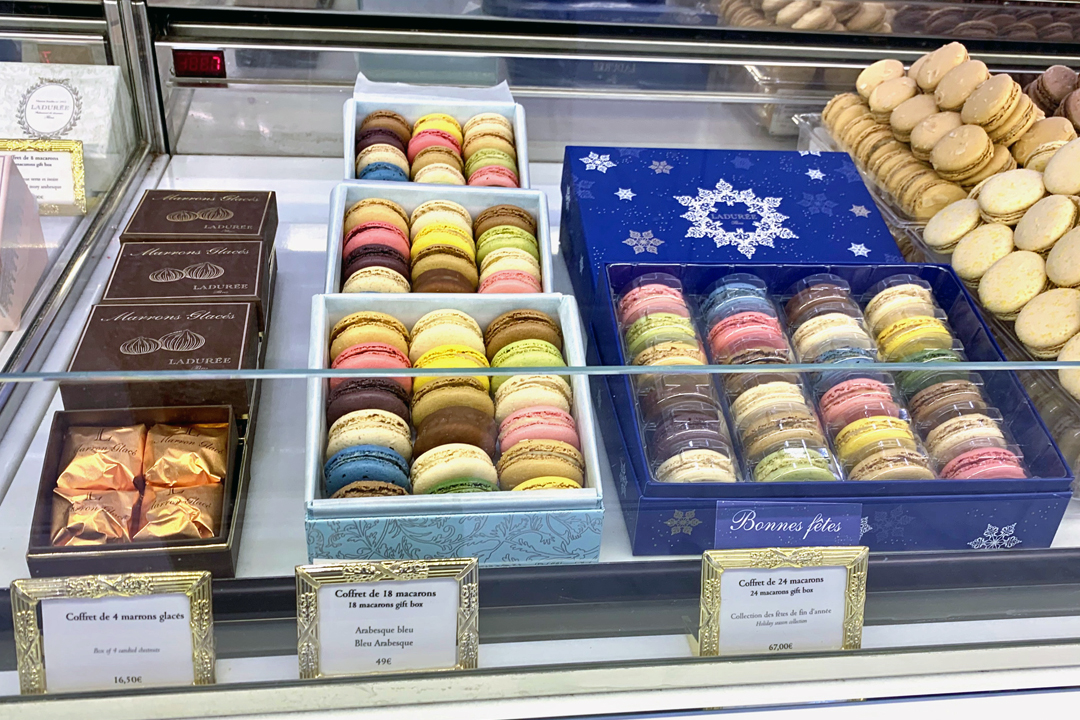 Linda Fasteson
Ladurée macarons, Paris