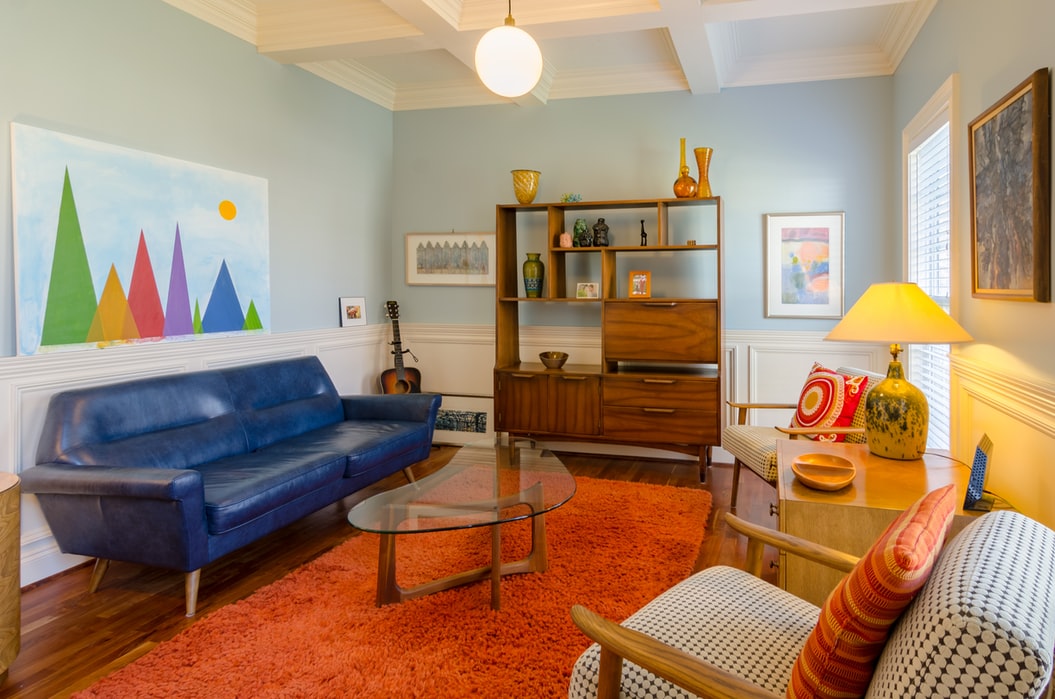 A coffee table is a classic staple that can either complete a room's design or make it look undone. It is a compact piece of furniture, always there to make a statement. Modern coffee tables are available in many styles and designs and can serve more than one purpose. Not only do they create extra storage and complete a room's look, they can also come with a pop-up workspace or even double as a terrarium.
Choosing a coffee table that would fit perfectly with the rest of your room's interior can be quite challenging. Should it be round, rectangular or square; should you opt for one made out of wood or metallic with a glass top? At times it can seem overwhelming since the options are limitless. We created a list of designs that would fit any style and budget to help you narrow down the amount of decisions and steer you in the direction of finding the ideal coffee table.
Iconic Mid Century Modern Style
Mid-century modern is an interior design style that appeared and became immediately popular during the 1950s and '60s. It is characterized by uncluttered clean, sleek lines, functionality, simple forms and gentle curves. During this period, designers explored the ways traditional and non-traditional materials can be combined, and that resulted in creating iconic pieces in demand even now.
A mid century modern coffee table is characterized by simple lines and wood or molded plastic construction. A brilliant example of one is the Noguchi coffee table, first designed in the late 1940s. This coffee table features a triangle-shaped glass top placed over a very distinct wooden base, which only proves that wood only needs a simple finish to show off its natural beauty. No matter if your home décor is entirely inspired by a mid-century modern design or not, this coffee table style never fails to make a statement, and will be the perfect addition to your room.
If you are in the quest for a mid-century modern coffee table that would fit perfectly with almost any kind of interior style, then you might want to aim at both retro and a simple piece of furniture, like the Osaka coffee table. Its shiny lacquered top and solid tapered legs make this '50s inspired coffee table an ideal addition to any living room.
Minimalistic Urban Industrial Style
The industrial design is inspired by the look and feel of factory tools, and it mainly uses metal and wood to create rough, sturdy-constructed pieces of furniture. The defining materials of this type of style are stainless steel, concrete and weathered wood. Coffee tables that look as if they have been made from a pre-existing piece will perfectly fit in the industrial style. The great thing about them is that they can be easily paired with a loft-style room interior, or stand in perfect contrast with softer surroundings to make a statement.
Industrial coffee tables sometimes come unassembled, which means that you would have to attach the legs and any additional features by using a wrench and a screwdriver. The instantly recognizable Kinsella coffee table comes with a storage shelf where you can display magazines, books, trays or anything else that fits. Its cross-braced legs and the combination of rustic pine wood and metal elements give the coffee table an industrial appeal.
Cozy Welcoming Look Of The Cottage Style
Cottage style is much more than an approach to decorating. It's a way of celebrating ordinary things, imperfections and a warm blend of similar furniture styles. The word itself - cottage - is a symbol of humbleness, warmth and being unpretentious and full of heart. Cottage and country coffee tables are characterized by a lot of details and feminine, gentle lines. Since one of the key features are imperfections, both painted and distressed finishes are very common, and only add to the overall charm of the room.
Edgy Contemporary Style
Many designers tend to use the terms 'contemporary' and 'modern' interchangeably, but it's relevant to know that contemporary style only refers to what is currently popular. Coffee tables of this style usually feature sharp interiors with bold accents. Two key features of contemporary coffee tables are metal bases and glass tops.
Glass never goes out of style, so if you want to incorporate it in your contemporary home interior, a coffee table entirely made of glass is always a good idea. The first impression anyone would get is that of a floating bowl of fruit, but if you take a second look you would see that there is actually a thin, all glass coffee table underneath that would steal anyone's attention. Introduce transparency and a unique vibe with a 'U'-shaped design like a curved glass coffee table.
If you are devoted to contemporary home décor and want to bring the outdoors inside, create a wonderful oasis on your own by utilizing the coffee table in your living room. A custom made glass terrarium coffee table is an ideal way to house carefully arranged succulents and plants, even if you don't consider yourself to be a person with a green thumb.
Add Nordic Design Flair With The Popular Scandinavian Style
Scandinavian décor can be distinguished from any other décor by the use of clean lines and light colors. Modern, sleek-lined, solid pieces are what defines this type of interior design. Since the winters are very long and dark, Scandinavian interiors are usually painted white to add brightness to spaces. This is why when a Scandinavian coffee table is mentioned, we immediately imagine a soft-lined, brightly colored piece of furniture like the Large Around coffee table by Muuto.
'Simplicity is the ultimate form of sophistication' is what they say, and this design is a perfect example of that. The Large Around coffee table can be a modern staple to any contemporary-designed or nordic-inspired living room. The craftsmanship and the materials used to make similar coffee tables express the Scandinavian functionality and simplicity in design. They are both elegant and warm and can give a room a clean, cozy and welcoming appearance.
The Options Are Laid Down - It's Time To Choose
Paying attention when picking out different items for room décor is essential in achieving the best results possible. However, the right choice of a coffee table style has the power to transform the overall interior appeal, so it can either make or break your living room's décor. They are usually placed in the most visible place in the room, and that's why it's really important to incorporate them carefully. The ideal coffee table should serve as both a stylish and functional centerpiece which will add to the overall appeal of the living room. Choose durable, choose pocket-friendly, and most importantly- choose aesthetically pleasing.