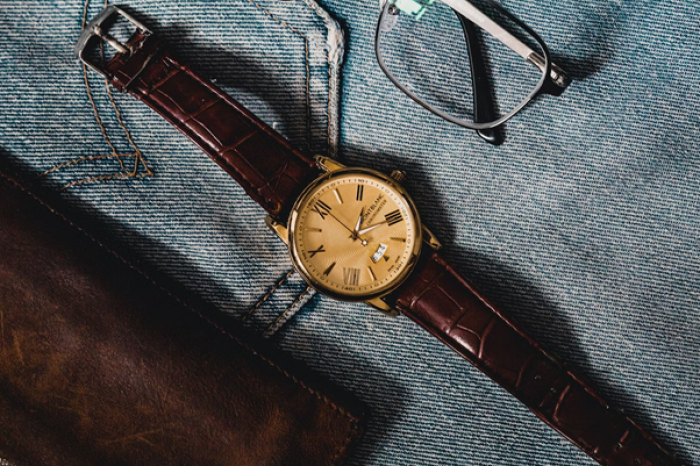 (Source: https://unsplash.com/de/fotos/zeQbxubgkPo)
While Montblanc is widely renowned for its luxury writing utensils, it has also established a prominent presence in the world of horology with its exquisite range of luxury watches. Despite its origins in crafting fine writing instruments, Montblanc has seamlessly expanded its expertise to include watchmaking, operating its own Swiss factory where skilled artisans meticulously create these timepieces of exceptional quality.
Leveraging their rich heritage of craftsmanship and attention to detail, Montblanc watches have quickly earned a reputation for their fusion of artistry and engineering, captivating watch enthusiasts with their timeless elegance and precision. In this post, we invite you to discover why Montblanc watches should rival the fame of the brand's luxury pens.
Montblanc: From Luxury Pens to High-Precision Watches

Montblanc, known for its world-class writing utensils, has also established a significant presence in the watchmaking industry. Since 1997, the company has been producing watches in its Swiss factory in Le Locle. These timepieces adhere to the same strict quality standards that have characterized Montblanc's iconic Meisterstück pen collection for decades.
Today, Montblanc's watch collection boasts intricate in-house movements, featuring complications like chronographs and tourbillons.
Two of their most notable watch editions are the Montblanc Villeret 1858 ExoTourbillon Rattrapante and the Montblanc TimeWriter II Chronographe Bi-Fréquence 1000. Both watches offer an unparalleled precision, from the Villerets split-second hands to the TimeWriter's ability to measure time down to thousands of a second.
Unique Selling Points for Montblanc Luxury Watches
As a high-quality Swiss based watch manufacturer, Montblanc rivals with other brands from Rolex to Patek Philippe. Here are some of the unique features Montblanc luxury watches are known for:
Montblanc timepieces are distinguished by their captivating artistic aesthetics. The dials serve as exquisite canvases, featuring intricate patterns, mesmerizing textures, and meticulous detailing.
Delicate guilloché motifs, sunburst finishes, and the use of luxurious materials like mother-of-pearl and precious metals create visually stunning designs.
Fine engravings, precise indices, and elegant typography ensure a harmonious composition, while the iconic Montblanc star emblem adds a touch of heritage and quality.
From classic elegance to bold contemporary styles, Montblanc offers a diverse range of designs that cater to various tastes and preferences.
At the core of Montblanc timepieces lie masterful movements that exemplify precision engineering. Whether it's mechanical, automatic, or quartz, Montblanc meticulously assembles these movements in their Swiss factory. The dedication to excellence and attention to detail ensure unrivaled performance and reliability.
The movements, such as ETA 2000 or 2892 for automatic calibers, Valjoux 7750 for automatic chronographs, and Peseux 7001 for hand-winding calibers, showcase Montblanc's commitment to crafting timepieces with exceptional engineering.

The Complications and Innovations
Montblanc embraces complications and innovations that push the boundaries of traditional watchmaking.
From chronographs and perpetual calendars to intricate tourbillons and moon phase indicators, Montblanc timepieces offer functionality beyond mere timekeeping.
These complications demonstrate technical ingenuity and a relentless pursuit of excellence. Montblanc continually seeks to innovate, introducing in-house movements with new complications to offer unique and sophisticated timepieces.
The Collaboration of Artisans
Montblanc collaborates with skilled artisans who bring their expertise to the creation of these timepieces.
From dial makers to engravers, gem-setters to leatherworkers, Montblanc embraces collaboration to infuse creativity and craftsmanship into their watches.
Limited-edition collections inspired by these partnerships showcase the fusion of traditional techniques with contemporary design, resulting in extraordinary timepieces that are true reflections of artistic collaboration.
The Montblanc watches also serve as an excellent complement to other Montblanc luxury products, like the 1926 Heritage Collection of leather products from bags to backpacks and wallets.
Conclusion
Montblanc timepieces perfectly encapsulate the fusion of art and engineering. From their captivating artistic aesthetics to the masterful movements and innovative complications, every aspect of Montblanc watches reflects the brand's unwavering commitment to excellence and meticulous craftsmanship. The collaboration of skilled artisans further enhances the creative process, resulting in extraordinary timepieces that are true works of art.
Whether you seek classic elegance or contemporary styles, Montblanc offers a diverse range of watches that cater to various tastes, each carrying the iconic aesthetic and attention to detail that defines the brand.