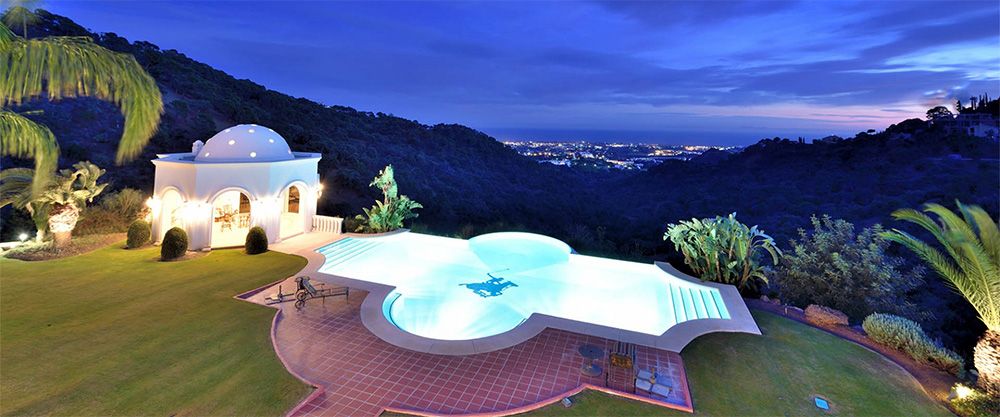 Photo Credit: Villas in Zagaleta
Marbella is well known for its plethora of rich and famous homeowners, flocking to the Costa del Sol's most glamourous port city. It's not hard to see why: the area gets more than 320 days of sunshine every year and it boasts fantastic beaches, restaurants, shops and nightlife. Over the years many famous names have graced the shores, ranging from Sean Connery and Joan Collins to Zinedine Zidane and George Clooney.
It is undoubtedly one of Spain's finest locations and draws plenty of tourists hoping to catch a glimpse of a big name lounging on the beach. The Golden Mile is a stretch of prime beachfront where villas regularly sell for millions of Euros and the whole city has remained a popular place for property investment despite the well-documented problems with Spain's property market.
Photo Credit: LZ Properties
Head half an hour into the mountains and you can find luxury villa accommodation so exclusive it makes Marbella seem like a tacky seaside town. Drive up the A7175 and you'll reach the sleepy village of Benahavis. Home to a vast selection of high class restaurants scattered through narrow streets, the village is a lovely place to be, but it's hiding something even more impressive.
Yes, surrounded by nine golf courses and boasting spectacular mountain scenery in every direction, Benahavis is already a highly desirable place to live. But for seclusion, privacy and exclusivity, nothing can match the gated community of La Zagaleta which overlooks the rest of the town. Set across 2,200 acres of verdant perfection, the enclave has been described as the world's most expensive housing estate, and it's easy to see why.
Even the cheapest plots of land here sell for millions and the prime spots can go for amounts in the tens of millions, let alone the cost of the enormous and lavish properties that are then constructed on them. So as you might appreciate, ownership of properties here is limited to the vastly wealthy. There have been lots of rumours over the years over who genuinely owns a home here but it is understandably difficult to be sure of the details.
Photo Credit: Terra Merediania
This is because one of the main draws of La Zagaleta is the privacy that it affords. Security is a big deal here with extensive CCTV, a barbed-wire fence surrounding the enclave and 24-hour armed security. The fact that it's almost impossible to work out exactly who owns property here is rather the point.
One supposed resident is Russian president Vladimir Putin who is believed to co-own a palatial villa with a number of other Russian businessmen. It has also been suggested (but never confirmed) that the mayor of Moscow, Hugh Grant and Rod Stewart have lived here at different points. Stars including David Beckham and Beyoncé have refuted that they own homes here – although no-one knows for sure.
Photo Credit: LZ Properties
Indeed one of the more interesting aspects of La Zagaleta is that despite the incredible prices that these properties sell for, they remain unoccupied for long portions of the year. It seems that most of these villas are bought simply as holiday homes for the exceptionally rich who don't want or need to rent them out during the months that they do not visit.
So who really owns a villa in La Zagaleta? Sadly, trying to work out the famous property owners here is almost impossible. Possibly the only effective way to find out would be to buy one of the homes yourself.