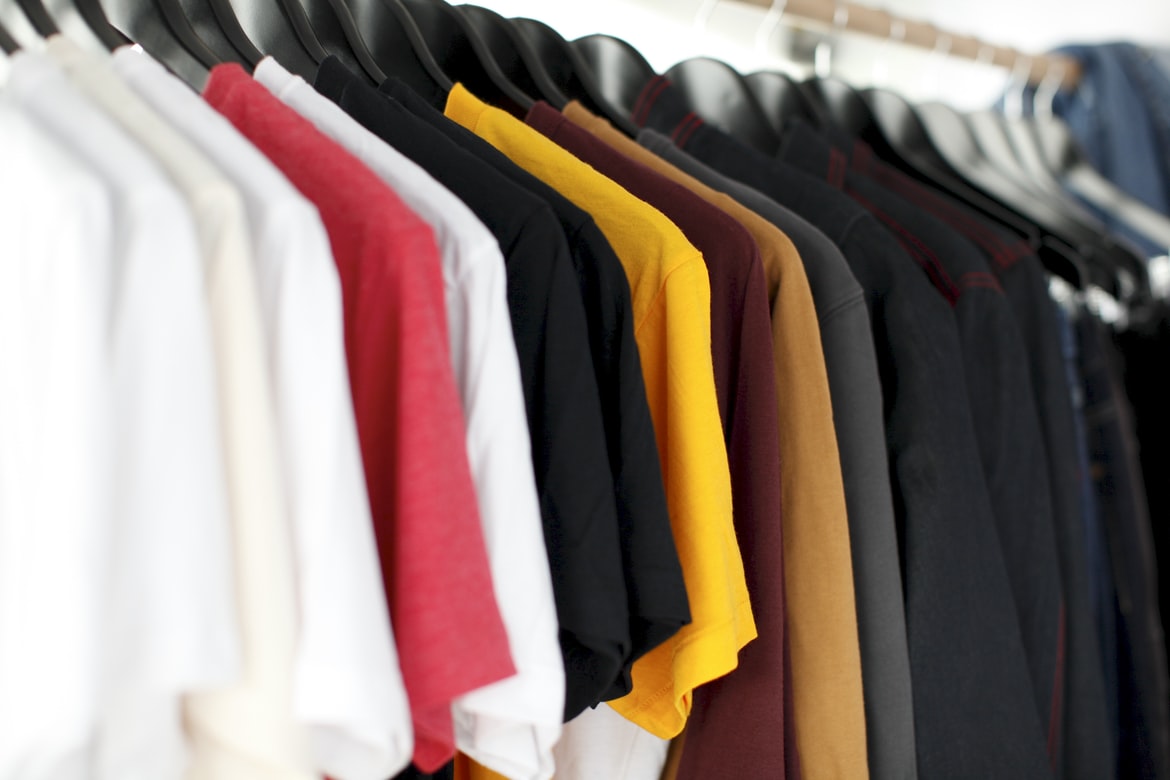 T-shirts are the foundation for any wardrobe and have been a beloved fashion staple for people of all ages for decades. This versatile piece of clothing creates the perfect combination of simplicity and comfort, yet it can be used to style outfits in an infinite number of ways.
Keeping your wardrobe well-stocked with different types of t-shirts gives the opportunity to experiment and get creative when trying to pull fun and chic outfits. T-shirts aren't just meant for running errands, or to wear when grabbing a quick coffee on a Saturday morning. You can use a tee and dress it up with your favorite pantsuit, denim jeans, or animal-printed skirt and make a fashion statement when off to work, and even for a fun night out.
Below, we look at some unusual shirt combinations that look trendy and that will surely capture people's attention.
Graphic T-Shirt with Sequin Trousers
Graphic tees are one of those fashion items that have been trendy for a while as people get more creative with the designs and messages on them. They convey powerful messages and spread awareness, and people are instantly attracted to them as they inspire, make them feel empowered and supported.
A graphic t-shirt looks good with just about everything, even paired with sequin trousers. It might sound flashy but it works.
Sequin can be described as a particularly attention-grabbing fabric that people absolutely love. When carefully chosen for certain settings, you can pair sequin trousers with an interesting plant shirt if you're a nature lover, and transform your outfit into a trend-setting fashion look that will intrigue anyone who sees you. This unusual combination can show that you're into gardening but also express your unique style.
Layering a T-Shirt Under a Fancy Dress
Are you that type of gal who has always loved wearing a dress regardless of the time of year it is? Thanks to some stylish women who've been rocking the layered trend, it has never been easier to get the dress and shirt combination right.
Take out your favorite flowery dress, grab your simple white or a bright single-colored tee from the closet and test out your layering technique. Just make sure the t-shirt's neckline doesn't clash with the straps of the dress and that the final look is clean and symmetrical.
Complete the look by wearing your favorite sneakers and if you're going for a more comfortable and colorful vibe, don't be afraid to put on a pair of multicolored socks. If you want to get some ideas, you can set up a sock subscription and get some of the best patterned, graphic, or fuzzy socks to match your fancy dress-tee combo.
White T-Shirt with Polished Plaid Skirt
If you wish to bring in some Clueless vibes to your look, now is the perfect time to catch up with the trend of wearing a plaid skirt and a simple white tee. This combination can make a world of difference to your appearance as plaid is both a classy and funky print. Regardless of your style, you can wear these pieces any season, time of day, and at any event.
The plaid print itself is eye-catching and makes a loud enough statement but the white tee balances everything out. If you want to convey a sassier look, switch up your outfit and add items like a cardigan layered over the t-shirt, or a structured blazer and finish the look with a knee-high or even over-the-knee boot.
You can also try to wear your simple white tee tucked in with a bright-colored plaid skirt for an edgy yet sophisticated look. Remember that the number one trick to getting it right is to make sure that the plaid skirt fits you well as an ill-fitting skirt will bring down the entire ensemble.
T-Shirt Dress
The t-shirt dress is a perfect everyday outfit as it's easy to throw on and it doesn't matter if you want to wear a pair of sneakers or a pair of ballerina shoes, it will be just as nice either way.
In simple words, a t-shirt dress is like a t-shirt but longer. For those of you who're not familiar with this clothing piece, we can say that it is incredibly comfortable and trendy. What the t-shirt dresses have in common are the sleeves that cover the shoulders, and that in most cases they are quite simply sewn without shapes or embellishments.
When choosing a t-shirt dress, there's one incredibly important thing - its size. If the dress is too short, there's a risk that it will look like you took a regular t-shirt and tried to make it a dress. If you choose an oversized t-shirt dress, it might look baggy. Remember that you can style a t-shirt dress that is more oversized, but make sure it fits your body shape.
Also, think about the color you choose. The classic choice is black or possibly striped, but colors like red, yellow, or maybe green show that you dare to stand out.
Final Thoughts
You can be a minimalist in fashion or have an eclectic taste and a casual tee can still be your favorite piece of clothing. When combined with a plaid skirt, flowy dress, or sequined trousers, a graphic, simple, or elaborately designed t-shirt can make a bold statement and still look put together.