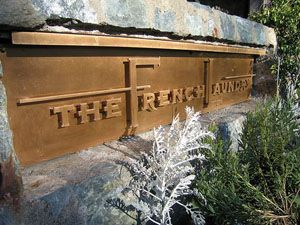 Food & Spirits:
S. Pellegrino's best restaurants in the world list has been released and there are few surprising changes to the list.
While Thomas Keller was the highest ranked American on the list, it wasn't for his flagship French Laundry, rather it was for Per Se, which came in at #6. In fact, the French Laundry dropped from its 2008 ranking of #5 all the way down to #12 this year.
Another surprise was the lack of Gordon Ramsay establishments on the list.
The full list is:

1. El Bulli, Spain
2. The Fat Duck, U.K.
3. Noma, Denmark
4. Mugaritz, Spain
5. El Celler de Can Roca, Spain
6. Per Se, U.S.
7. Bras, France
8. Arzak, Spain
9. Pierre Gagnaire, France
10. Alinea, U.S.
11. L'Astrance, France
12. The French Laundry U.S.
13. Osteria Francescana, Italy
14. St. John, U.K.
15. Le Bernardin, U.S.
16. Restaurant de l'Hotel de Ville, Switzerland
17. Tetsuya's, Australia
18. L'Atelier de Joel Robuchon, France
19. Jean Georges, U.S.
20. Les Creations de Narisawa, Japan
21. Chez Dominique, Finland
22. Ristorante Cracco, Italy
23. Die Schwarzwaldstube, Germany
24. D.O.M., Brazil
25. Vendome, Germany
26. Hof van Cleve, Belgium
27. Masa, U.S.
28. Gambero Rosso, Italy
29. Oud Sluis, Netherlands
30. Steirereck, Austria
31. Momofuku Ssam Bar, U.S.
32. Oaxen Skaergaardskrog, Sweden
33. Martin Berasategui, Spain
34. Nobu U.K.
35. Mirazur, France
36. Hakkasan, U.K.
37. Le Quartier Francais, South Africa
38. La Colombe, South Africa
39. Asador Etxebarri, Spain
40. Le Chateaubriand, France
41. Daniel, U.S.
42. Combal Zero, Italy
43. Le Louis XV, France
44. Tantris, Germany
45. Iggy's, Singapore
46. Quay, Australia
47. Les Ambassadeurs, France
48. Dal Pescatore, Italy
49. Le Calandre, Italy
50. Mathias Dahlgren, Sweden
51. Zuma, China
52. Marcus Wareing at the Berkeley, U.K.
53. Spondi, Greece
54. L'Arpege, France
55. L'Atelier de Joel Robuchon, China
56. Hibiscus, U.K.
57. Aqua, Germany
58. Le Gavroche, U.K.
59. Chez Panisse, U.S.
60. Les Amis, Singapore
61. El Poblet, Spain
62. Maison Pic, France
63. Cafe Pushkin, Russia
64. Le Meurice, France
65. Bukhara, India
66. Varvari, Russia
67. Schauenstein, Germany
68. RyuGin, Japan
69. La Maison Troisgros, France
70. Wasabi, India
71. The River Cafe, U.K.
72. Enoteca Pinchiorri, Italy
73. Le Cinq, France
74. Allegro, Czech Republic
75. Quintessence, Japan
76. Restaurant Dieter Mueller, Germany
77. Geranium, Denmark
78. Caprice, China
79. Jardines, South Africa
80. Amador, Germany
81. Biko, Mexico
82. L'Atelier de Joel Robuchon U.S
83. Fasano, Brazil
84. Mozaic, Bali
85. Obauer, Austria
86. Alain Ducasse au Plaza Athenee, France
87. L'Ambroisie, France
88. Maison Boulud, China
89. De Librije, Netherlands
90. Babbo, U.S.
91. Maze, U.K.
92. Zuma, U.K.
93. Manresa, U.S.
94. Pier, Australia
95. De Karmeliet, Belgium
96. Aubergine, South Africa
97. Bo Innovation, China
98. Rust en Vrede, South Africa
99. Del Posto U.S.
100. Reflets par Pierre Gagnaire, UAE