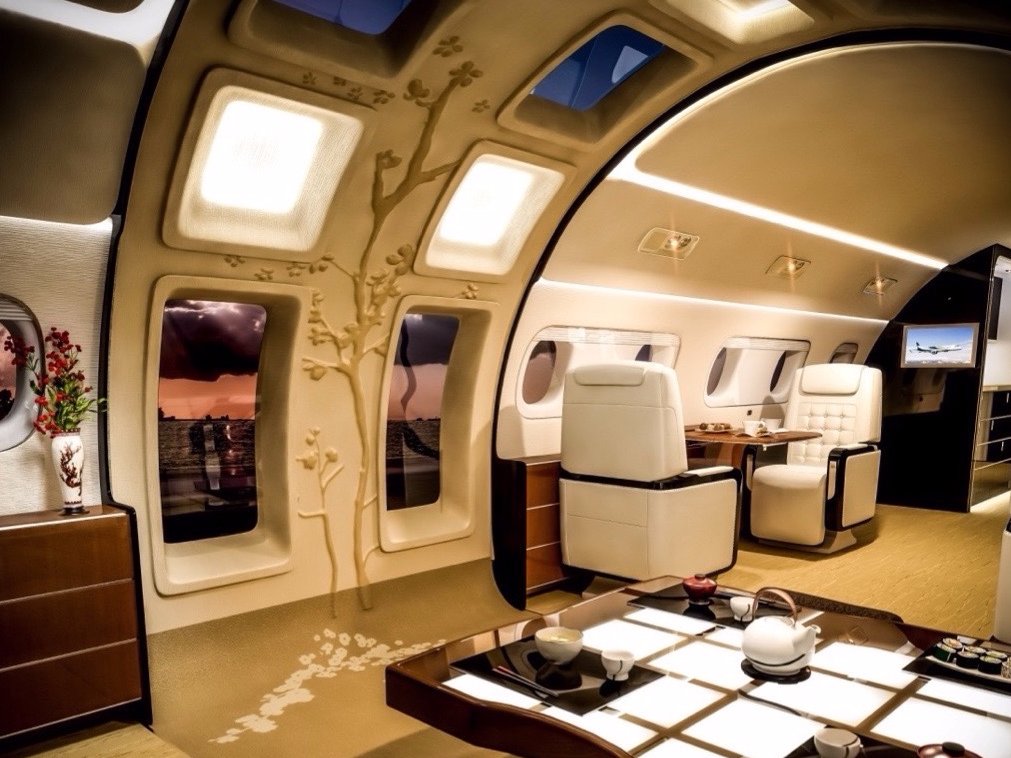 Photos Credit: Embraer
Brazilian jet maker Embraer has revolutionized private air travel with its new design concept, the Kyoto Airship. Intended to be incorporated into the prototype of its lauded Lineage 1000E jets, the Kyoto Airship is outfitted with vertical windows and skylights, the latter of which is a first for large jets with pressurized cabins and the ability to cruise at 35,000 feet.
The current Lineage 1000E has a range of 4,600 miles and the ability to fit up to 19 passengers. The multi-use cabin has multiple areas for relaxing, working, sleeping, and dining. Its entertainment system has a media center, complete with HD video viewing, a surround sound system and device inputs, all controlled by an iPad.
The Kyoto Airship concept, in particular, was inspired by the Japanese custom of sitting on floor cushions. This is reflected in the use of vertical windows, which offer views no matter where the passenger is seated. Regardless, the plane is flooded with natural light, thanks to the skylights. Both the floor and cabin walls are inlaid with a cherry blossom motif, and the dining table is outfitted with smartly-designed Japanese-style dining sets. Embraer's president of interior design, Jay Beever, told Business Insider that the technical specs came from the ERJ-145 regional jet, which employs the observer windows that were originally designed for use by the Brazilian government. Though nobody has ordered the plane just yet, Beever says, "We've proven to ourselves that we can make this. And when a Lineage customer is ready to order this airplane, we will make it."