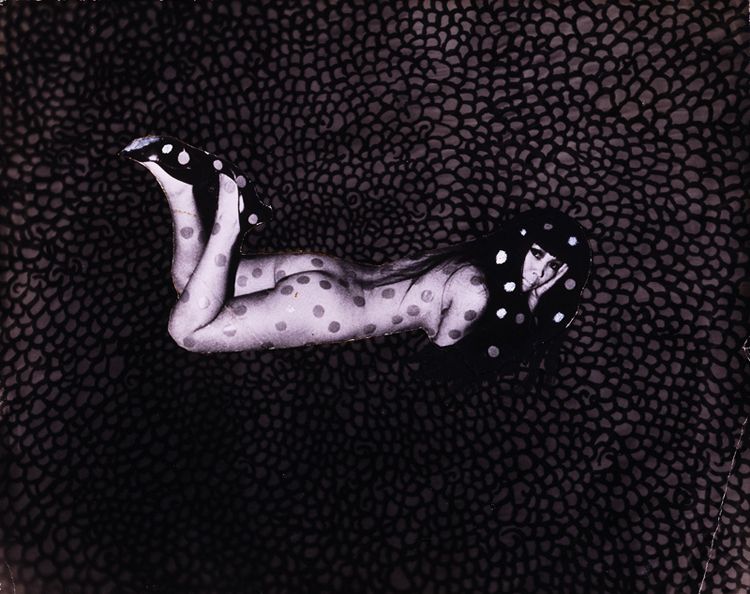 Photo Courtesy of Whitney Museum of American Art
World renowned artist Yayoi Kusama has a long career of painting, sculpture, collage, performance art, environmental installations, and collaborations with
luxury fashion
brands, all working to present her thematic use of psychedelic colors and repetition. Born in Japan in 1929, she went to New York in the 50's and became a major influence on fellow artists of the time, like Andy Warhol and Claes Oldenburg. While she seemed to have dropped from the art scene upon leaving New York in the early 70's, Kusama is recognized as one of the most important Japanese artists to live and is an incredibly vital voice in the world of avant-garde.
With two exhibits in New York at the Whitney Museum of American Art showing a variety of work that spans her entire life, an off-site installation at Hudson River Park, and a recent collaboration with
Louis Vuitton
, Kusama has returned to the New York art scene with a vengeance.
The 83-year-old artist was born in Matsumoto, near Tokyo, to a wealthy family that had a plant nursery and seed farm. Kusama started painting when she was only ten, creating colorful works using polka dots (which is now a trademark of her work) and net patterns in watercolors, pastels, and oils.
She was a strange child who, according to New York Times, had hallucinations and claimed to be surrounded by talking flowers and writhing fabric patterns. She would grow worried that they would swallow her whole and suffocate her with their numbers. Growing up during World War II probably had something to do with her irrational fears, making them worse in her teens. Kusama used art as a way to purge herself of these worries, frantically painting as if it were saving her. lltitle=Yayoi Kusama Exhibit at Whitney Museum### llcontent=World famous Japanese artist Yayoi Kusama is featured in two exhibits at Whitney Museum of American Art in New York. The expansive show features an array of work from her life, as well as a beautiful light installation that will make you feel suspended in space.
She ended up leaving home, needing to escape from her parents who demanded she give up art and marry, and fled to art school. It was there that she subverted academic expectations and created "Lingering Dream" (the exhibit's earliest painting displayed), a traditional floral still-life transformed into a mass of writhing, withered stems that bear a stark resemblance to human limbs. She went to New York in 1957 and immediately began producing large-scale abstract paintings filled with such small details that from a distance aren't even noticed. These "Infinity Net" paintings (four of which appear in the exhibit) brought her to the attention of fellow artists and art critics. Throughout her short time in New York, before she went back to Japan in 1973, Kusama showed paintings, environmental sculptures using mirrors and lights, dabbled in film production, newspaper publication, and staged many events like body painting festivals, fashion shows, and war protest rallies.
Kusama has made a career from shattering expectations and ethical boundaries, creating pieces of art that reflect political climates, obsessions with fear, emotional confusion, phallic-centric themes, and acceptance. Whitney is showing many of her pieces that reflect all her different psychological states through her life, some with morose titles (like "I Who Committed Suicide"), but always shown with an unending imagination and spirit. Her unending use of polka dots pervades the exhibit, showing up all over the place, and can also be seen in the off-site project at Hudson River Park. The outdoor installation features large, amoeba-like, sculptures that are scattered along the grass, allowing people to rest amongst the polka dotted forms.
When you're visiting the regular exhibit, make sure you get a ticket to see the "Fireflies on the Water" installation, which is on view in the Lobby Gallery. The installation is a small dark room that is constructed of mirrors, plexiglass, 150 lights, and water. It may be a little strange for some at first because when to enter you pass through a 30-inch-wide doorway and move over a 6-inch high platform without anything on the edge to keep you from stepping off. Once you're inside, you're surrounded by a pool of water and hundreds of little lights hanging from the ceiling, the mirrors creating an illusion of infinite space. It's a stunning display that, according to the Whitney Museum, invites individuals to "transcend their sense of self."
The exhibit opened on July 12, 2012 and will run until September 30, 2012.
For more information on the exhibit visit
Whitney.org
and for more information on Kusama visit
Yayoi-Kusama.jp