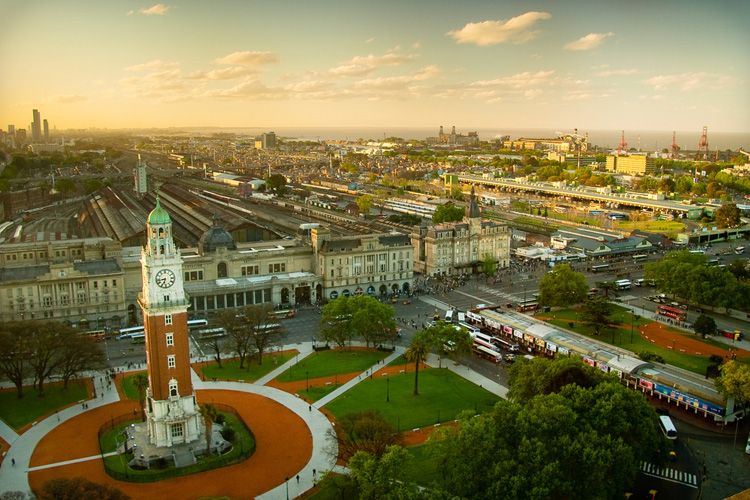 Buenos Aires
and the city is just coming alive as diners seek out their tables at the city's hottest spots, but you're headed deep into a residential neighborhood — perhaps unassuming Villa Crespo near Palermo, or maybe leafy Belgrano or the dignified avenues of Recoleta. You double check the address on your phone or the slip of paper you wrote it on and approach an apartment building that looks just like any other. After finding the correct apartment number you press the corresponding buzzer and wait.
"Si?" comes the response.
You say your name and mention having a reservation. Moments later the door is opened by a beaming young man or woman who guides you along the hallway back to the apartment where you'll be dining this evening.
Photo Courtesy of Casa SaltShaker
No, you're not having dinner at a new Argentinian friend's house (though chances are you'll have made new friends by the end of the evening). Instead, you've come to experience Buenos Aires' defining dining trend of the moment, a Puerta Cerrada (or "closed door" restaurant).
Sort of like a cross between an underground supper club and getting a home cooked meal, Puertas Cerradas came about when, instead of opening restaurants in a dicey economy, some of the most talented chefs in the city opted instead to serve private dinners in their own homes. They began welcoming strangers into their abodes most nights of the week, setting up intimate makeshift dining rooms or sometimes eating straight out of the kitchen.
Forget the tourist-crowded tables (and overpriced menus) of the city's better known restaurants — like Cabana Las Lilas or steak-crazy Don Julio — this is where the real foodies come to dine in Buenos Aires. The menus change weekly, if not daily, so depending on how long you are in the city, you can even go back to the same one several times and have a different meal each night.
Just a few words of caution, though: many only accept cash, so come well stocked ahead of time and bring some extra in case some additional dishes or wine pairings interest you. Since the kitchens are residential, the menus are also often limited and served as a prix-fixe of several courses, so come hungry but don't expect more than two or three choices of dishes per course. Many are also open only a few days a week, usually on the weekends, and fill up well in advance so plan ahead.
Photo Courtesy of Casa SaltShaker
One of the best known of the Puertas Cerradas,
Casa SaltShaker
, is actually run by American Chef Dan Perlman and his partner Henry Tapia. The two welcome guests to their apartment in central, but quiet, Recoleta (near the famous cemetery) with an aperitif, encouraging guests to mingle before dinner. Soon everyone is seated at a large communal dining table and the meal is coursed out with optional wine pairings. Unlike many other Puertas Cerradas, which are basically set up like mini restaurant dining rooms, this is more of a family dining experience and guests tend to befriend one another over dishes like zesty Brussels sprout bisque, seafood cakes, fresh hake filet, and a chocolate torte for dessert. Casa Saltshaker serves dinners Thursday through Saturday, costing just $320 AR ($65 USD) per person.
Photo Courtesy of La Cocina Discreta
For something a little more bohemian, head to Villa Crespo just south of Palermo Soho to try Chef Alejandro Langer's menu at
La Cocina Discreta
, much of which is inspired by recipes from his Ukranian-Jewish grandmother. The tiny dining room is romantic and intimate (only 18 guests per night), and guests whisper conspiratorially as they sample each other's dishes or share a glass of wine. A recent menu here included coconut-crusted prawns, ricotta-stuffed cocoa tortellone in beurre blanc and a simple Malbec-soaked baked pear with creme fraiche ice cream for dessert. La Cocina Discreta serves dinner Wednesday through Saturday starting at 9:00 pm and costs $180 AR ($35 USD) per person.
Photo Courtesy of La Cocina Discreta
For one of the upscale Puerta Cerrada experiences, try
Casa Coupage
in a gorgeous Belle Epoque building in trendy Palermo Hollywood. The front dining room is bright and airy while the one in back is closer to the kitchen and cozier. Guests are also able to sneak out to the candlelit patio for a smoke from time-to-time. This is probably the most expensive Puerta Cerrada restaurant in town but you'll find it's worth every penny when you taste dishes like grilled octopus with plantain, black bean foam, and braised goat with creamy polenta, mushrooms and "sour" tomato. Don't skimp on the optional wine pairings since the owners are pros...literally — the husband-wife team who own and operate Casa Coupage are both sommeliers. Casa Coupage operates Wednesday through Saturday evenings starting at 8:30 pm and the six-course tasting menu costs $350 AR ($67 USD) per person.
Photo Courtesy of Casa Felix
Have more time in Buenos Aires to try other Puertas Cerradas? Spots not to miss include
Casa Felix
(a cheerful Chacarita kitchen, which is one of the city's best known),
Cocina Sunae
in Colegiales (helmed by an adventurous female Korean-American chef), and
Mis Raices
, which has actually been going for a couple of decades now and is the city's oldest Puerta Cerrada, with a menu of classic Jewish dishes cooked by a sweet old bubbe named Juanita Pasternak.
Skip the city's parrillas and tango shows for an evening, and instead come to one of these hidden gems for a true taste of Argentinian cuisine, and discover how it is changing in exciting, delicious ways.