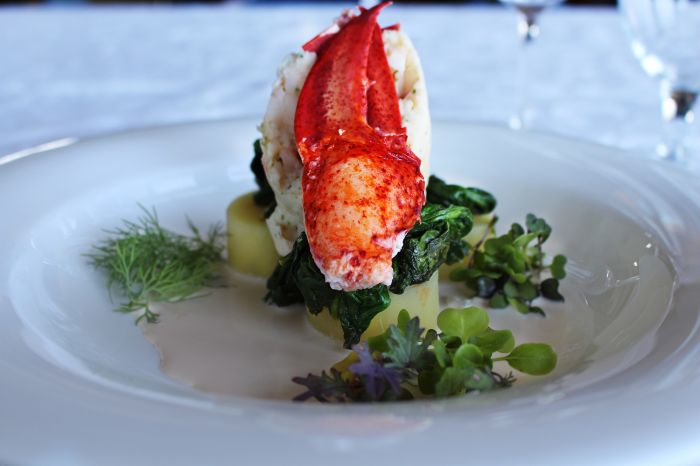 Photos Credit: Fox Harb'r Resort
Fox Harb'r resort offers sanctuary in many forms. The resort is a culinarian's delight; situated on the eastern tip of Nova Scotia and about 90 minutes from Halifax, the area is hugged by the Northumberland Strait and Fox Harbour. Whether you decide to fly right into the property via private charter/jet plane or opt for private car service, owner Ron Joyce (co-founder of Tim Horton's) envisioned a luxury resort that highlighted the natural beauty of Nova Scotia, his home province. From a sprawling, award-winning golf course to indulgent spa retreats and horseback riding to seaside hikes, perhaps the most alluring aspect is the world-class cuisine found on the property.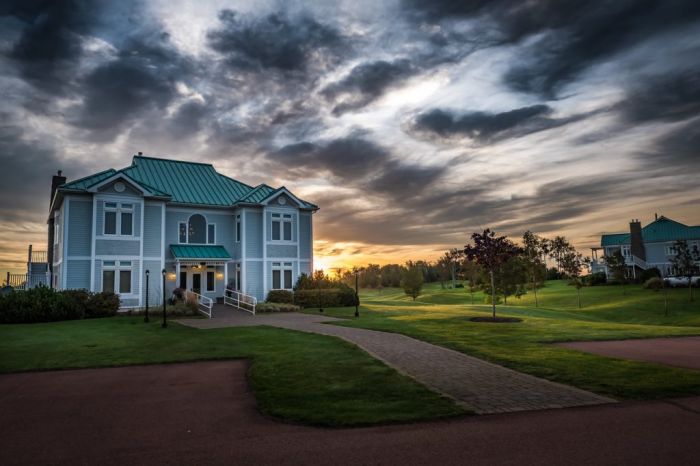 There are three options when at the resort: The Willard, Cape Cliff, and In-room dining. The first is in casual, laid-back digs, akin to a seafarer's bar that includes an outdoor terrace. It's the ideal place for a happy-hour drinks or post-golfing relaxation especially after tackling the back nine. As well, The Willard is famed for its "Flaming Hole in One Burger" that features seafood chowder, fresh oysters on an open faced beef and roast tomato sandwich topped with aged white cheddar. In-room dining offers a wealth of meal options from Nova Scotia blueberry pancakes with maple sausage, line-caught halibut, to chilled seafood platters.
But for an upscale experience, opt for Cape Cliff, which overlooks Fox Harb'r's 18th green, and proudly boasts as Atlantic Canada's first sustainable seafood restaurant. It is here you can indulge in lobster dishes for every meal of the day.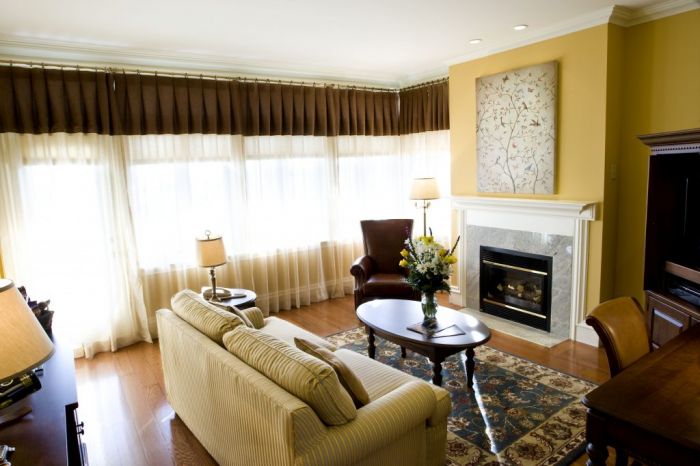 The visionary behind the gourmet dining experience is Chef Shane Robilliard and his culinary brigade. He's been with Fox Harb'r for three years so far and has built a robust culinary program from the ground up, with a focus on offering sustainable seafood, as well as a self-sustaining organic greenhouse. In fact, his menus are a reflection of the fresh fishery options in Nova Scotia—but the difference here is that all meals are sustainable so that visitors can return and enjoy the same dishes for years to come.
In an interview with Chef, he talks to JustLuxe about his gastronomic passions, working with legend Alice Waters of Chez Panisse and his future culinary projects.
JustLuxe: Was there a culinary program in place prior to you arriving at Fox Harb'r resort?
Shane Robilliard: No, but it was a fantastic opportunity to initiate these ideas and have them take-off. The primary focus was golf before, but today we're quickly becoming one of the top food destinations in Eastern Canada.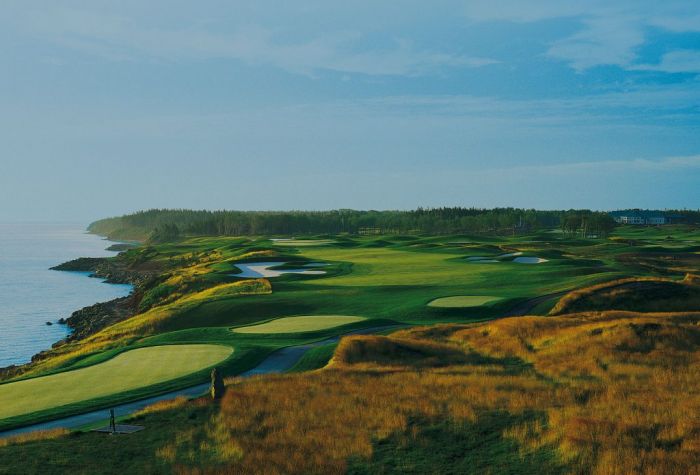 JL: What programming have you initiated?
SR: Here's an overview: All our food is sourced within a 30 mile radius. We're one of the only Ocean Wise certified partners, which is a non-profit organization out of Vancouver, Canada; it endeavors to educate people about sustainable food practices for both businesses and consumers. We have our own organic greenhouse and currently, we grow about 40% of all the produce consumed on property. Lastly, we've just created a vineyard and will be producing our own brand of wines early next year.
JL: You mentioned earlier that sustainability is a passion of yours. Can you elaborate on this?
SR: Alice waters is one of my food icons (I actually staged with her at Chez Panisse years ago), as well as Dan Barber. In a way, you can say I was inspired by both to initiate farming and sustainability projects on Fox Harb'r. But, we've got a way to go. And I'm up to the challenge. Educating people and exercising sustainable food practices overall on the East Coast hasn't quite caught on yet -- especially compared with the pace of the West Coast where practically all restaurants are Ocean Wise certified. Even though cod stocks collapsed two decades ago, all Atlantic provinces are still trying to recover. In the meantime, I'm trying to advocate for sustainable aquaculture and fishing practices. We only use Ocean Wise certified products. For instance, we use in-pond salmon and striped bass; all our halibut is line-caught, and we produce/raise our own trout on the property.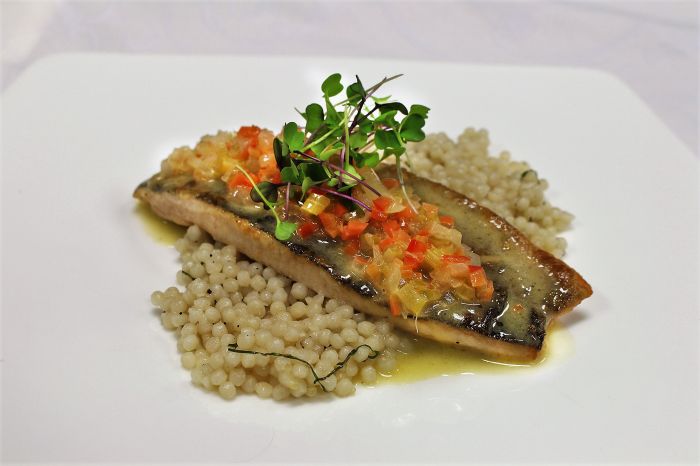 JL: Does farm-raised salmon and other types of fish taste different than those caught in the wild? What about the pens themselves? Do they affect the natural environment in any way?
SR: Ocean Wise was started by the Vancouver Aquarium and so they put a lot of R&D into cultivating and promoting sustainable practices—this includes the "tanks" which are surrounded by rock quarries and always filter in fresh water. It is therefore self-contained and will not negatively impact the natural environment. As well, since the fish are not just lazing about in these pens, the force-flow of water (along with organic and nutrient-dense feed) creates the same conditions of that of the wild—so as a result you get a product, that is in my opinion, far more flavorful than wild- caught salmon, for instance.
JL: Where else do you source ingredients?
SR: As locally as possible. Our jumbo scallops and oysters are from nearby Malagash, our maple syrup comes from Earltown, and chickens from Holdanca Farms in Wallace. I'll also make a weekly visit to Truro Farmers' Market to buy fresh produce we're not growing (yet) in our organic greenhouse.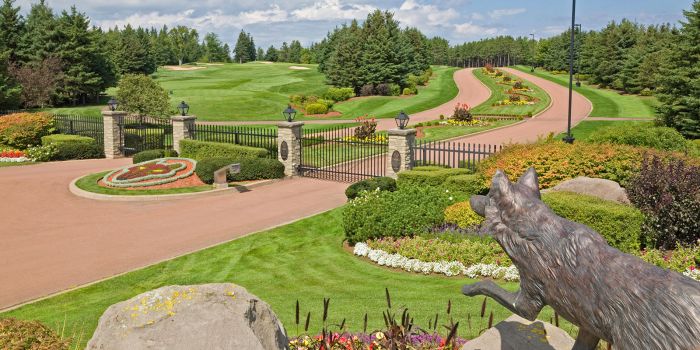 JL: You're working with an on-site horticulturist for your greenhouse initiatives?
SR: Yes, it's incredibly satisfying to use ingredients literally from our own backyard. I work with Michael Stewart who has grown me (in this year alone) 6 tons of head lettuce, three tons of tomatoes, and 1.5 tons of peppers. We're always expanding the types of produce he grows for the property and it includes cucumbers, herbs (thyme, rosemary, oregano, dill, coriander), zucchini, carrots, beets, Swiss chard, and green beans. So far, about 40 percent of all the vegetation eaten is supplied by our greenhouse.
JL: That is exciting. Also, it has been said that you're raising the profile of the property with a culinary series?
SR: Yes, we're bolstering the overall culinary "foodie" experience by hosting and collaborating with numerous celebrity chefs. Since we began three years ago, we've hosted Chefs Lynn Crawford and Massimo Capra. Next year, we'll be hosting another Canadian top chef, Vikram Vij. As well, we've been involved with the Devour Food Film Festival and its culinary program. And of course, we're known for our famous lobster boils and feasts… it's something that guests never want to miss out on.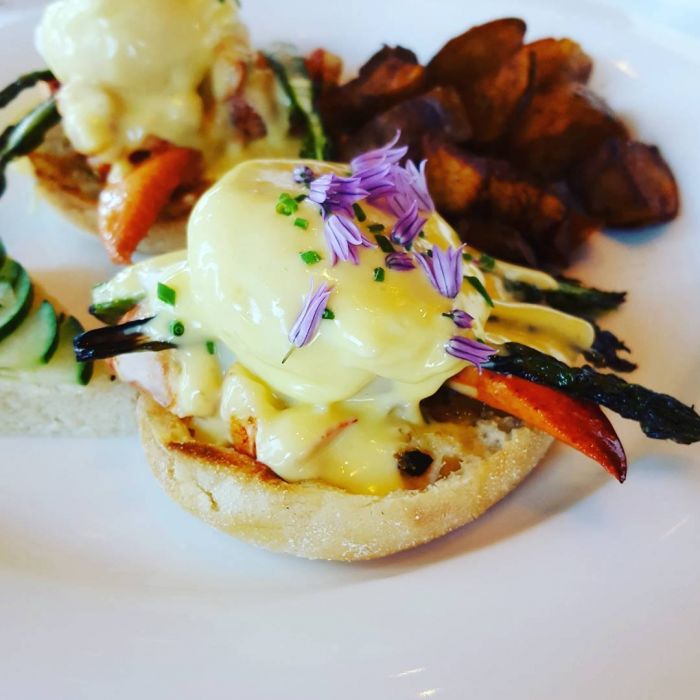 JL: With Canada offering a wealth of multicultural tastes, how would you describe your cooking style?
SR: I like to cook Italian a lot; I enjoy fresh, clean flavors, but most importantly, to not mess around too much with quality ingredients—my aim is to enhance already delicious produce from our sea. I love to work with seafood, as you can tell. It's so versatile and it's probably why I ensure that you can order it any time of day! This is probably the ultimate in experiencing Nova Scotia luxury: tucking into a gigantic lobster drizzled with sweet drawn butter.
JL: What does the future hold for you and Fox Harb'r?
SR: We're hoping to open an intimate inn: about a 50-seater for more experimental and avant-garde cuisine. Also our Operations Manager, Peter Phillips, is overseeing our vineyard growth and production. Once we produce our own wines, we are hoping to have a food and drink pairing series. Currently, we spotlight great wines from our province, including from the nearby Jost Vineyards.
Once our vineyard is fully operational, we're probably going to open a food shack right on the shoreline and build a gazebo so people can host events and weddings; it's all to help spread the word about our hidden gem.