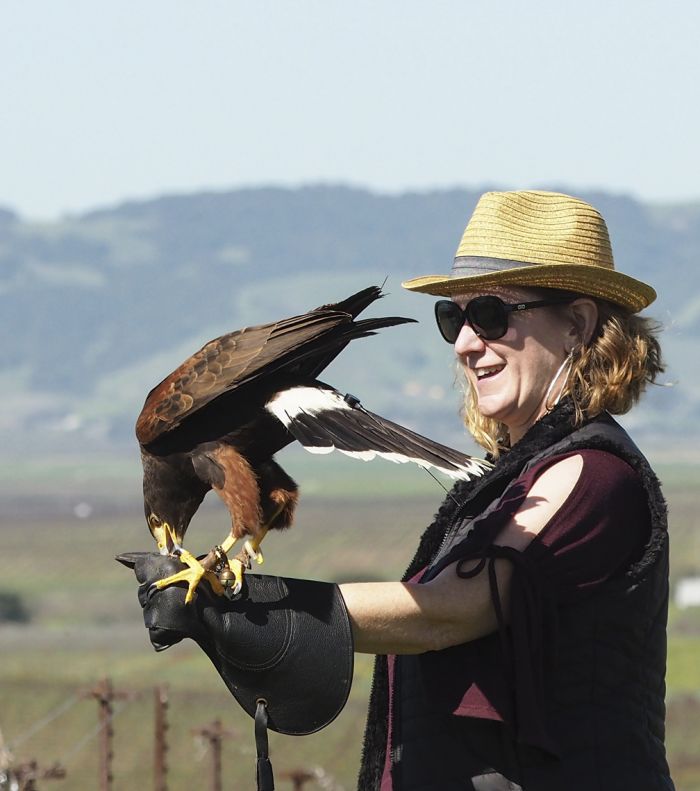 For a twist on your typical Napa Valley winetasting outing, consider this: Bouchaine Vineyards' Falconry Vineyard Experience. This exclusive opportunity allows guests to witness firsthand the wonder of nature while supporting sustainable farming practices. Working with West Coast Falconry, Northern California's premier resource for falconry education and services, the Falconry Vineyard Experience occurs in the socially-distanced space of the beautiful Bouchaine gardens. Participants learn about the role of raptors in vineyard management and in the wild while also learning about Bouchaine's vines, terroir, history and sustainable farming.
With six falcons, nine hawks, three owls and a vulture, West Coast Falconry is one of the few falconries to hold a U.S. Fish and Wildlife Special Use permit, allowing a trained bird to fly to a guest's gloved arm or allowing a guest to hold a bird for photos.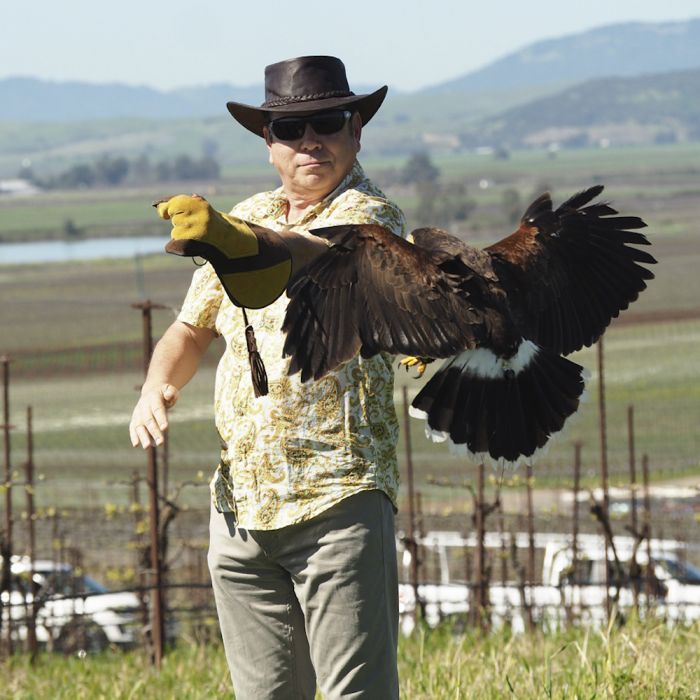 During the experience, the birds swoop through the air in a display of astonishing agility, return to their handler, and then to the gloved arm of each guest. The falconer discusses the eyesight, flying, and hunting techniques of hawks, falcons, owls, and eagles.
Following the class, guests are seated at separate picnic tables with a bottle of wine, Bouchaine wine glasses to take home, and a sunny spot to relax for an hour.
Bouchaine Vineyards, the oldest continuously operating winery in Napa Valley's Carneros District, uses falconry daily for bird abatement during the final months of the growing season. Trained falcons and hawks are used to intimidate and chase pest birds from the vineyards. This is a natural predator-versus-prey relationship that allows pests that cause damage to grapes to be removed to a different location through repeated 'flyovers,' resulting in a quiet, discrete, organic, eco-friendly and sustainable abatement procedure. No birds are harmed in the process.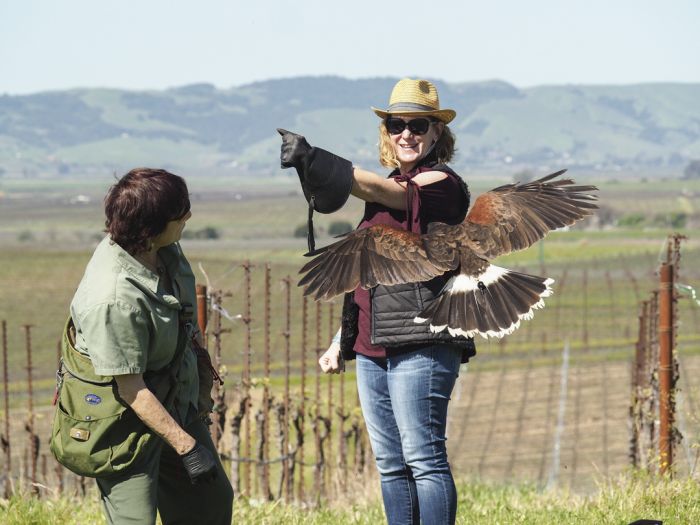 Falconry Vineyard Experiences are scheduled for August 30, September 27, and November 8, from 9:30am to 11:00am. Cost is $200 per person.
The Falconry Vineyard Experience and the Falconry Demonstration are available only by reservation by calling (800) 654-WINE or (707) 252-9065. Guests will be advised of standing prescribed health safety requirements at the time of the reservation.
Photos by Carolyn Younger Photography