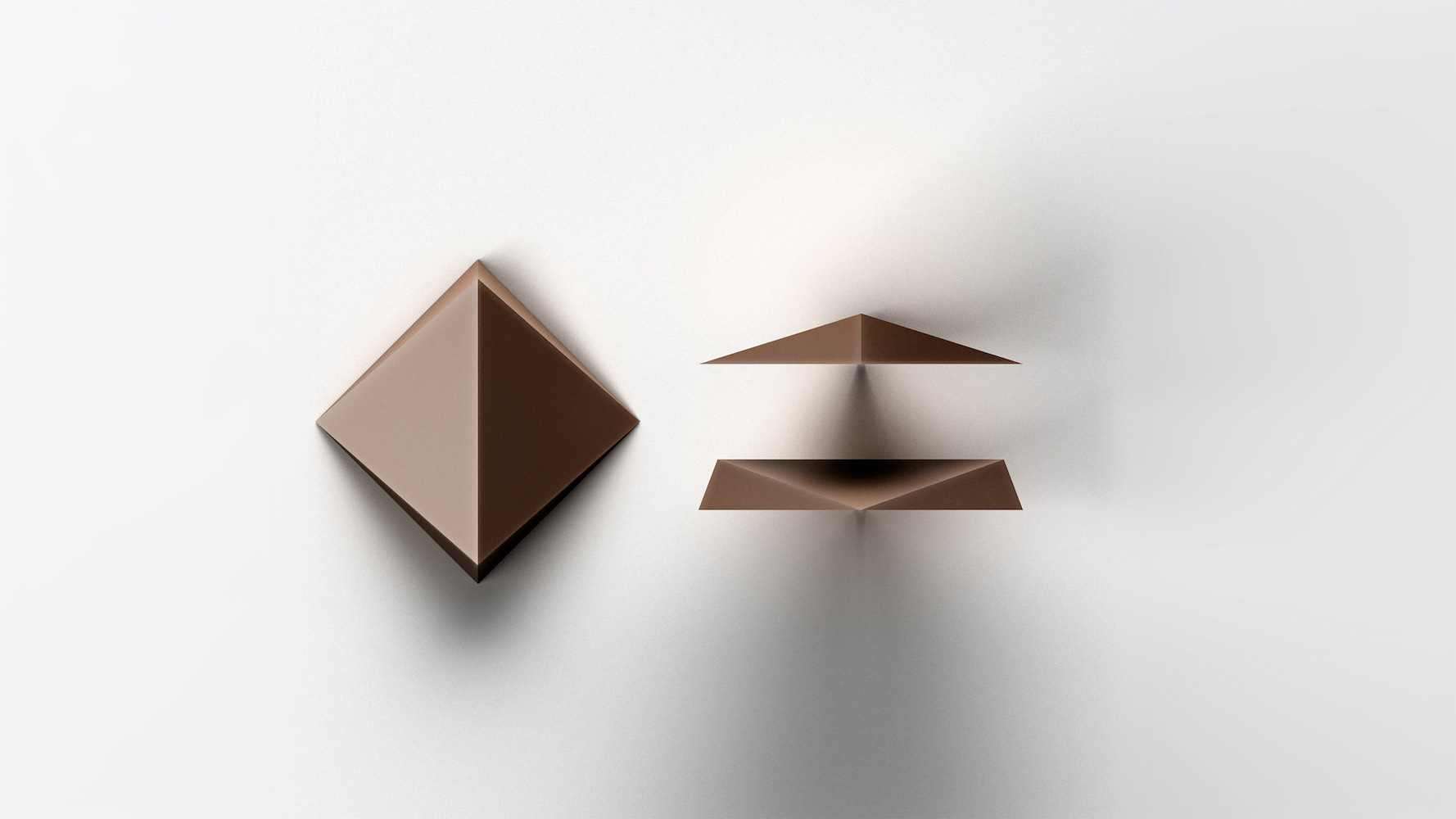 Is it possible to improve on a nearly perfect product? Dandelion Chocolate thinks so. With their creation of a single origin chocolate 'facet,' the San Francisco-based, award-winning, bean-to-bar chocolate factory calls into question the physics of the traditional and beloved dewdrop-shaped chocolate chip.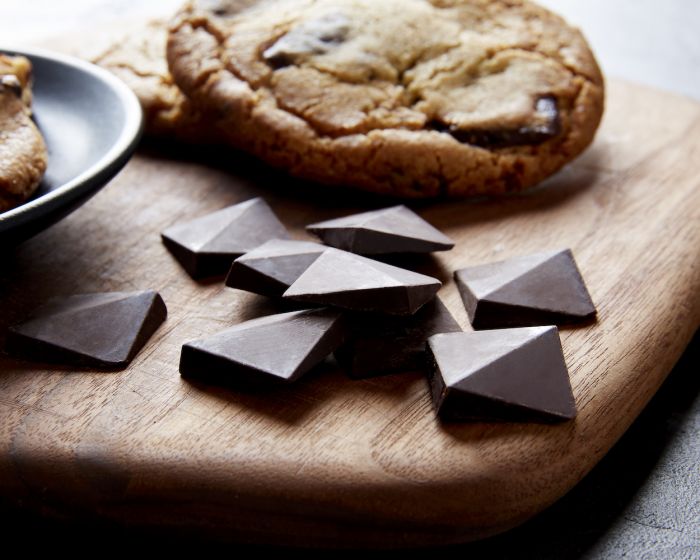 Photo: Nick Katkov
Square-shaped, multi-sided, and glossy, Dandelion's new craft chocolate chip starts with the highest quality single-origin beans. The production process begins with pouring small batches of tempered, molten chocolate into a mold designed by Remy Labesque, an industrial engineer who collaborates with design-driven companies to develop fresh and meaningful products. The resulting chips have a snappy, smooth, shiny finish, and are shelf-stable. The glossy facets are reminiscent of futuristic gemstones.
Dandelion Chocolate's Executive Pastry Chef Lisa Vega and founder Todd Masonis were on a mission in 2018 when they tapped Labesque to create the perfect craft chocolate chip specifically tailored for their pastry kitchen's recipes. Labesque, who has worked with innovative brands including Tesla, Kasita, Honeywell, and Jupe, was immediately drawn to the challenge, primarily due to his love of craft chocolate, but also "Because the world of industrial design is running out of simple forms that haven't been claimed for something already," he says.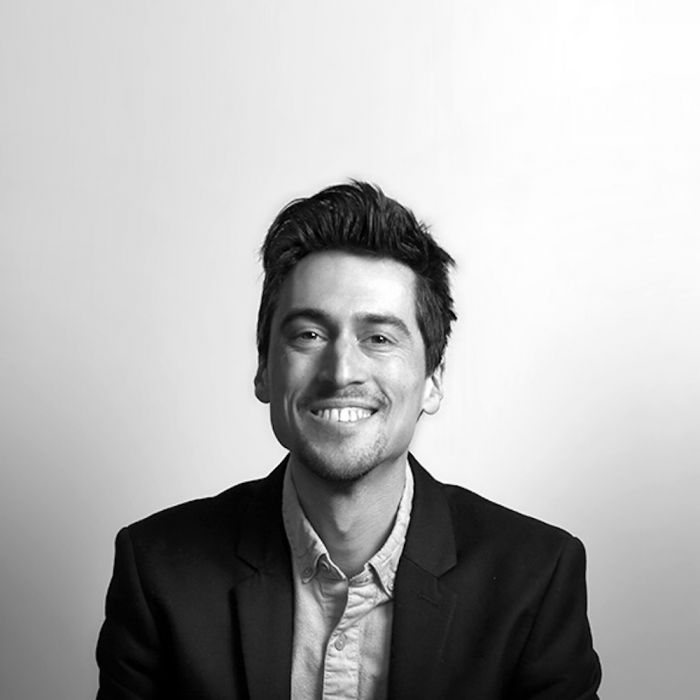 Remy Labesque
During the research and development phase, Labesque theorized that the thermal mass of a thin piece of chocolate melts more quickly on the palate. He proposed a novel prototype that was square and faceted, with the edges of the chip tapered to as thin as possible without compromising structure. In considering the design concept Vega says, "I'm happy/thrilled/impressed with the elegance of the chip, they melt consistently in baking, and the form interacts with all five taste receptors in the mouth, showcasing the single-origin chocolate flavors beautifully."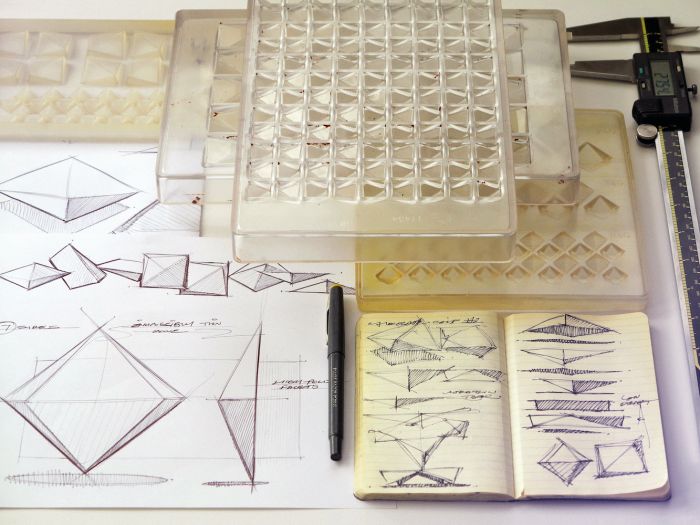 "We're excited about Remy's chocolate chip design," echoes Masonis. "By challenging the original shape, he has enabled us to elevate the Dandelion chocolate chip eating experience."
The large, 70% dark chocolate chip mass is 3.5 grams, and one square-inch. The Chips are being released by origin, and the first three are especially suited to baking and making confections: Costa Esmeraldas from Ecuador, 70%, 2018 Harvest, with notes of chocolate buttercream frosting and banana, Hacienda Azul from Costa Rica, 70%, 2019 Harvest, with notes of chocolate almond biscotti, and buttery caramel, and Ambanja, Madagascar, 2017 Harvest, with notes of raspberry cheesecake and lemon zest.
The price is $30 for a 17.6 oz pouch and $100 for a 5.5 lb. box. Dandelion's Large Chips are available for purchase at their webstore with free shipping, and in Dandelion's San Francisco retail stores.
Photos courtesy of Dandelion Chocolate