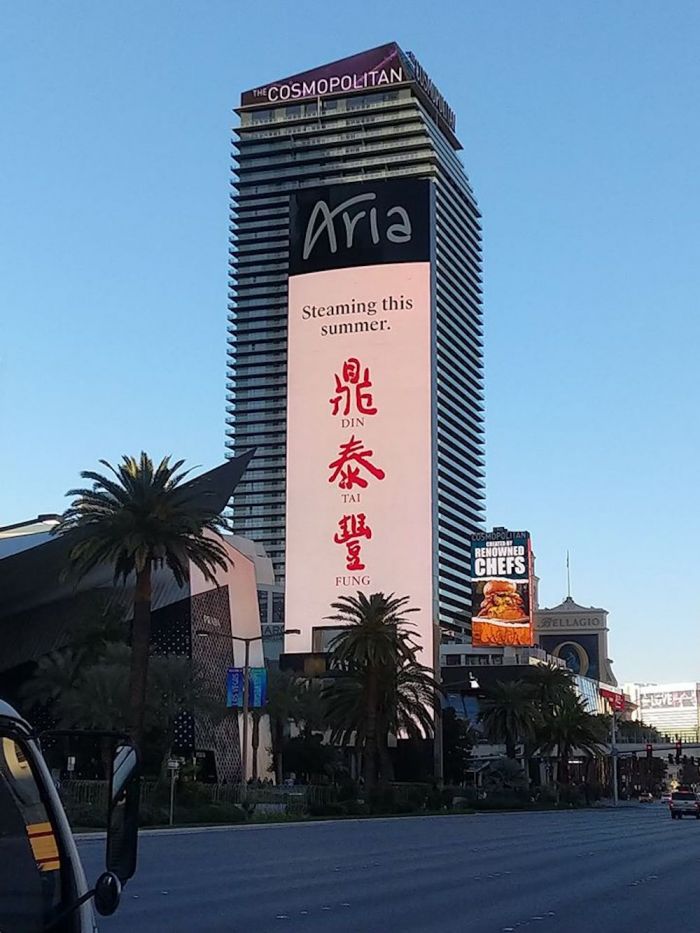 Din Tai Fung/MGM Resorts
Din Tai Fung is a renowned dumpling and noodle restaurant, known for perfecting the craft and culinary art of Xiao Long Bao, a type of Chinese steamed bun/dumpling from Jiangsu province. Din Tai Fung will open its first Las Vegas location at ARIA Resort & Casino on October 19.
With a Taiwan tradition dating back to 1927, Din Tai Fung's Las Vegas opening marks the 25th anniversary of the concept's expansion to the United States. Din Tai Fung's precisely handcrafted Xiao Long Bao, or soup dumplings, have been considered by many chefs, "small miracles." The Shanghai-style multi-pleated soup dumplings feature the highest quality Kurobuta pork and broth, fragranced with aromas of fresh ginger and green onion.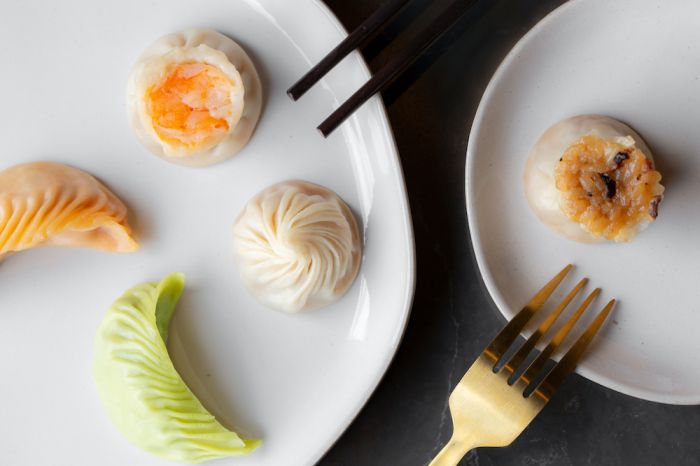 Din Tai Fung/MGM Resorts-Xiao Long Bao - soup dumplings
The new resort restaurant will offer a lively show kitchen with skilled chefs displaying the craftsmanship that goes into the creation of each handcrafted dumpling. The restaurant is taking the space of the former Aria Café, and will seat 212 people when it opens, after adjusting for the limited capacity and social distancing requirements that restaurants currently must follow. Chen-Wei Chan, a veteran of Wazuzu, Red 8 and Hakkasan Group, is the executive chef and will lead the kitchen.
Like much unique food and restaurants from China, there are substantial stories about their beginnings and the evolution. Originally founded in 1958as a cooking oil retail business, Din Tai Fung was repurposed in Taiwan as a steamed dumpling and noodle restaurant in 1972. In 1996, the first international location opened in Tokyo, and the first location in North America opened in Arcadia, California in 2000. In 2009, the Hong Kong branch was awarded one Michelin star. Din Tai Fung now has 7 locations in California, 5 locations in the Pacific Northwest and more than 170 restaurants in 13 countries worldwide.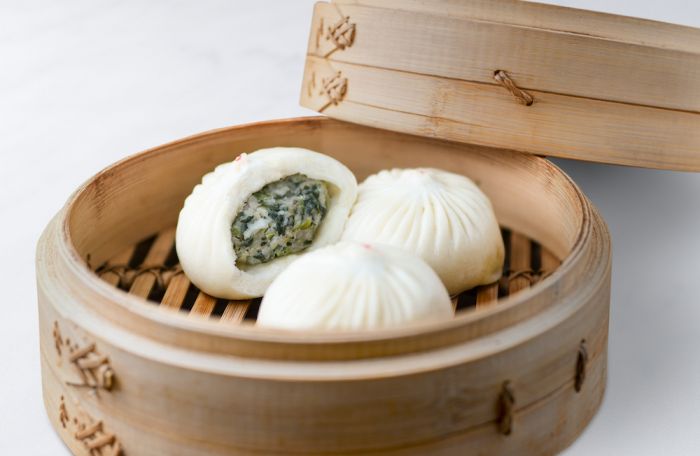 Kurobuta Pork/Vegetable Dumpling/Bun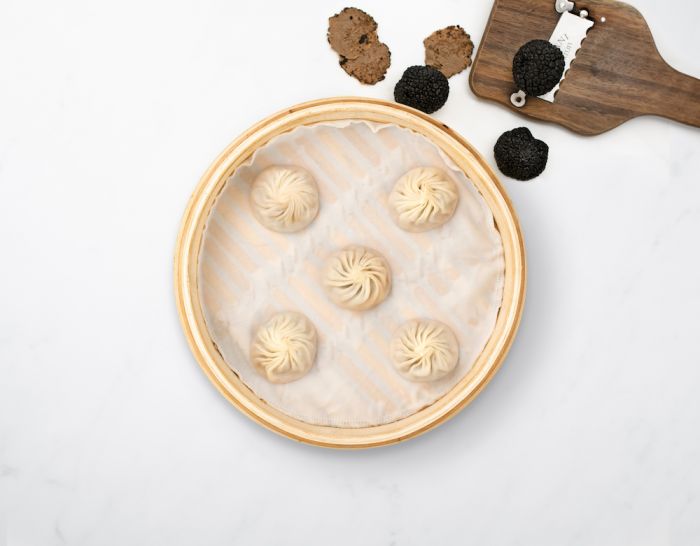 Truffle Kurobuta Pork Xiao Long Bao
But the one major specialty of this restaurant is its dumplings.
In 2006 the Shanghai government listed them as a protected national treasure. Their cultural impact in China is substantial – so much so that they crossed borders and affected global cuisine. The Khinkali, for example, a Georgian (Russia) snack that resembles an oversized Xiao Long Bao, is said to have originated when the Mongols brought dumplings with them in the 13th century via the Silk Road from China.
The smaller Xiao Long Bao originated in late 19th-century Shanghai, at a time when the steamed-bun market was becoming increasingly competitive. What made Xiao Long Bao different from other steamed dumplings was the addition of aspic, a jellified meat stock, that melts into a flavored broth once the buns are steamed. Making aspic in the 19th century was time consuming: after boiling animal bones and leaving the broth to simmer for several hours, it was then left to cool and set to gelatin.
The dumplings were originally named nanxiang da rou mantou (literally 'large meat-filled bun from Nanxiang'), but not surprisingly, the name didn't catch on. What did, however, was the taste. Over time, the name evolved to the much simpler name xiao ('small') long ('basket') bao ('bun')
These dumplings are juicy, with flavorful fillings covered by light, thin dough. Shanghai dumplings are those with a well-seasoned, savory pork filling wrapped in a thin wheat-flour skin, then gently steamed on bamboo racks with the juices forming the soup. There are also shrimp and pork steamed dumplings, as well as vegetable steamed dumplings, with finely chopped fresh bok choy (Chinese white cabbage) mixed with savory rice, wrapped and steamed.
And for the dining patrons, Din Tai Fung is a lesson in culinary history. Tasting these "small miracles" in Las Vegas -- far from Shanghai (6500 miles) or Taiwan (6900 miles) -- distance minimizes, while taste memory maximizes, making this tasteful experience all the more memorable.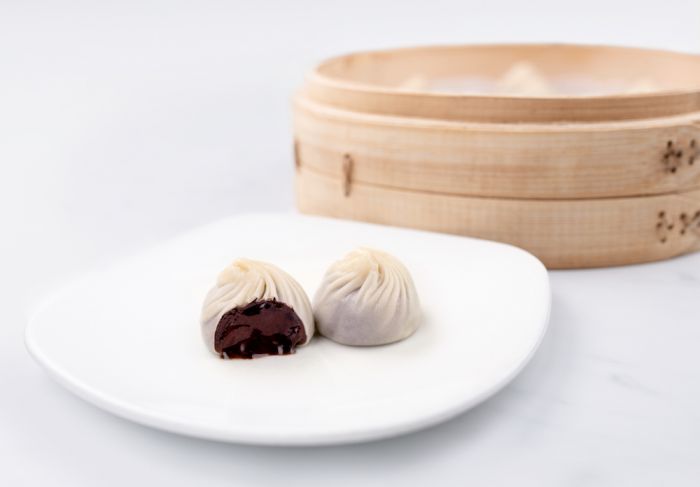 Chocolate Mochi Xiao Long Bao