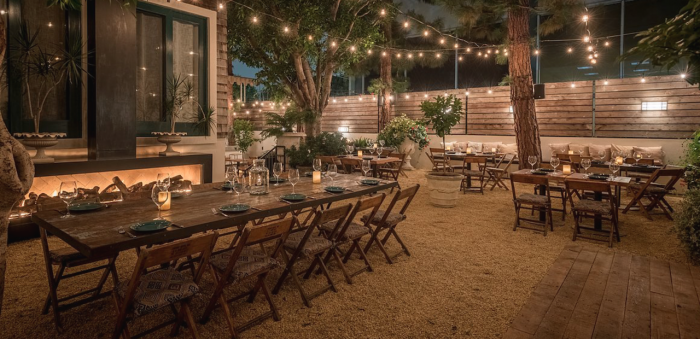 Fia Restaurant
For Angelenos wistful for a much needed retreat to Italy, that dream can be realized sooner than imagined with a short drive to the coastal city of Santa Monica as you travel with your taste buds at Fia. Fia restaurant is a hidden gem with indoor and outdoor seating, tucked away in a chic yet rustic garden with earthy elements like trees, wooden tables and tiny pebbles for flooring. The setting is just as magical in the daytime as at night when it is illuminated by hanging lights, a decorative fire pit and trees strewn with tiny lights. Designed by acclaimed designer Matt Winter, Fia is the first joint venture from Executive Chef Brendan Collins (formerly of Waterloo & City and The Hall at Palihouse) and hospitality entrepreneur Michael Greco of The Bungalow in Santa Monica and Huntington Beach and Rehab and PURE nightclub in Las Vegas to name a few. Fia represents Greco's longtime dream of an Italian and Californian coastal restaurant concept that is influenced by his travels to Positano, La Jolla and France with the energy of his hometown, New York City.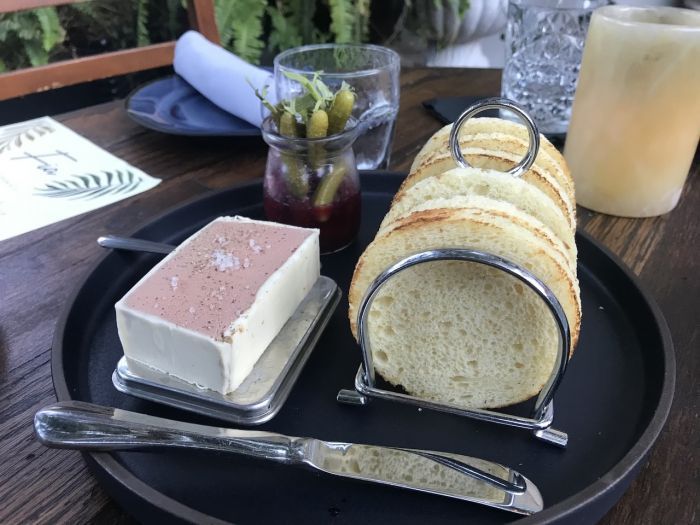 Chicken Liver Mousse- Carin von Berg
Located in the heart of Santa Monica, Fia will transport you to an alfresco spot on the Italian Riviera with the energetic buzz of socially-distanced diners, knowledgeable and dedicated servers and last but not least, the food. Hailing from Nottingham and trained in French technique, Executive Chef and Partner Brendan Collins has quite an impressive culinary background with a stint at London's Michelin two-star restaurant Le Gavroche and The Café Royal, his first executive chef position at The Calls Grill in Leeds, sous chef positions atOxo Tower Restaurant and Quo Vadis and a chef de cuisine role at LA's acclaimed Melisse.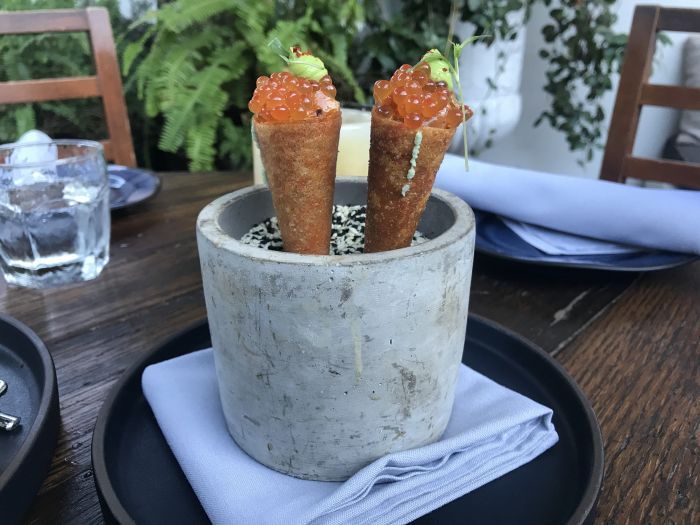 Spicy Salmon Tartare Cones- Carin von Berg
Fia's menu utilizes the freshest seasonal and local ingredients showcasing chef Collins' culinary mastery with such staples as Chicken Liver Mousse on a toasted brioche with marmalade, Lobster Bolognese with Handmade Capellini and Handmade Cavatelli with parmesan, brown butter and freshly shaved black truffles. A must-have starter is the Spicy Salmon Tartare Cones with avocado mousse and salmon caviar while the Sweet Corn Agnolotti with Blue Crab Sauce Cardinal is a nice option to sample.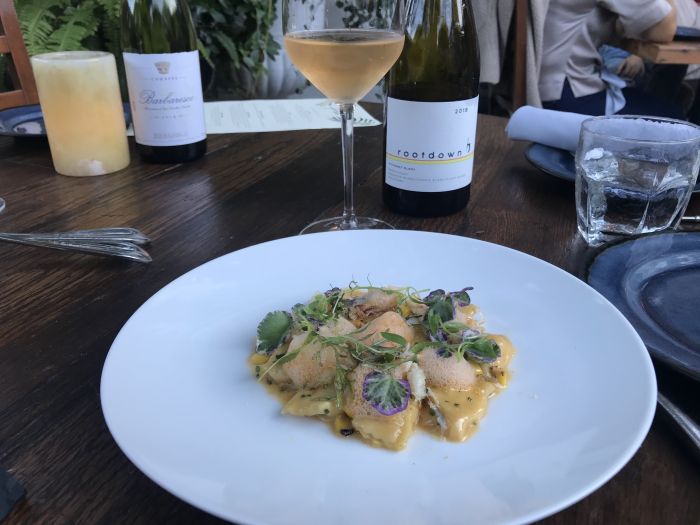 Sweet Corn Agnolotti- Carin von Berg
While the handmade pastas are a standout, there are plenty of meat and seafood dishes to choose from like the succulent Nova Scotia Halibut with baby artichokes in a beurre blanc sauce, the Creekstone Farm Shortrib with baby vegetables and spinach, the hearty Beef Wellington with bacon wrapped asparagus and a red onion marmalade and a Prime Export Bone-in-Ribeye with grilled broccolini and charred lemon. Vegans need not fret as there is also an "Impossible Meat" Lasagna Bolognese with an almond béchamel that should leave even the staunchest vegan food critic satisfied.
Handmade Cavatelli-Carin von Berg
The energetic and friendly Wine Director Kaitlyn Harrah made a few wine and cocktail suggestions to suit our tastes. I opted for the refreshing Cucu of vodka, fresh cucumber, lime and spicy strawberry honey while my dining companion tried the more intense Smoke Show of Mezcal, passionfruit, Clement d'Orange, fresh lemon juice and pepper heat. As I was in the mood for red wine, a robust 2014 Araldica Corsini Barbaresco was recommended to pair with my Handmade Cavatelli with black truffle. I also tried a glass of a floral 2018 Rootdown Grenache/Chenin Blanc/Pinot Blanc blend to go with the Sweet Corn Agnolotti with blue crab.
Nova Scotia Halibut-Carin von Berg
Things got a bit "complicated" when it came time to select a dessert as there were just too many choices that appealed to my taste buds. Amalfi Lemon Mouse Cake with a vanilla mousse and limoncello granita? Yes please. The Olive Oil Cake would surely take me right back to Tuscany but my weakness for chocolate won out and the decadent Chocolate Dome with caramelized dark chocolate mousse, coffee cream, almond praline and a cocoa biscuit did not disappoint. My main suggestion to enhance your dining experience at Fia is to go with at least three other people so that you may sample the full bounty of the impressive offerings. Most importantly, Fia allows you to enjoy a true, fine dining experience unlike many other makeshift eateries that now inhabit sidewalks and parking lots in this strange, new world that we live in.