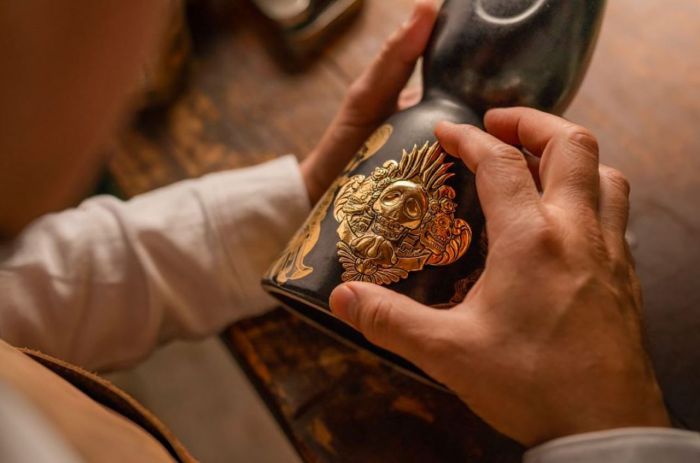 Clase Azul
As long as the meaning of luxury evolves, and discussions of its dimensions can be argued, there remain three basic, indisputable essences that define luxury products and services by the Ultra High Net Worth buying populations. These are scarcity, legacy, and craftsmanship.
Those three elements are usually found in the purchase of passion and lifestyle investments and products: high end automobiles, jewelry, homes, yachts, objets'd'art, and the like. But rarely does one find a spirit that defines the spirit of a culture, and of a country; a spirit harvested from humble roots, and yet easily fulfills and finalizes the criteria for the meaning of luxury.
But Clase Azul, Mexico's first luxury brand and creators of Clase Azul Tequila and Clase Azul Mezcal, has the spirit and spirits of Mexico bottled in hand-crafted decanters that sell upwards of $5000.00 per bottle.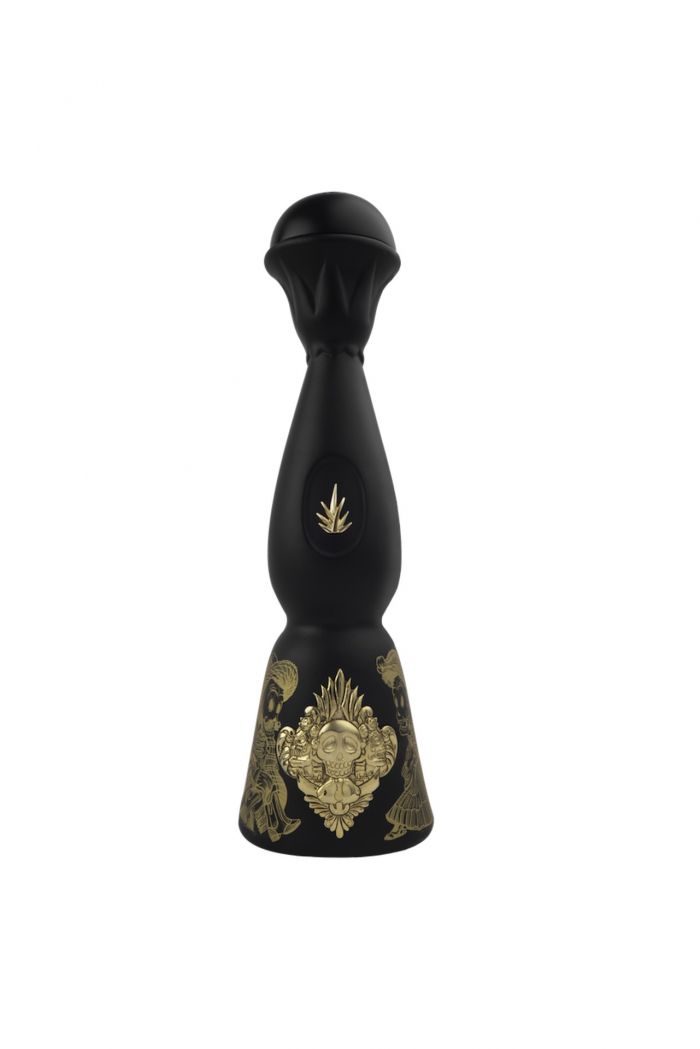 Black Decanter, 2021 Clase Azul Dias De Muerto Anejo Tequila
In October, 2021, Clase Azul announced a new multi-year Día de Muertos series of Limited Editions, called Nuestros Recuerdos (Our Memories.) Beginning in Fall of 2021, through Fall of 2025, Clase Azul will feature one limited-edition release per year. For those who have a deep appreciation for Mexico's rich history and culture, the collection has been anticipated for quite a while.
The first installment in the Nuestros Recuerdos series is called Sabores ("flavors.") Inspired by Dia De Muertos' gastronomical traditions, Sabores will debut on October 18, 2021 with only 5,000 decanters available for purchase worldwide.
As one of Mexico's most provocative and culturally important holidays, Día de Muertos centers around the popular tradition of mounting altars or, ofrendas: traditional displays created in honor of the deceased, adorned with photographs, food, beverages, possessions of the departed, all with decorative skulls called calaveras. These offerings are essential to the holiday, serving to welcome back the departed loved ones with the food and drinks they enjoyed in life including, but not limited to, pan de muerto, a sweet seasonal bun, tamales, atoles (a traditional sweet, hot beverage made with corn flour, seasonal fruit, and of course, tequila.
This Dia De Muertos tequila was created by blending an Añejo tequila aged for over 14 months in casks previously used for American whiskey.
The Sabores Limited Edition is the brand's first Single Estate Agave Tequila — a rare practice where the agave used is exclusively harvested from a single field. The Blue Weber Agave used for this tequila was sourced from a specific mountaintop in Los Altos de Jalisco called the Cerro de Viboreo. Apart from being located among the remnants of an ancient civilization, the area has special soil and weather conditions that result in agave with a distinctive flavor profile.
With fragrant aromas, complex flavors, and amber color, this full-bodied añejo is an experience of the senses. The nose detects candied orange peel, ripe pear, toasted oak, vanilla, and crème caramel. When tasted, flavors of sweet coconut, cloves, coffee, roasted almonds, and hints of chocolate appear and remain.
"This tequila is inspired by the Día de Muertos' flavors and aromas," explains Clase Azul Master Distiller, Viridiana Tinoco. "Flavor often evokes memories — the goal here is to recreate the essence of this holiday's gastronomy in an Añejo tequila-- so that anyone, anywhere may experience it."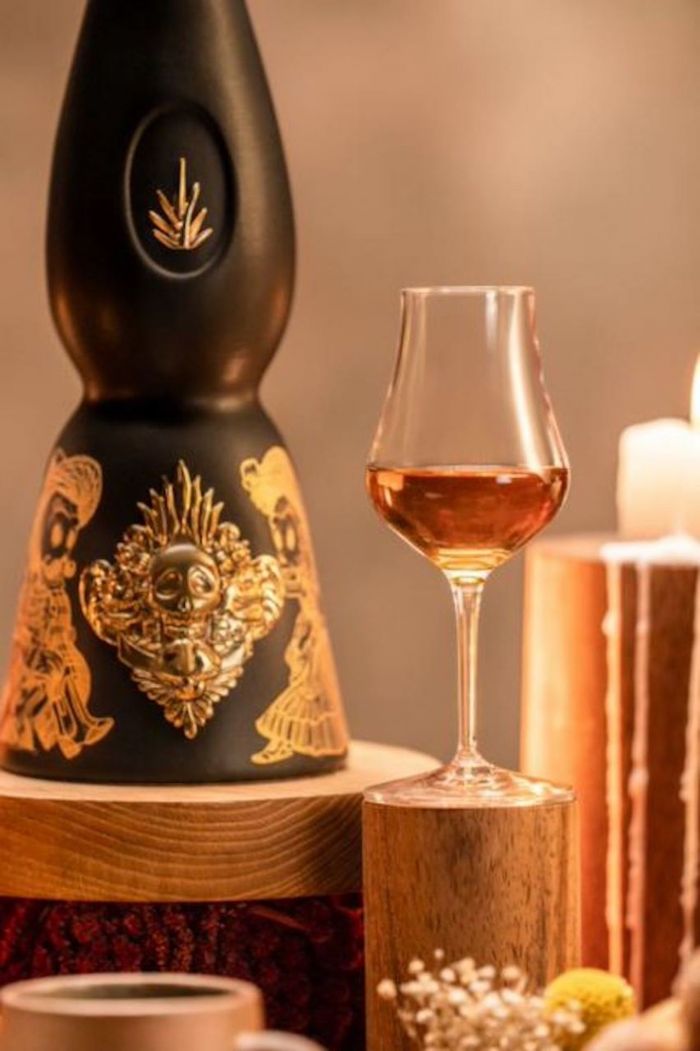 Clase Azul
The handcrafted, matte black decanter that holds this tequila, symbolizes the rich and mystical celebration featuring important elements of the holiday's traditions.
The bottle front is adorned with a handmade, gold-plated metal ornament depicting three calaveras (decorative skulls) and a Pan de Muerto, symbolizing the holiday's unique and mystical culinary traditions. The artwork around the decanter's periphery depicts a feast being enjoyed by the Catrinas, the elegantly dressed skeletons associated with Día de Muertos. The final touch on the decanter is Clase Azul's iconic agave symbol, plated in gold for this Limited Edition.
Upcoming Limited Editions of the Nuestros Recuerdos series will each illustrate another aspect of Día de Muertos. They will continue until 2025 and will be called Aromas ("scents"), Colores ("colors"), Música ("music"), and Recuerdos ("memories").
Clase Azul Día de Muertos is available in a 1 Liter decanter, 80 proof. Last year, 2020, the price was upward of $5000.00, if one could acquire it.
Craftsmanship, legacy, and scarcity along with the worth of cultural imagery and taste, make, to many, this decanter and contents essentially priceless.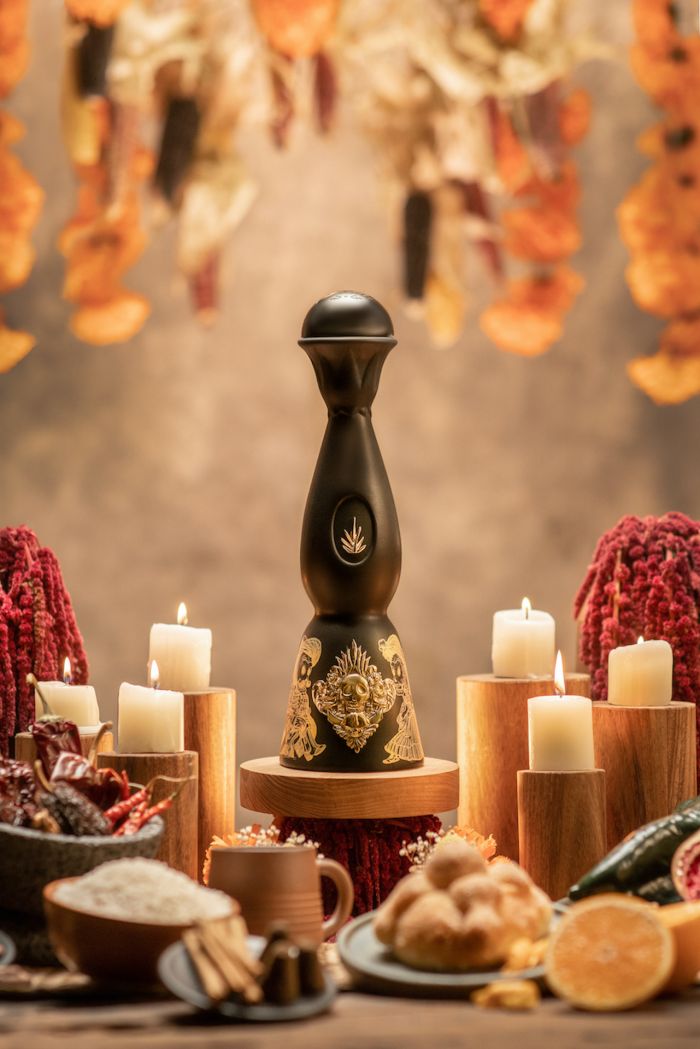 Clase Azul
Clase Azul in the Ofrenda.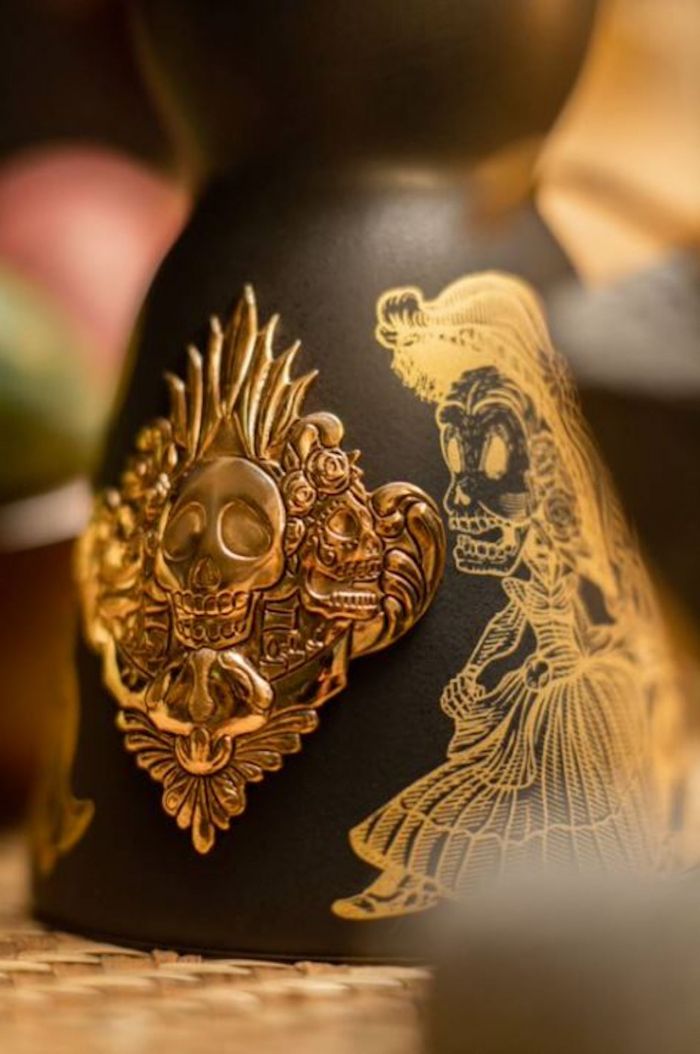 Clase Azul
Bottle design with Catrina on the right.