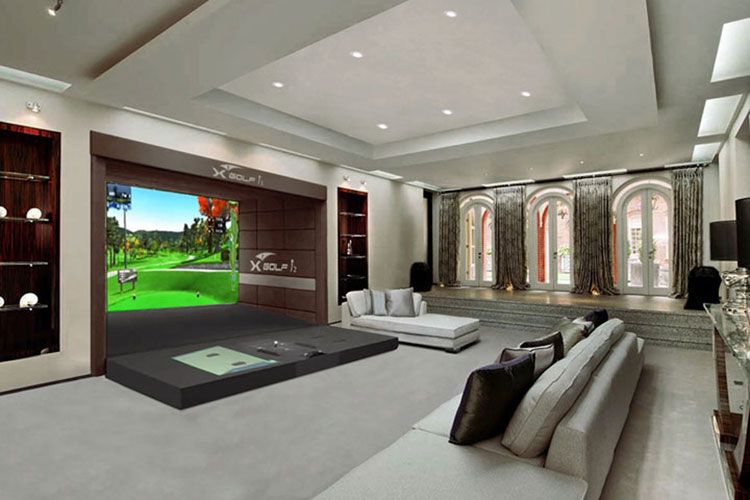 Photo Courtesy of XGOLF
Golf simulation machines come in handy when time restraints or weather conditions limit play. Of course, traveling the world to golf on internationally famous courses while staying at luxury resorts is the preferable route, but it is not always an option. There are many simulators on the market, and if cost is a determining factor, then the XGOLF model would rank pretty high. With an approximate price-tag of $50,000, the makers of this
luxury gaming system
claim that it gives
the
most realistic golfing experience found today.
XGOLF is a high-end simulator that is fit for instructional use and club-fitting. Manufacturers claim it is seriously ahead of the competition with its cutting edge technology that accurately and precisely analyzes a player's swing. "Through the use of strategically-placed numerous optical sensors, XGOLF tracks extensive swing data, providing detailed shot information, video analysis, weight-shift analysis and data analysis." The game comes equipped with multiple sensors that capture one million data points per second and software that processes the information at 6,000 times per second. XGOLF even measures the spin and velocity of the ball.
Two of the features that supposedly set XGOLF apart are its XPLATE and XBALL technology. These technical terms are actually pretty simple. XPLATE (Variable Lie Positioning Plate) is the area on which the golfer stands and it basically reproduces the feel or slope of the green. The automatically adjusting plate tilts accordingly, based on whichever green is being played. XBALL (Intelligent Ball teeing) eliminates the need to reach down and fetch golf balls. The game retrieves and tees all balls, remembering each player's height preference and adjusting tees to the millimeter.
With a catalog of 93
golf
courses, XGOLF has surround sound and special effects meant to mimic realistic play. Grass sways when a ball is hit and sand from the bunker sprays after a shot. Will you forget you are indoors? We're not sure, but the system seems remarkable nonetheless as it also offers personalized lessons, and is perfect for year-round use in a home, store, or office. When the courses are finished, XGOLF can even be used to watch movies, sing karaoke, and play video games. Priced between $43,000 and $58,000, it is hard to find reviews for the system, but a local golf shop might carry it for demonstration purposes.
XGOLF has been in business for over 12 years and have over 3,000 worldwide installations. If the claims are true, this might be the holy grail of simulators. We even included XGOLF in this year's
Holiday Gift Guide
!