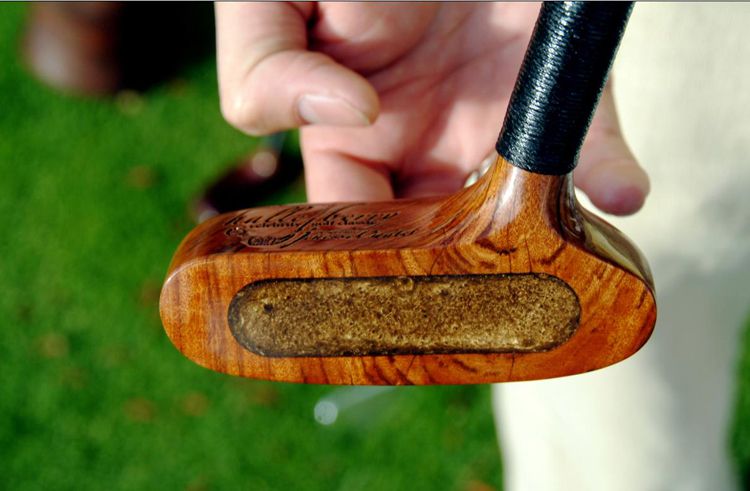 Photo Courtesy of Sweet Wood Golf Company
Sweet Wood Golf Company provides the world with unique and original equipment for all your
golfing
needs. Specializing in handmade clubs and leather items (like wine carriers and scorecard holders), this company infuses their collection with a touch of retro to appeal to clients old and young. They also provide replacement items that can be pretty hard to find, which makes them worth checking out for anyone who considers themselves a true aficionado and collector.
Sweet Wood takes their cue from the golfers of the 20th century, people who felt that using hardwood infused the club with a soul, creating equipment that blow contemporary models off the green. The company prides themselves on their "deep focus on artistic craftsmanship & unique products that revive a look, feel and performance that the old masters could have only dreamed about."
The golf clubs sold at Sweet Wood are handmade from rare woods, like the limited Centurion putter ($2,650) which is made from one block of 100-year-old Koa wood. The tiger stripes that run through the wood are brought to life by 20 hours of hand polishing. If you want something even more exotic sounding, they have a Zebra Wood putter ($350) that is stunning in its coloring. Made from a single block of African Zebra Wood, the putter is balanced and weighted with a thermo-set polymer face insert, which apparently gives it a nice, even stroke.
If you're not a golfer but want to show some appreciation for your golfing buddies, think about getting them one of Sweet Wood's vintage items, like maybe a Kenneth Smith Vintage 5-Wood ($250). Smith, a famous clubmaker, is credited with "originating the integration of science into the art of making golf clubs." His clubs have been used by all types of celebrities and royalty, making the 5-Wood a great gift for a friend.