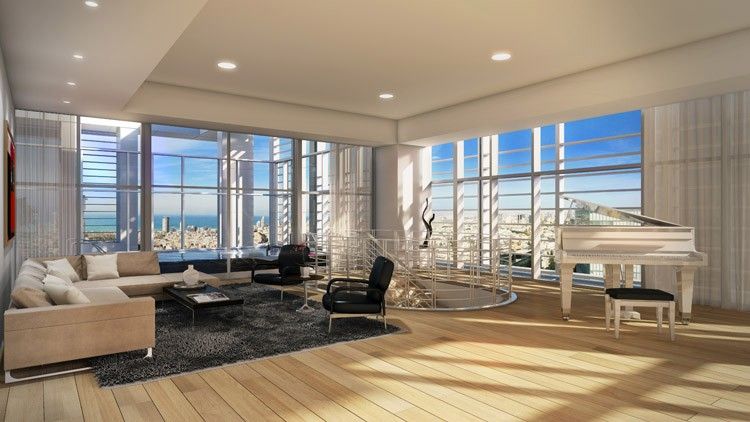 Photos Courtesy of Berggruen Residential
Tel Aviv may not be the oldest metropolis on the Mediterranean, but in the hundred years since its founding the White City has developed into one of the most vibrant. (Take it from this writer, who spent two years living there.) And as the hub of a burgeoning high-tech industry, not to mention a vital center for the world's diplomatic corps in the Middle East, the city that sprung out of the sand dunes north of the old city of Jaffa has become a must-visit destination for travelers from the world over and the choice location for Israel's emerging upper class.

Few locations in the city are as beautiful or desirable as Rothschild Boulevard. One of the first streets built in the city, the boulevard's Bauhaus buildings are one of the main reasons why UNESCO designated Tel Aviv a World Heritage Site. It's the center of the country's financial district and integral to its cultural prominence, with Independence Hall at one end and HaBima theater at the other. And now it has another landmark.
Meier-on-Rothschild is a 42-story luxury residential tower, located at the corner of Rothschild and Allenby. It was designed by award-winning New York architect Richard Meier, and encompasses 141 apartments, 70 percent of which have already been sold. But three lavish penthouse condos are still available on the top four floors of the building.

The Royal Penthouse expands over 7,833 square feet on the 40th floor and is offered at $23.9M. The Rothschild Summit encompasses 6,520 square feet of floorspace in a two-story townhouse split between the top two floors and is available at $39.9M. And the Palace in the Sky is a seven-bedroom duplex stretching out over 15,257 square feet and on the market for $48.9M. Each features a private elevator, 20-foot high ceilings, private swimming pools, Jacuzzi tubs, large outdoor terraces, and panoramic views of the Mediterranean, Old Jaffa and as far inland as the Judean Hills.
"We are thrilled to have reached this sales milestone. Meier-on-Rothschild is a building of world-class caliber; it pushes the envelope on high-rise construction and design standards in Israel and beyond, and the incredible interest among international buyers is a testament to that," said Yigal Zemah, founder and CEO of Berggruen Residential. "Owning a penthouse at Meier-on-Rothschild, selected as the most beautiful tower in Tel Aviv before it was even built, is a once in a lifetime opportunity to live at Tel Aviv's most prestigious address and enjoy the most incredible views in all of the city."

No matter which apartment is chosen, however, all residents have access to underground parking, concierge, wine cellars, communal lounge, a spa with floatation pool, relaxation lounge, sauna, fully-equipped gym and a semi-Olympic swimming pool that's one of the largest residential residential pools in Israel.