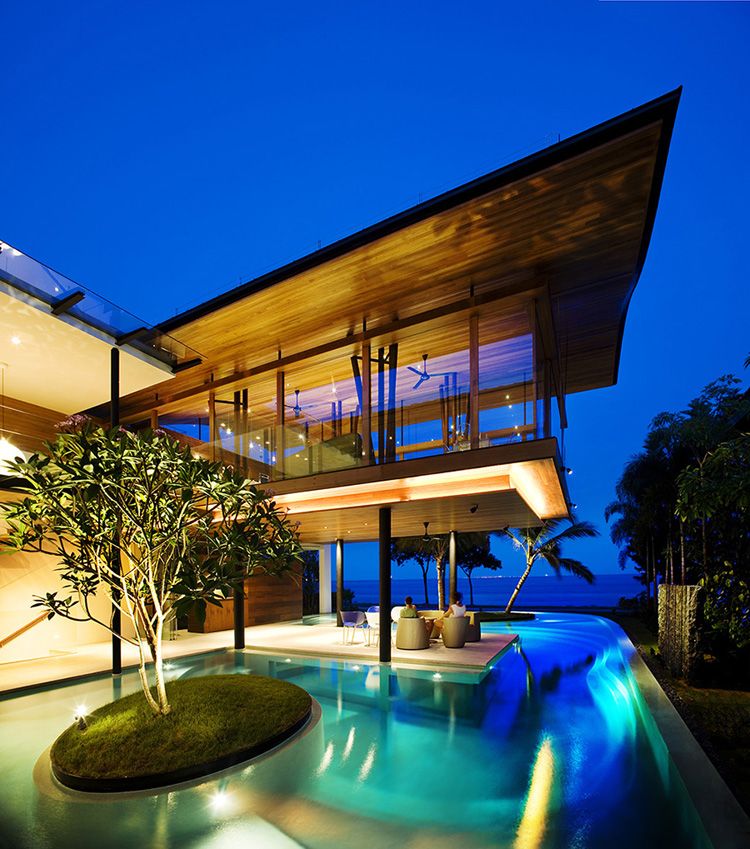 Photos Courtesy of guz architects
Personally, I would love to live in a home called Fish House. It makes me think of soothing water elements and of course, mermaids. I've always wanted to live underwater and though that dream may never happen to the full extent that my child self dreamed of, firms like guz architects are out there designing pretty close seconds. Not only is their Fish House environmentally friendly, it's located right on the shoreline in Singapore.
If you've ever been to Singapore, you know that it can get pretty hot and humid there, which is why the home has an open floor plan. The breezy spaces allow natural ventilation while allowing residents unobstructed views of the ocean.
Speaking of the sea, guz architects wanted to bring the environment within, linking the house to the coastline by putting in a large swimming pool that wraps around the ground level living space. A tree is positioned right in the middle, resembling a small island oasis. Oh yeah, and the subterranean media room has acrylic windows that look into the pool, which also provides neat ambient lighting and a backdrop of swimmers (or hired mermaids).
The roof is curved, which is meant to evoke sea waves, and is almost completely covered in bendable photovoltaic panels that provide the home with all the energy it needs. The other portion of the roof is covered in greenery, giving the residents extra leisure space outside and the perfect place to sunbathe.