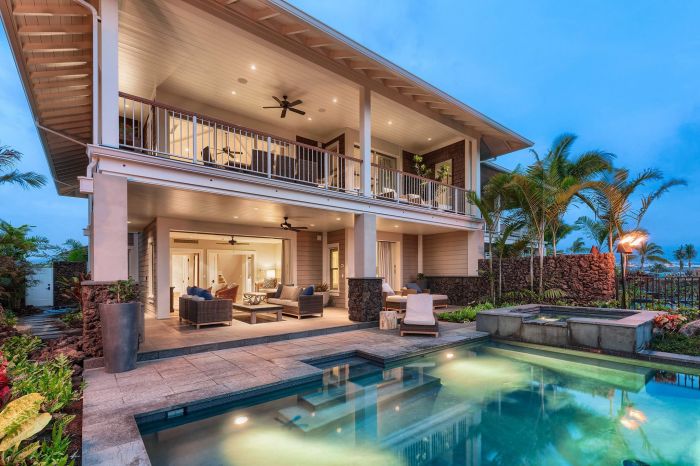 Photo Credit: Kohanaiki
A new development called Kohanaiki is springing up on the Big Island of Hawaii. Situated in an area that was once home to the great Hawaiian king Kamehameha, its shores are steeped in history; sacred artifacts, grounds and carvings are everywhere. Built carefully on 450 acres around these, this new resort community is quickly becoming an elite hotspot, with a slew of celebrity names already looking to snatch up properties. Major business moguls and sports stars like Lindsay Davenport are already building homes, top politicians are taking tours and movie stars are trickling in to check out the plots. (Sorry we aren't naming names yet!)
Kohanaiki's striking beauty and location is certainly an initial draw. The land is a rustic mixture of rolling golf greens, sacred ponds, lava rocks, palm trees and a never-ending stretch of the Pacific. Almost half sold, there are 700 plots available here with homes (so far) ranging from around $3 million all the way up to $25 million.
A private resort-style community open to only the most elite applicants, the development offers a feast of activities, amenities and comforts that pretty much knocked our socks off on a recent trip we took to evaluate the grounds. Still under construction, some things we did have to take their word for, but we were dually impressed nonetheless.
Photo Credit: Courtney Driver
Because this is such a new development, all of the homes are custom. Choose a plot, pick an architect and start building your dream Hawaiian retreat. Although technically you could do that almost anywhere, right? So let's take a look at just what really makes Kohanaiki special:
Getting In
Some things money just can't buy and Kohanaiki has a very thorough vetting process for allowing in new members. In addition to the usual (read: financial) qualifications, applicants are expected to have stellar professional reputations and be in excellent standing with existing memberships that they hold. Privacy and exclusivity is something this property holds dear and they protect it fiercely for their members.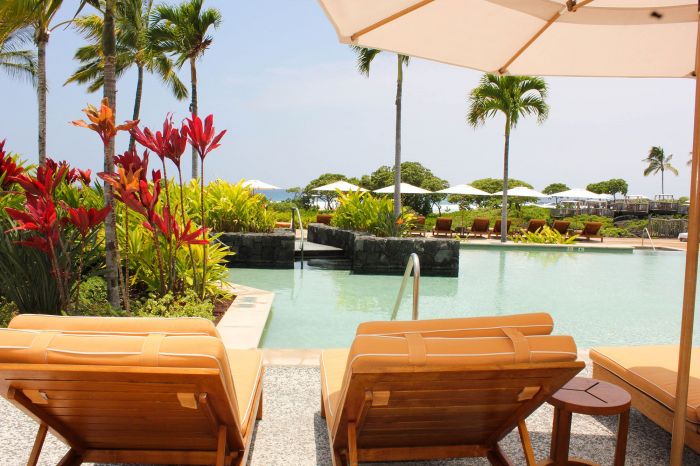 Beach Club Pool; Photo Credit: Courtney Driver
The Details
Details are really important. Perhaps even the most important aspect to 21st luxury. And if there was one thing that really struck us at Kohanaiki, it was the attention given to even the most trivial elements. In the luxury realm high quality is expected and stellar service is the norm. But every truly great luxury experience offers a certain extra bit of finesse that sets it apart. That subtle flourish is present in everything here, from the food to the public bathroom amenities. We were surprisingly impressed with not only the comforts, but also the quality of them; only the best brand names are used throughout, down to the most niche high-end products. These are not just casual extras, these are actually products that you probably use at home and offer your guests.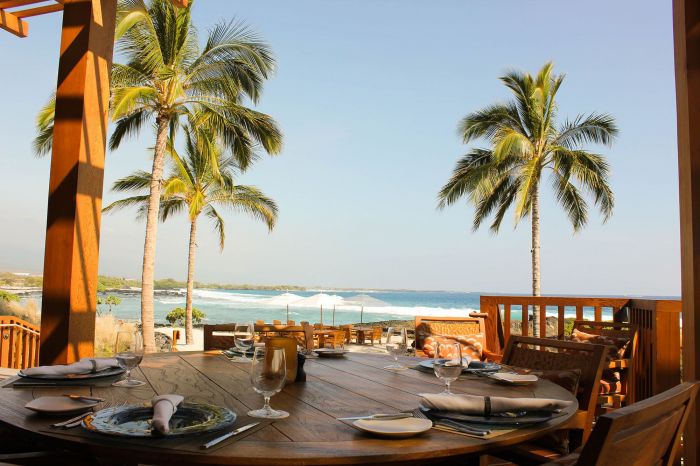 Dining; Photo Credit: Courtney Driver
The Food
Kohanaiki is designed to be a place that you never have to leave and as such, they strive to put pretty much anything and everything at your fingertips. Want a special something overnighted in from Europe? Not a problem. Need a special ingredient for your vegan, gluten-free, ultra-picky teenager? It's probably already waiting for you, as the staff is highly sensitive to anticipating your needs before you do.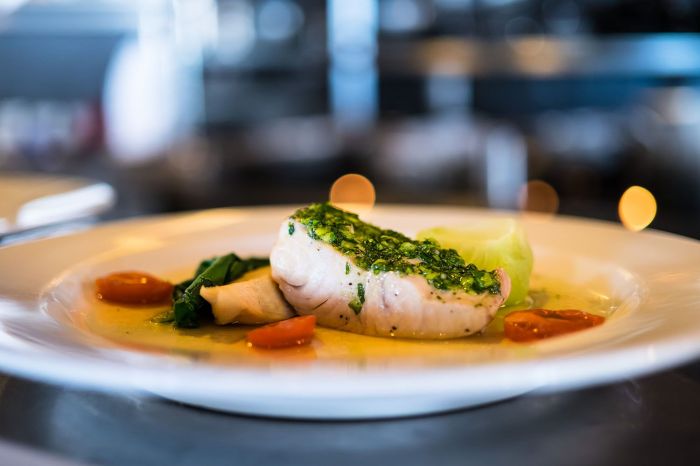 Photo Credit: Kohanaiki
During our time there this was perhaps most apparent while we were guests at a special Connoisseur's Dinner put together for a current member. The eight-course menu was possibly one of the most decadent we have experienced, featuring the best of the best ingredients hand-selected by Chef Patrick Heymann and flown in from all over the world.
The Beach Resaurant; Photo Credit: Courtney Driver
What began with beluga caviar and Dom Perignon 2000 journeyed on to include truffles brought in from France, Champagne-poached Lobster atop Tahitian Vanilla risotto, a foie gras and apricot jam "hot pocket" fried in duck fat (paired lovingly with a 2005 Chateau d'Yuquem) and a Japanese A5 Wagyu duo that quite literally melted in our mouths. Other stand out pairings included a 2012 Sea Smoke Southing and 2007 Lokoya Cabernet Sauvignon; make no mistake these guys take wine very seriously. The final note to the meal was a fitting Hawaiian dark chocolate cognac soufflé paired with nothing less than Louis XIII. Again, with those details.
The Organic Garden; Photo Credit: Courtney Driver
While the Connoisseur's Dinner is a special experience that can be arranged at Kohanaiki, the property of course has a restaurant on the beach and there will eventually be two more in the new Clubhouse. Currently the beach restaurant offers a new verbal menu daily featuring whatever is the best and freshest, but you can pretty much ask for anything you desire in the moment. Still being cultivated, the property's organic gardens will not only supply ingredients to the dining venues, in the near future the staff also hopes to offer fun food-centric activities here and a small farmer's market for residents.
Photo Credit: Kohanaiki
The Clubhouse
Anticipated to be ready by the end of the year or so, the crowning jewel to Kohanaiki will be its clubhouse. Set to encompass almost 100,000 square feet, the space will include personal wine lockers for each member, a bowling alley, a movie theater, expansive work out areas, a chop-style member's restaurant, wine tasting room, event space, second restaurant and more, all overlooking both the green and heavily capitalizing on the sparkling blue Pacific view. While we only have renderings to show you so far, after touring the construction site, we are pretty confident that the end result will be the stunning heart of the community.
Activities Shack; Photo Credit: Courtney Driver
Amenities & Activities
From spa treatments and golf instruction to organized activities and personal tours, there is very little left to be desired at Kohanaiki. Repeatedly we were told about how much the Big Island offers and how many wonderful excursions could be put together. Did you know that there are 13 different climates there? As a whole the earth offers 15. On the Big Island you can experience almost all of them. Want to hike to a 1,000 foot waterfall? The guides will take you. Feel like SCUBA diving with wild dolphins? They'll schedule it for your group. Stay on the property and snorkel in their awesome coral reef (we were only out for a short while and saw everything from sea turtles and Puffer fish to brightly colored Angel fish and a rainbow of others I couldn't name), or get off the grounds and explore the rest of the island. The activities team encourages you do it all and are excited to show off their home.
Photo Credit: Courtney Driver
Golf
A very large portion of Kohanaiki is quite naturally devoted to a sprawling golf course, designed by Rees Jones. The scenery is beautiful and the course boasts an impressive six ocean view holes. Crafted around sacred areas, the greens wind past ancient structures and protected anchialine ponds that are home to important local species. Kohanaiki has taken painstaking measures throughout the grounds to honor the area and with water being an incredibly value commodity on the Island, has also invested in a desalination and reverse osmosis system that single-handedly waters the entire course; they do not depend on the Big Island's (very precious) supply at all. The beauty of the course is truly stunning and will stir even someone who avoids the sport to want to play. Already drawing the praise of the golf world, Ben Crenshaw himself has already secured a home here. That's certainly saying something.
Comfort Shack; Photo Credit: Courtney Driver
Situated on the golf course and near the tennis courts, little huts called Comfort Stations offer players a host of refreshments and snacks, including alcoholic concoctions like freshly infused pineapple vodka, margaritas and a selection of great beer. Each Comfort Station has its own array of goodies ranging from things like blood orange gelato or homemade beef jerky to chocolate-covered macadamia nuts, frozen grapes, candies of all sorts and chips or protein bars. Stopping by these little gems throughout the property is a treat unto itself.
Photo Credit: Kohanaiki
Hale Club
For those that do become members now, Kohanaiki had the brilliant idea to set up the Hale Club, allowing you to visit and make use of the property and its amenities while your home is being built. Set up similarly to a time-share, the hales are gorgeously outfitted and members can choose to use certain numbers of nights throughout each year until it comes time to officially move in.
Photo Credit: Courtney Driver
Homes and Costs
Homes in Kohanaiki range in size and price; currently the priciest sits at $25 million. But that number is actually expected to climb as new members snatch up multiple plots and build compounds. Some of the plots face the Pacific, some overlook the golf course and all of them offer fantastic views. There are four main talented architects doing the majority of the building: Bob Glazier, Shay Zak, Jim McLaughlin and Warren Sunnland, and everyone of them has a brought their unique style to Kohanaiki, while never losing a very posh Hawaiian feel.
Kohanaiki makes it easy to upkeep your property once you are moved and settled in, with simple and surprisingly affordable maintenence plans. Anyone famililar with how expensive water can be in the islands will be pleased to know that because Kohanaiki treats their own water, it actually cuts down tremendously on some of the associated costs. While those costs will vary depending on the property, lot size and more, what we can tell you simply is that at the moment, membership to join holds a fee of $100,000, with annual dues sitting at $20,000. Numbers are anticipated to rise however, so you should probably act fast. As an incentive right now they are also waiving the first year's dues and offering a complimentary two weeks in the Hale Club to new members.
Photo Credit: Courtney Driver
To top it all off (and in case you need just another reason to fall in love with Kohanaiki), flying into Kona is a breeze, especially coming in from the west coast. With many direct flights from SFO or LAX, the development is only about a 10-minute drive south from the airport, landing you just a few minutes north of the nearby town on the dryer part of the island. Weather is consistently beautiful here and ideal for everything from golf or sunbathing to active sports or shopping. Now you just have to decide on which plot you want.
Photo Credit: Courtney Driver
Photo Credit: Courtney Driver
Photo Credit: Courtney Driver
Photo Credit: Kohanaiki
Photo Credit: Kohanaiki
Photo Credit: Kohanaiki