The Perigon, Miami Beach - By Mast Capital
TOP Luxury Buildings in Miami
It has often been said that great architecture is intelligence made visible—and nowhere is that more immediately apparent that in Miami in 2022.
So-called starchitects are building their dream visions in forms of blocks atop one another, of shimmering waves, of interlocking shapes—each making memorable patterns. Residents from around the world are drawn to the urban resort cachet of Miami with its delightful combination of sandy beaches, turquoise waters, upscale restaurants and elegant boutiques.
Miami also gives off healthy vibes, where eating, surfing, sunbathing and buying the best of the best all in one day is routine, not rare. It's no wonder there's been a housing boom in residences designed to delight the global travelers, nomads and sunseekers arriving on the scene.
It's a new world: the time to awaken to sun-dappled water and feel the enveloping warmth of a new day—a perfected life—is right now.
The Perigon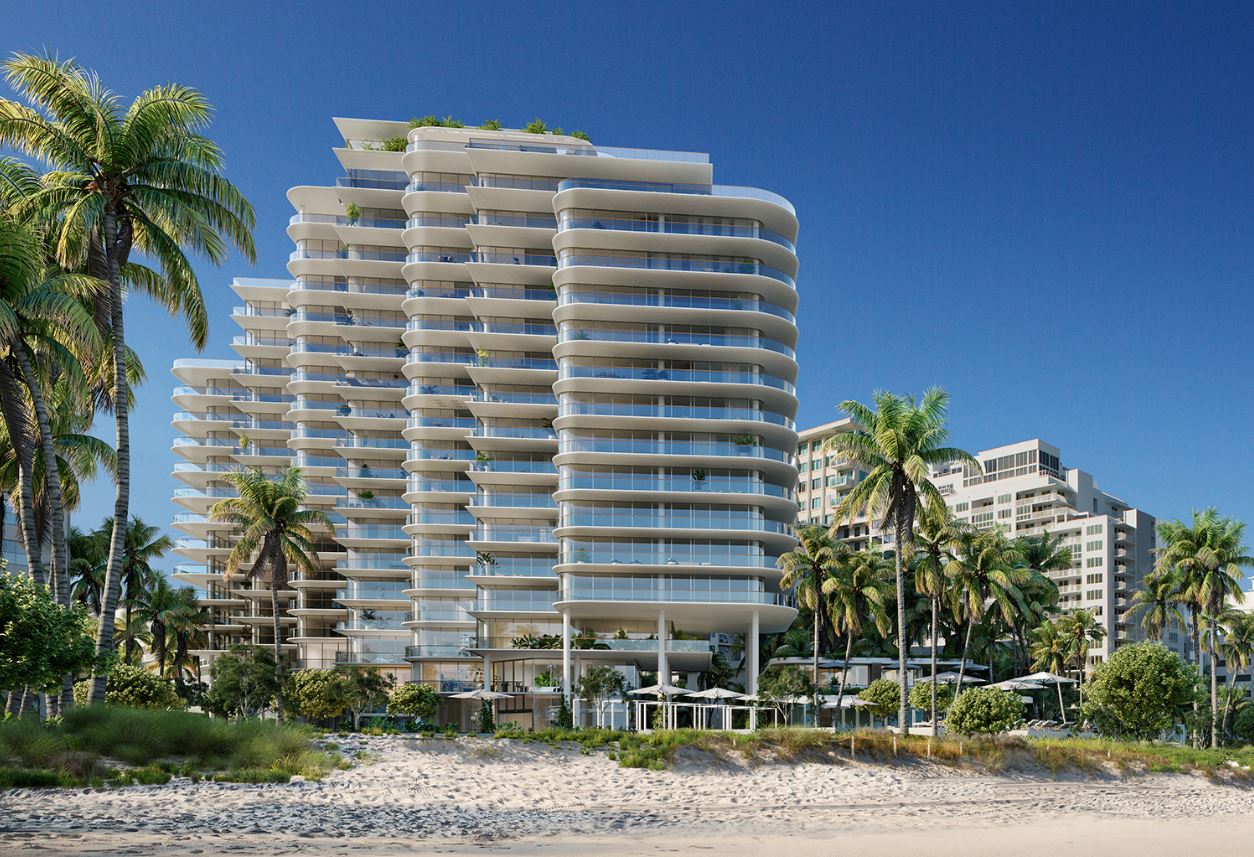 The Perigon, Miami Beach - By Mast Capital
The Perigon has just launched sales in Miami Beach, becoming the first ever condo tower in the city designed by starchitect Rem Koolhaas's OMA Group.
The Perigon is also the only new building being developed from the ground-up, launching sales directly on the sands of Miami Beach.
The tower will include 82 residences, ranging in size from 2,100 to 6,700 square feet. Located at 5333 Collins, The Perigon is part of Mid-Beach between Indian Creek and the Atlantic Ocean.
Koolhaas's OMA designed the building as a series of towers, rotated to orient and enhance views from all residences toward the Atlantic Ocean, while also enhancing views of Biscayne Bay and the Miami skyline overlooking Miami Beach. The interlocking-tower design will obtain LEED Gold certification when completed.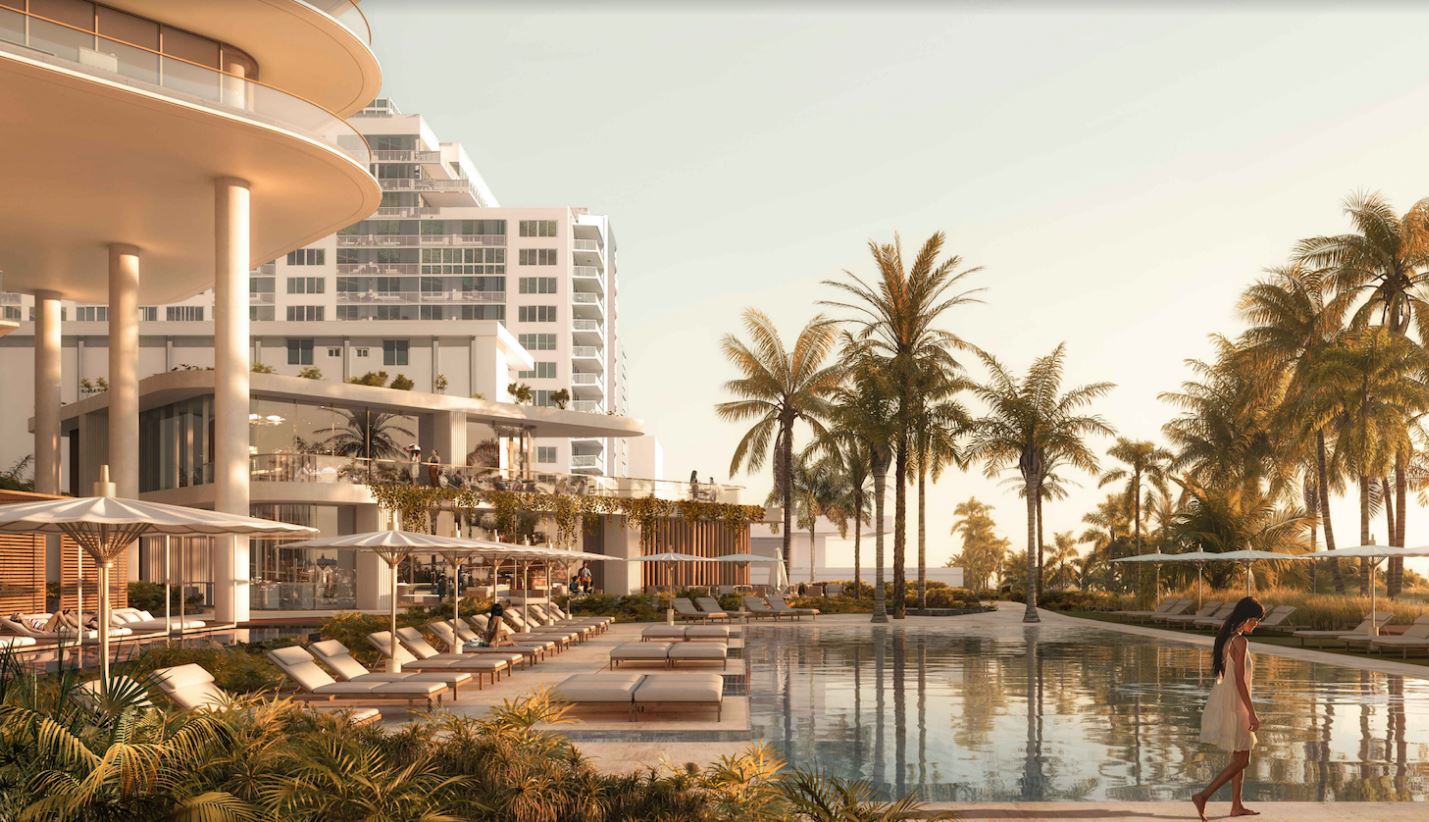 The Perigon, Miami Beach - By Mast Capital
Thanks to Mr. Koolhaas, The Perigon is one of Miami Beach's most unique and memorable shapes for a condo tower, offering floor-to-ceiling views through every unit. Expected to be ready for delivery by 2025, The Perigon also will provide 183 parking spaces and nearly 15,000 square feet of elite amenities.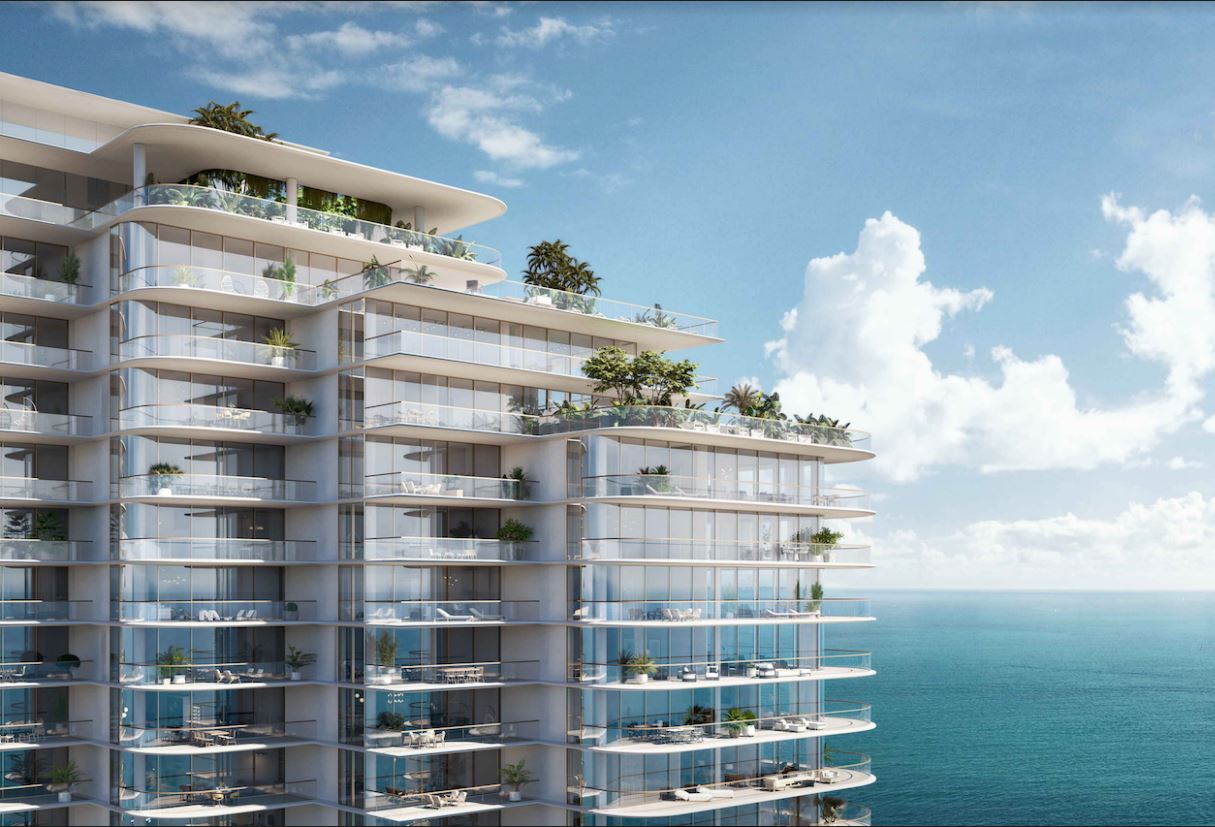 The Perigon, Miami Beach - By Mast Capital
Residents of The Perigon will have access to an oceanfront restaurant, speakeasy-style bar and a conservatory with a daily breakfast bar. A sunrise lounge with a catering kitchen will also be available for events and entertaining. In addition, residents can avail themselves of the beachfront swimming pool, outdoor spa and a fully landscaped deck complete with cabanas and sunbeds.
Finally, a dedicated lifestyle concierge and residential butler will be on site to meet the needs and wants of residents. Other amenities will include 24-hour security, valet, house car, pool and beach service, and in-residence dining.
Baccarat Miami Residences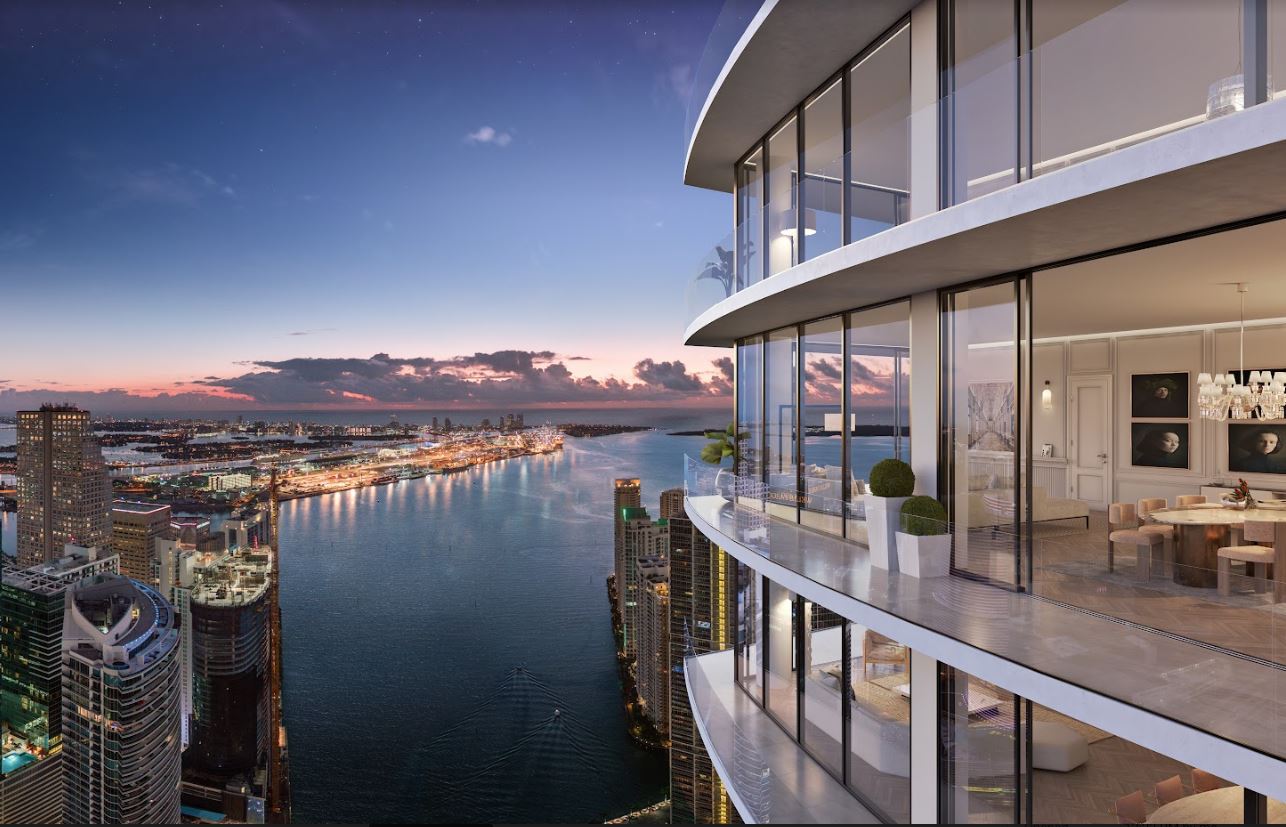 Baccarat Residences, Brickell - By Related Group
The name Baccarat refers to its original product—high end, perfect crystal—located in Baccarat, France. The crystal has a shimmer, a surface sheen, far beyond mere glass. And, since 1794, Baccarat has expanded into other areas, including luxury hotel residences.
It's newest dimension, Baccarat Residences, the residential complex by Baccarat Hotels, will be a mixed-use luxury condo project. The exterior glistens like the finest Baccarat crystal, featuring three towers and 360 residences from 1 to 4 bedrooms ranging from 1,336 to 3,029 square feet—all with views of Biscayne Bay, the Miami River and the Miami skyline. For those who desire the utmost in privacy and luxury, the top three floors include eight penthouse residences.

Baccarat Residences, Brickell - By Related Group
Every unit comes with exceptional external amenities such as a heated pool, club room, fitness center, gourmet market and waterfront restaurant. The design is the work of Arquitectonica, and the interiors are the vision of Meyer Davis. The residences also feature unique internal amenities: private key elevator access, 10-foot ceilings, Italian Kraft cabinetry, Wolf induction ovens, premium stone backsplashes, Sub-Zero refrigerators, built-in wine storage, solid wood doors, and primary bedrooms with spacious walk-in closets.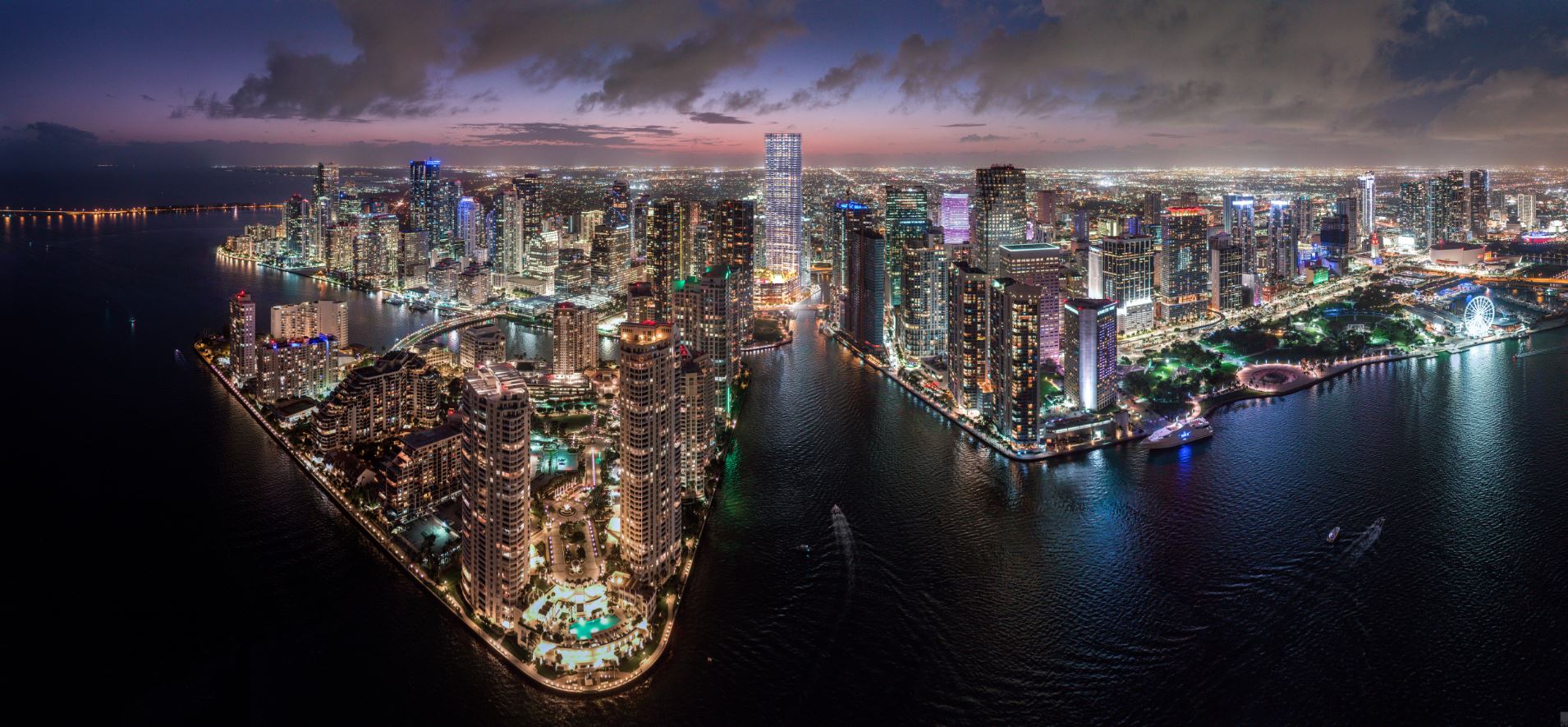 Baccarat Residences, Brickell - By Related Group
With its passion for elegance and wellness woven throughout, the new residences support healthy lifestyles. Residents can take advantage of the majestic Grand Salon, the upscale Baccarat Spa and on-site steam rooms and yoga classes.
Just as the original Baccarat was more than just a champagne glass, the Baccarat Residences are more than just living spaces. Each offers entrée to a unique experience, clarifying with a radiant sparkle and further defining the legacy of Baccarat, as it carries forth into the illuminating life of its new residents.
The Waldorf Astoria Residences Miami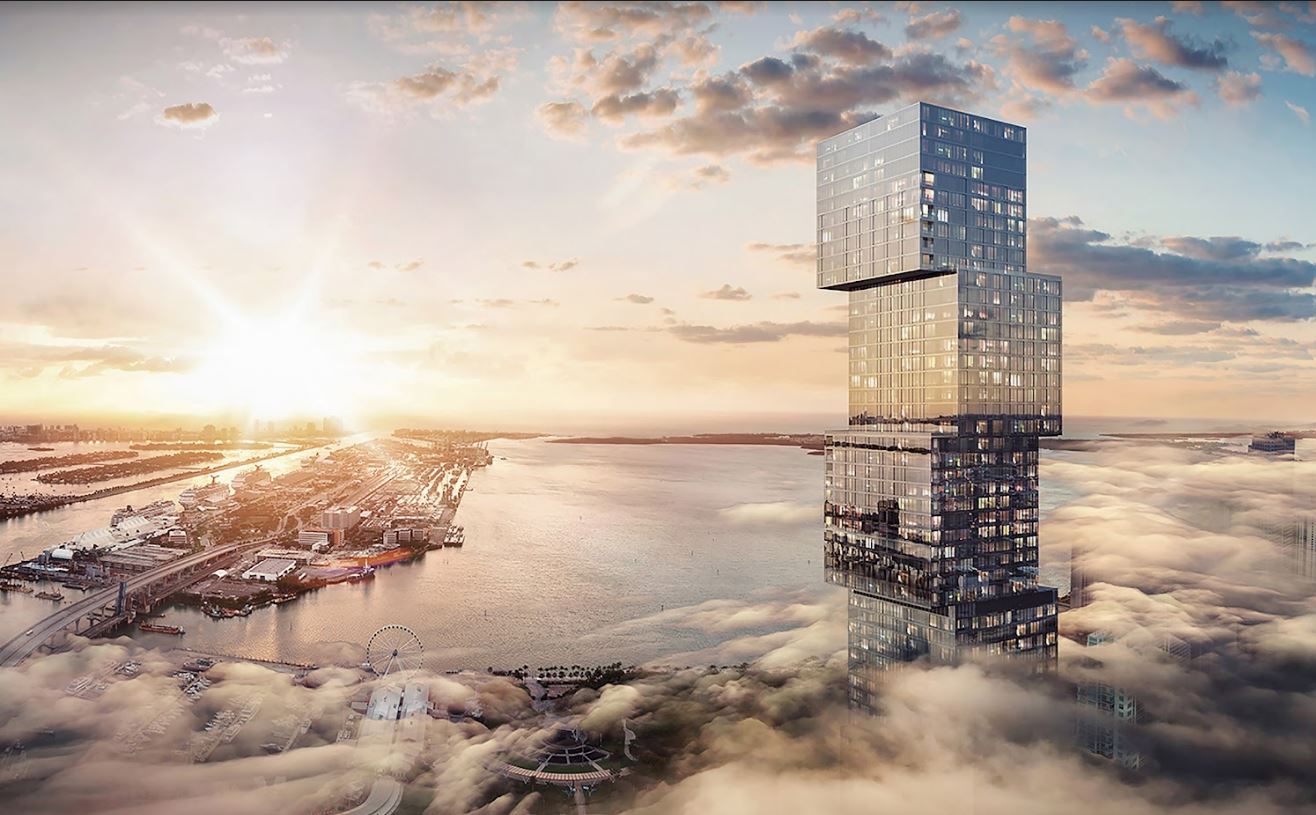 Waldorf Astoria Residences, Downtown Miami - By PMG (Property Markets Group) and Greybrook Realty Partners
The Waldorf Astoria Residences Miami is in the most visible location in downtown Miami, set around the central business district, which includes elite restaurants, cultural hotspots, and a vibrant nightlife. It's the prime location from which to see and be seen. A fitting maxim because after one sees the building, it can't be forgotten.
Because of its unique design, the Waldorf Astoria Residences adds a major architectural dimension to its already urban locale. It's now considered the signature, original tower in Miami, rising 1,049 feet above Biscayne Bay. Conceived by Carlos Ott and Sieger Suarez, the building will be the tallest south of New York City, and arguably, the most memorable. The notable design will be constructed of nine glass boxes staggered atop one another.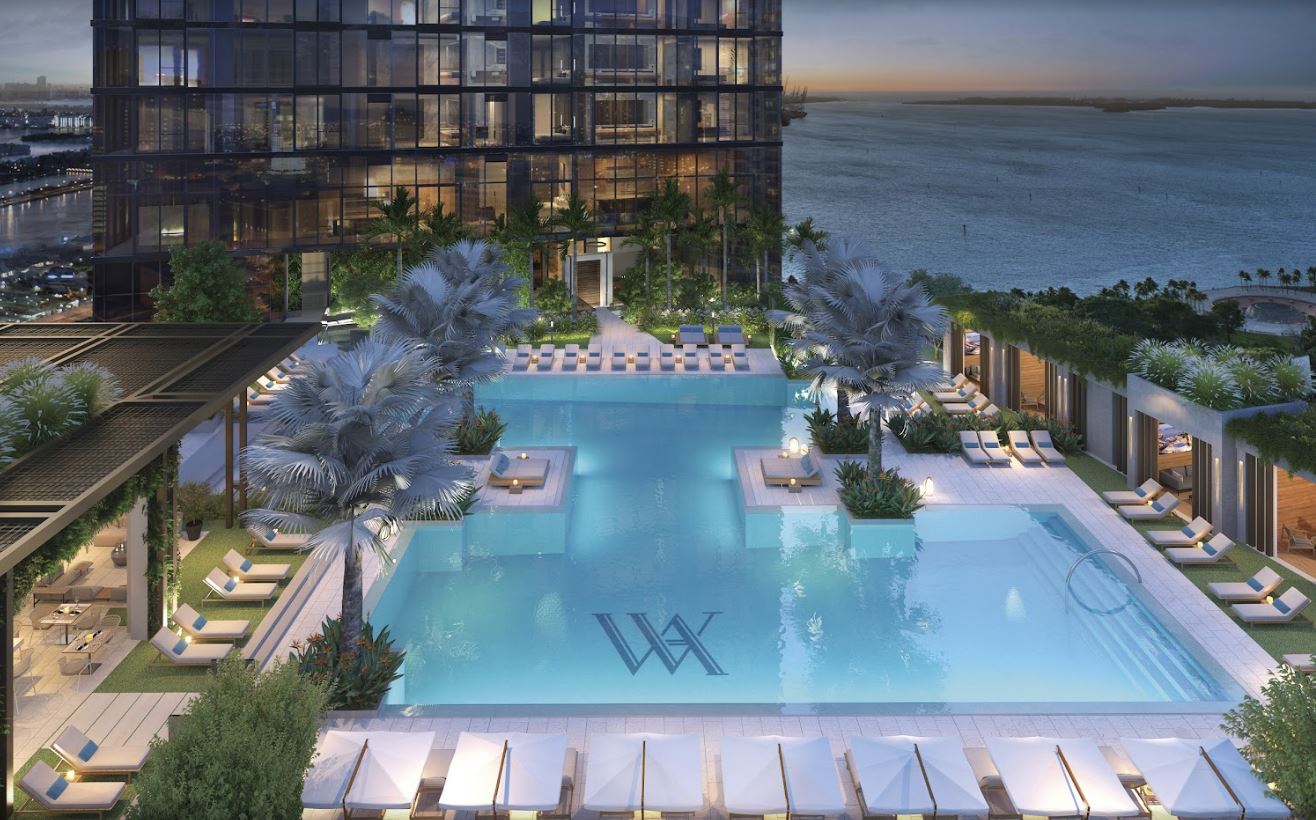 Waldorf Astoria Residences, Downtown Miami - By PMG (Property Markets Group) and Greybrook Realty Partners
"The unique nature of this project largely comes from not only creating an iconic building," said Ott, "but also, as a distinguished built sculpture that will permanently alter Miami's skyline with height and design never seen before." So true.
Inside, the project's aesthetic pleasures continue. The property consists of 360 private residences as well as 205 guestrooms and suites within the five-star hotel. Signature spaces will include a specialty restaurant; indoor/outdoor pre-function and function spaces; meetings and boardrooms; a resort-style pool deck with private cabanas; and a spa and fitness center. Residences start at $1.4 million. And the views? Each one, according to Mr. Ott, is different.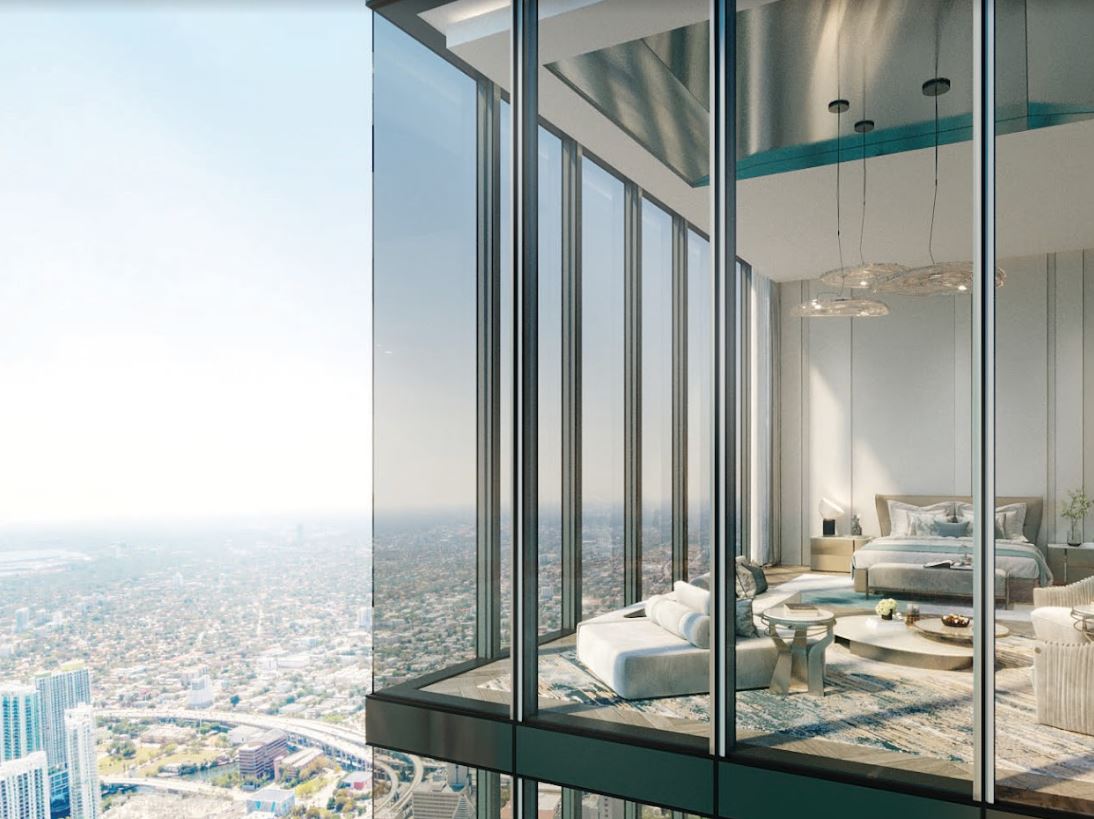 Waldorf Astoria Residences, Downtown Miami - By PMG (Property Markets Group) and Greybrook Realty Partners
"The exterior glass skin design of Waldorf Astoria Residences Miami impacts the experience of those residing inside the tower," he explained." It offers a different, breath-taking view from each residence, kitchen, balcony or bedroom."
Looking from the inside out—and outside in—the new Waldorf Astoria Residences Miami reflect the most original, the most elite in high-end residential living.
Una Tower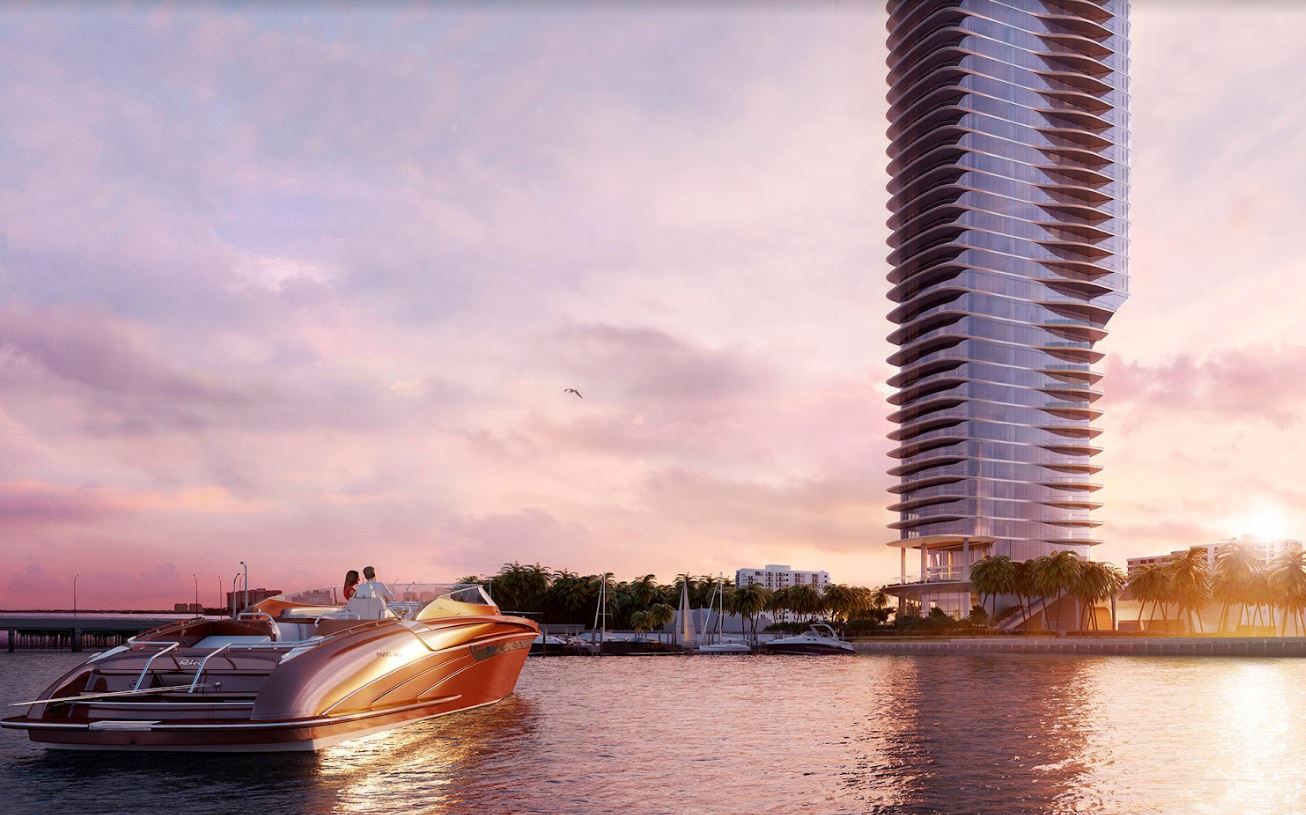 UNA Residences, Brickell - By OKO Group and Cain International
Una is the first new condominium development to become part of the private residential area of Brickell Waterfront/Miami in more than a decade.
The Una tower is as unique up close as it is from a distance. Visible from Biscayne Bay, the iconic tower features a smooth, light-metallic surface and recalls the natural shape of a wave. There are 135 Miami waterfront residences spanning 47 floors, with options ranging from 2 to 5 bedrooms and from 1,946 to 4,735 square feet.
The tower's modern curves are complemented by the landscaped gardens designed by ENEA Landscape Architecture. Riding an elevator directly into their homes, residents are greeted by grand views of Biscayne Bay. Bedroom and living areas are also set along the waterfront, allowing residents to see unobstructed Bay views.

UNA Residences, Brickell - By OKO Group and Cain International
In addition, floor-to-ceiling windows reflect the shimmering water and deep blue sky, bringing daylight into the great rooms and bedrooms. Extra-wide terraces further move the outdoors in for a seamless transition between the two.
What's more, every finish and surface is inspired by yacht interiors, bringing a sense of elegance and mobility to the residences, while never forgetting the pleasure of seeing weather and watercolor changes on the Bay and beyond.
The brainchild of the chairman of Aman Resorts, Una Residences is also considered a masterpiece design by Adrian Smith + Gordon Gill Architecture, designers of the new Jeddah Tower in Saudi Arabia.
Moving from the solitude of the desert to the active water lifestyle of Miami, these esteemed resort designers envisioned Una Tower as a silver wave symbolizing both activity and peace, as it rises high on the pristine Miami waterfront.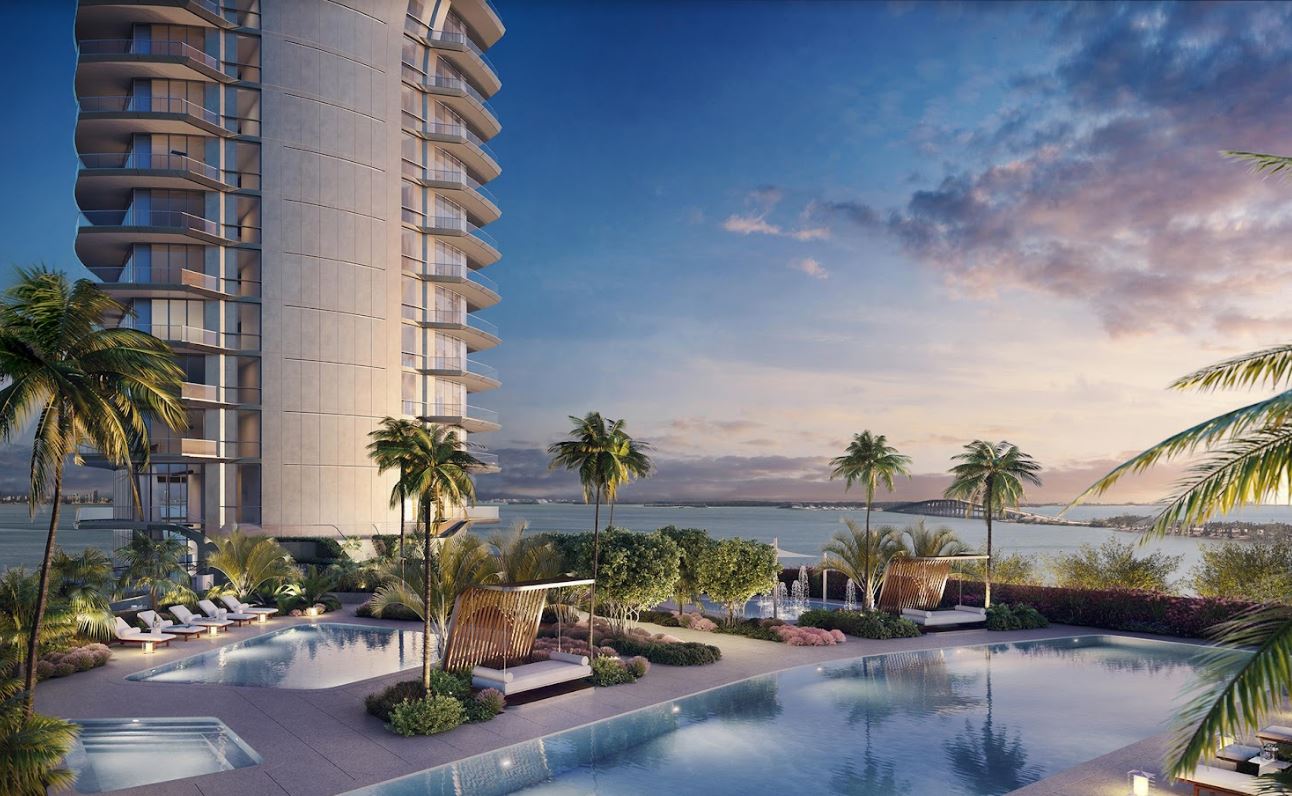 UNA Residences, Brickell - By OKO Group and Cain International