Quintessentially/Annastasia Seebohm, CEO
The Interview: Annastasia Seebohm, Global CEO Quintessentially
Quintessentially is a members-only luxury lifestyle management service that provides high end concierge services to its members. It includes 16 brand services, including Travel, Events, Estates, and the Quintessentially Foundation.
Quintessentially personal concierge services work with members' personal and executive assistants to run second homes, plan family trips, do personal shopping, buy gifts for staff. It's a hands-on level of service where the personal Quintessentially concierge takes care of anything from restaurant reservations to hotel bookings to travel itineraries to fitness; anything that would fall under a lifestyle request.
Quintessentially was founded in 2000, and is now an international network of over 60 global offices. Recently, a new Global CEO, Annstasia Seebohm, was chosen to lead Quintessentially into the future.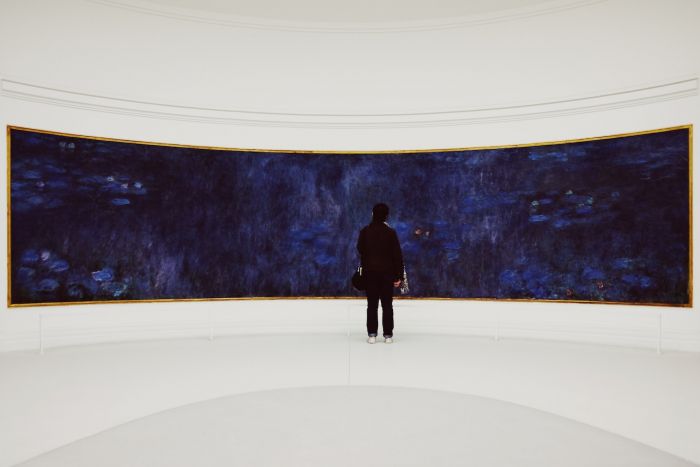 Art Event, Quintessentially
A short time ago, JustLuxe communicated with Ms. Seebohm about various subjects, relating to Quintessentially's plans for the future, it growing philanthropic commitment and the evolving definition of luxury.
JustLuxe: How has Quintessentially been affected by Covid 19? What other services have you instituted, due to this unfortunate turn of events?
Ms. Seebohm: When Covid first hit, services which were historically the most popular amongst our members such as restaurant reservations, access to events and international travel ceased almost overnight. Our agency arm also saw their events programming paused.
However, we quickly pivoted our services to add even more 'hands on' value to our members. Everyday practicalities, including home deliveries of groceries and household essentials, sourcing medical supplies, organizing home offices and gyms, sending loved ones care packages and providing virtual tutors are just a snapshot of what we did once lockdown commenced.
We then shifted our focus to virtual events and experiences, and created a whole new array of programming featuring the best across wellness, culinary, art and culture. Day to day, we helped members on their self-betterment journeys. We definitely saw an uptick with members wanting to connect to experts and learn new skills and languages.
From the comfort of their homes, members were also enjoying private lessons with yoga, Pilates and martial art instructors, personal training and sound bath sessions, hypnosis meditation and sleep expert talks, or enjoying consultations with world-renowned wellness experts and life coaches.
We have also created a slew of bespoke experiences for those who have wanted to be social and stay connected -virtual dinner parties for example have been popular – for one member we organized a four-course gourmet meal delivered across the city for him and various friends. Guests then enjoyed a live operatic performance via Zoom. We have also organized private virtual concerts with famous bands and magic shows by renowned acts.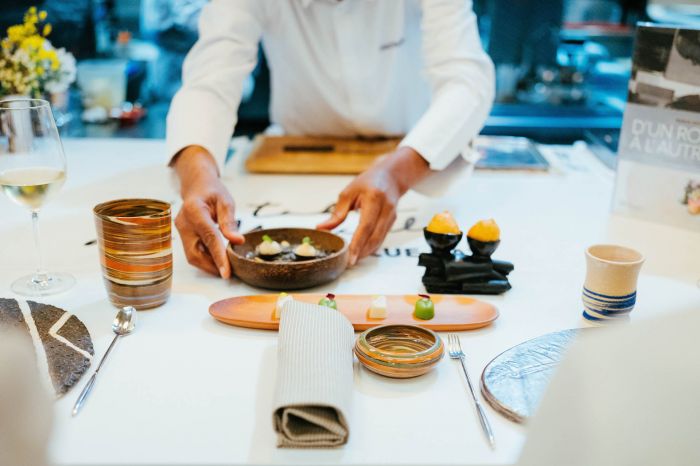 Dining/Open Kitchen event
JustLuxe: Do you see a silver lining with how people have reacted to this new (Covid) way of life, especially in terms of closer family relations, balancing with the services that Quintessentially provides?
Ms. Seebohm: People have definitely come to appreciate the smaller, everyday luxuries - the time to enjoy a real conversation and dinner with a friend, the chance for a long walk with a loved one, downtime with family, the opportunity to learn a new language or skill – these things don't have to cost a lot of money, it's just having the time and capacity to do them.
I think to a degree, isolation has slowed us all down and made us appreciate the simple things around us. We have definitely helped innumerable people stay connected with loved ones from afar, from grocery deliveries to providing emergency relocations.
This ever-changing period has also seen philanthropic requests increase, with individuals seeking to make donations to vaccine research, provide funds for PPE or food donations for frontline workers and more vulnerable members of their communities. This type of behavior is of course not new - giving back and making a positive contribution is something our members have always taken pride in, but this crisis has encouraged much more immediate, impactful and hands on action.
We saw a further uptake recently with members making BLM related-requests, and providing meals for those working on the Californian wildfire mission.
JustLuxe: Quintessentially is a major force in the high end lifestyle industry — it also has multiple offices all over the world. Please let us know about your professional and your personal experience, in this multi-dimensional industry. Why did you want to work for Quintessentially in the first place?
Ms. Seebohm: While I was at university I read an article in British Vogue magazine - a profile piece on Quintessentially's co-founder Ben Elliot. I immediately parked the company in my head, thinking it seemed like a great concept – entrepreneurial, creative, global – it was the kind of company I knew I wanted to work for. After some time spent working in Greece, I moved back to London and started at Quintessentially's London headquarters. I rose up the ranks working alongside Ben and another co-founder Aaron Simpson on business development. After much hard work and dedication, in 2016, they offered me the role of US CEO so I relocated to New York to manage its four US offices, in addition to the nine in Central and South America. I was subsequently offered the group role in 2018. It's been an adventure ever since.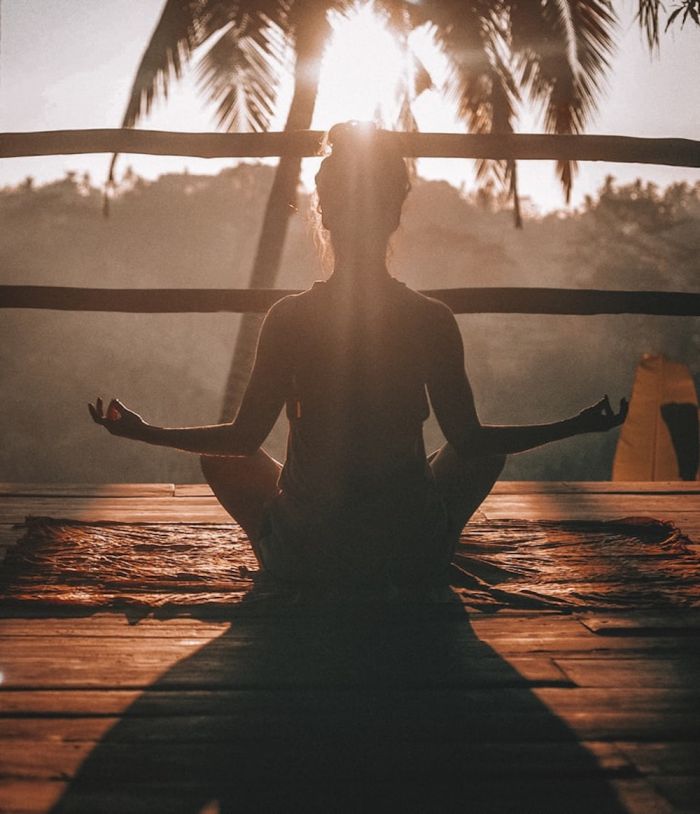 Self Betterment, Quintessentially
JustLuxe: Please let us know a little of your personal history — Where did you graduate from college, and after you graduated, did you consider being in a global business that deals with lifestyle and hospitality?
Ms. Seebohm: I was born in Oxford but spent much of my formative years in my father's homeland of Greece. Being surrounded by beauty and witnessing the tourism there may have instilled my passion for a career in travel and hospitality! I went on to earn a BSc in International Business Management at Cardiff University.
Quintessentially is fundamentally built on connection - we are a true global network and I always find that so exciting and inspiring. I'm delighted to have the opportunity to be at the helm of a group of dedicated and passionate individuals. Everything we do is designed to improve the lives of our members.
I love the philosophy of service – how we interact with our members, the value we put on creating the very best events, experiences and access - I also love hearing about the amazing feats our teams around the world execute on behalf of our members.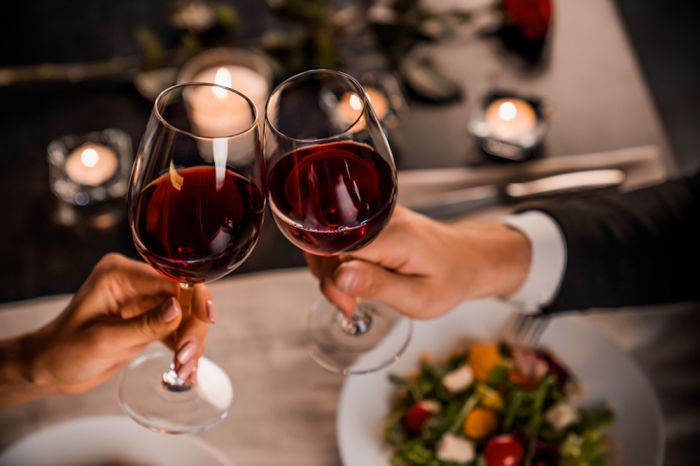 Dining/Wine event
JustLuxe: We would like to know more about, especially at this time, Quintessentially's philanthropic dimension — It seems that due to this pandemic and global climate change, there are many in the world who would be grateful for some form of philanthropic engagement.
Ms. Seebohm: Philanthropy is hugely important to us as a group – it's at the heart of our business. We believe it's important to give back, and it's something all our members want to get personally involved in. The Quintessentially Foundation was founded in London by our co-founder Ben Elliot and has proudly raised £13 million for our beneficiary charities since 2008. We work with a number of charities each year, creating wonderful events, experiences and fundraising opportunities that allow our members to physically take part in something they are passionate about, rather than just gift money. Experiences have ranged from our annual charity bike rides in Italy, France and Croatia, to carol concerts, poker nights, and an awe inspiring rickshaw race across India which raised a staggering $2.2million. The Felix Project has been our charity partner since 2018. Their mission is focused on rescuing surplus, nutritious food and redistributing it to charities and schools to support the most vulnerable. Prior to the pandemic, we were in the midst of launching the Quintessentially Foundation USA which will happen in the near future hopefully.
JustLuxe: As you know, the concept of luxury has evolved over the past few years, from being an industry defined by opulence and excessive wealth to one that has added a sense of sustainability, green awareness, and transparency. Has Quintessentially allowed for these new ideas to become part of the business fabric? And if so, how?
Ms. Seebohm: Absolutely. We recently launched our first white paper which illustrated that the concept of luxury, and the behaviors of the affluent audience, have evolved in recent times. We have coined it The New Era of Connection, and have identified five key trends that were taking shape before but have been accelerated by the pandemic. The trends include conscious consumption, seeking meaningful connections through technology, establishing 'Living Legacies' through targeted giving, health-based decision-making and bespoke self-betterment.
These take into account the very things you mentioned regarding sustainability, green awareness and transparency - all are important concept tenets and are explored in the whitepaper .
The overarching takeaway is that in the next decade the value of goods, services and experiences will increase with their ability to provide a deeper connection with other people and ourselves.
Justluxe: Where do you see Quintessentially in the next few years? Please discuss how and if its original mission and vision will modify, or stay the same?
Ms. Seebohm: Quintessentially sits at the heart of an evolving luxury lifestyle landscape, and caters to a members-only community of affluent and ambitious individuals who want to keep connected – to global trends, to new brands, to interesting networks and communities, and to themselves.
Our original mission was always to make life easier and more enhanced for our members - to ultimately spark connections that enrich lives - and that mission will remain the same.
Our vision for the next few years is to lead and inspire in this new Era of Connection, helping our members to create meaningful relationships, enjoy memorable experiences, and connect with other people, the planet and themselves.
Based on the five key trends from our latest report, we aim to evolve and grow our offering on a global level, supporting existing members as well as catering to a new priority demographic – millennials, with a focus on philanthropy, transformative experiences, and luxury with sustainability and authenticity at its core.
We will introduce new products and expand our global footprint further but most importantly enhance our already very valuable proposition and the services focused on driving a feeling of real connection with our clients.
Our agency, which works on programming and strategies for the world's leading brands, and other divisions including travel will also continue to evolve and work in synergy together. We're excited about what is to come.
Please visit the Quintessentially website to learn more about their membership and organization.