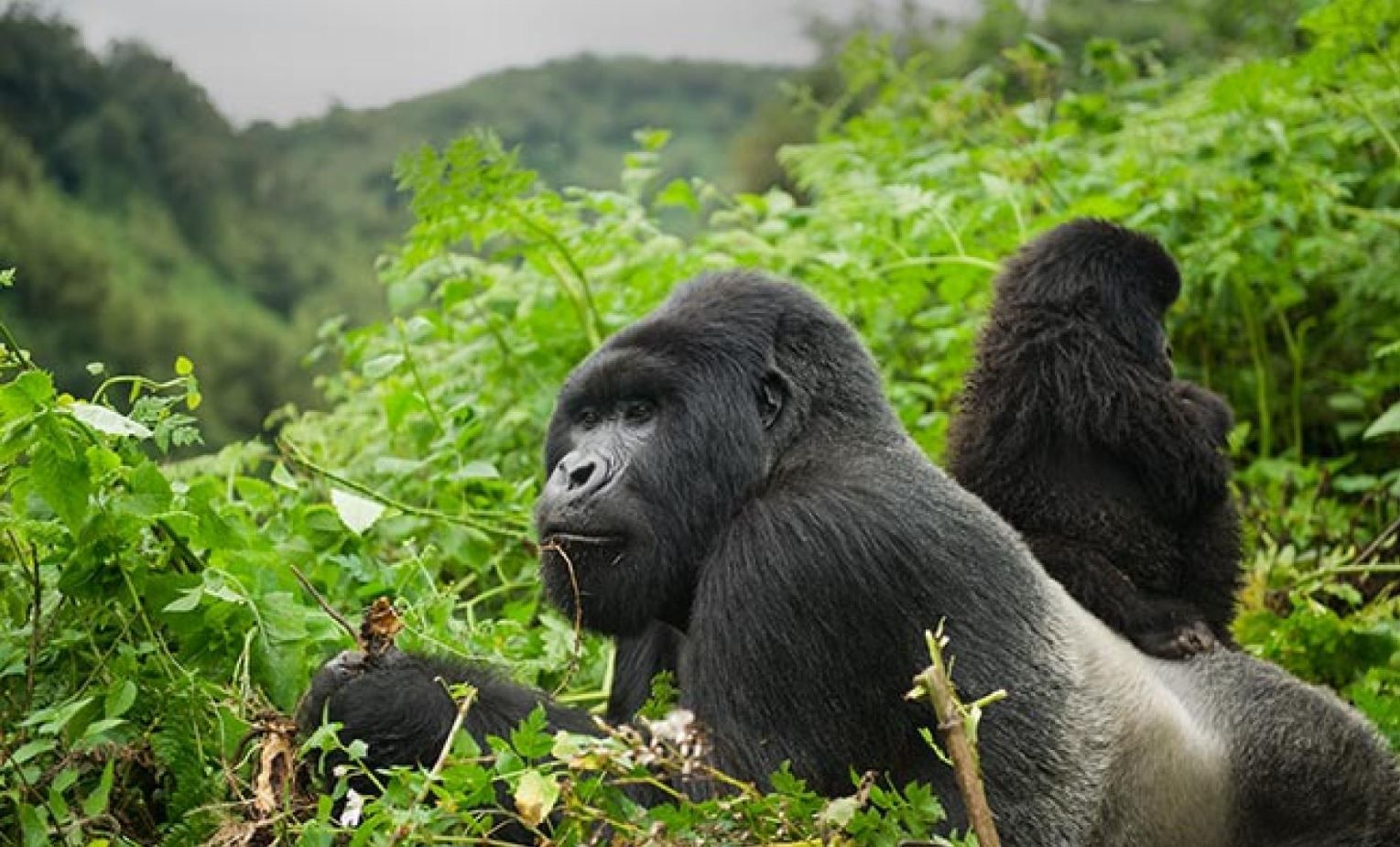 Uganda Gorilla Tours
For those who have not been to Africa due to Covid-19, the time to start packing has finally come.
It is no wonder, because of international travel restrictions, travelers have been rightly frustrated by their inability to experience desired destinations – one of the most popular is gorilla trekking in Africa. However, Kenya and Rwanda have opened their airports for tourists, meaning there are again great experiential bucket list trips that can be added to a post-Covid-19 Uganda and Rwanda safaris.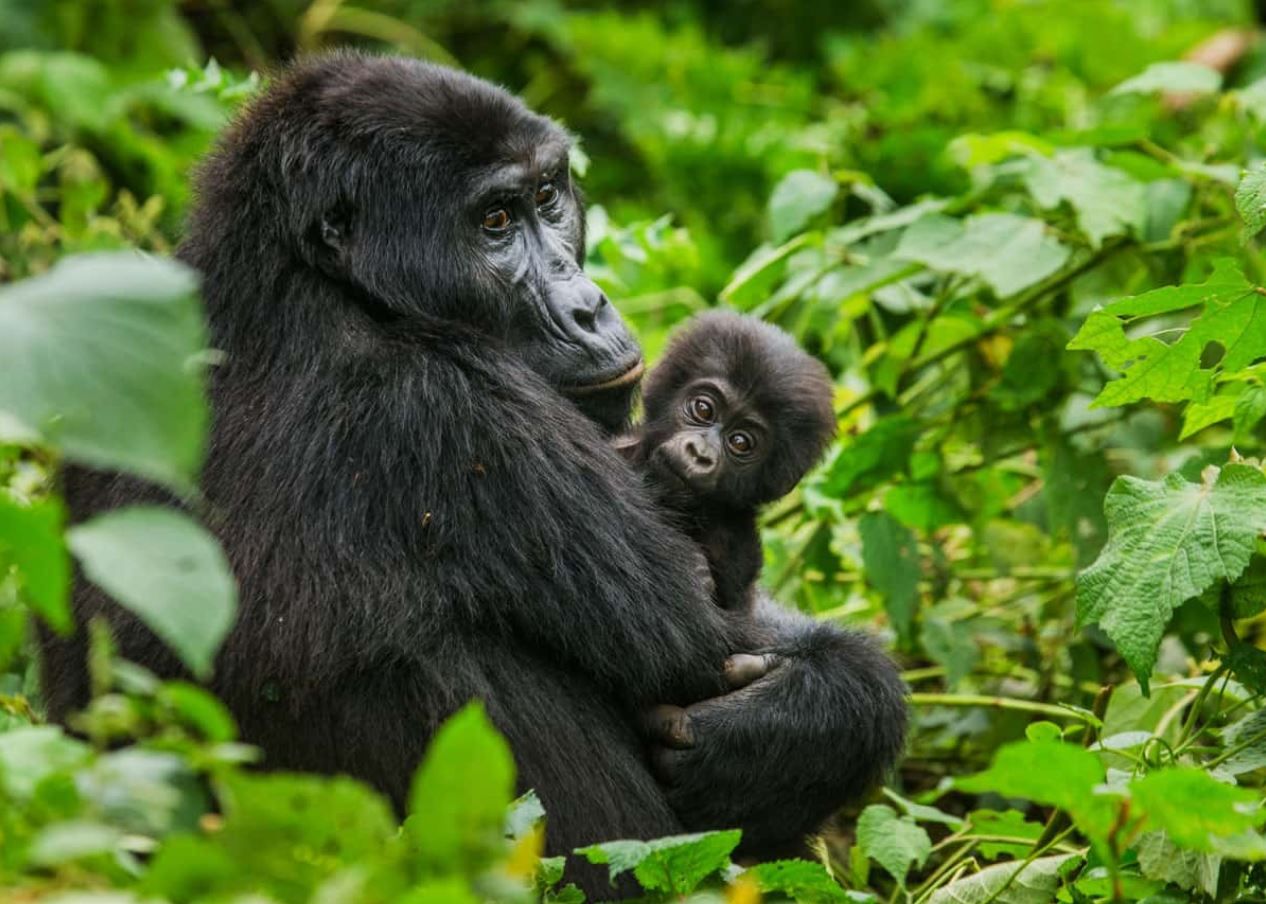 Gorilla trekking: Uganda and Rwanda
Among the best wildlife experiences in Uganda is gorilla trekking. Uganda has more than half of the world's population of mountain gorillas in two gorilla parks: Bwindi Impenetrable National Park and Mgahinga Gorilla National Park. Mountain gorillas are endangered -- with their global population currently at around 1,063 individuals. They are found in only three countries in the world including Rwanda and Democratic Republic of Congo. Rwanda is also a luxury gorilla safaris destination in Africa, offering great gorilla encounters in the wild. Volcanoes National Park is best for a one-day Rwanda gorilla trek.
Chimpanzee Tracking
The experience of tracking chimpanzees in Uganda, called the Primate Capital of The World, especially at Kibale Forest National Park. There, chimps exist in large numbers and are commonly seen playing and going about their business almost everywhere in their habitat. Both chimps and gorillas share about 98% of the human DNA , so many visitors expect to see, breathtaking human-like behavior exhibited by these primates.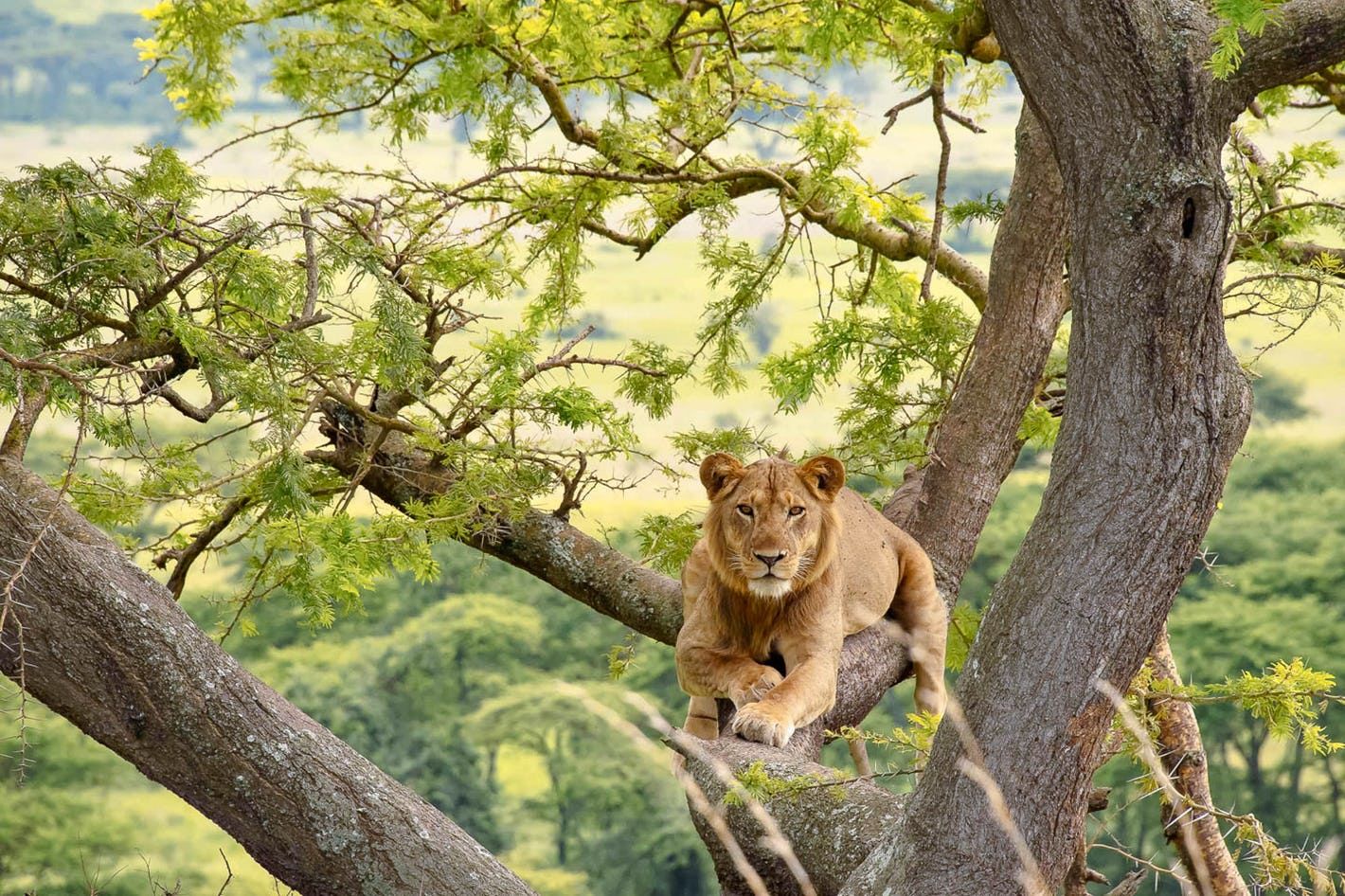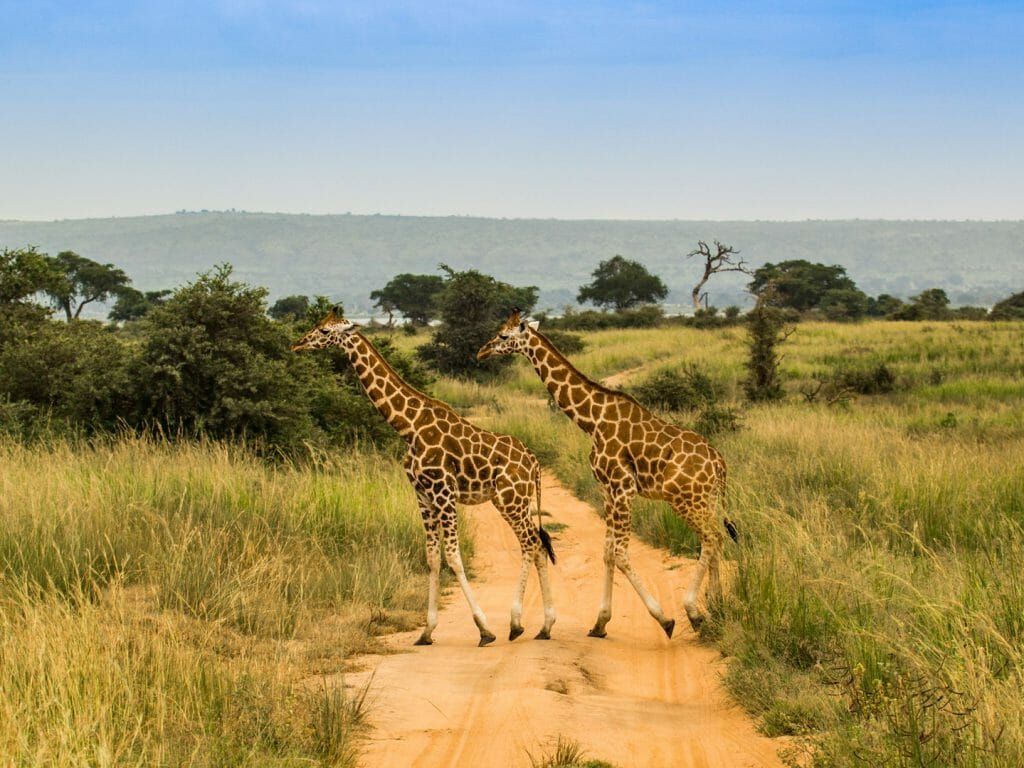 Game Viewing
Uganda is one of the best game viewing destinations on the African continent with over 400 mammal species, including the famous "Africa big five" in over 10 game reserves across the country. Big game in Ugandan parks include lion, leopard, elephant, buffalo, rhino, giraffe and zebra.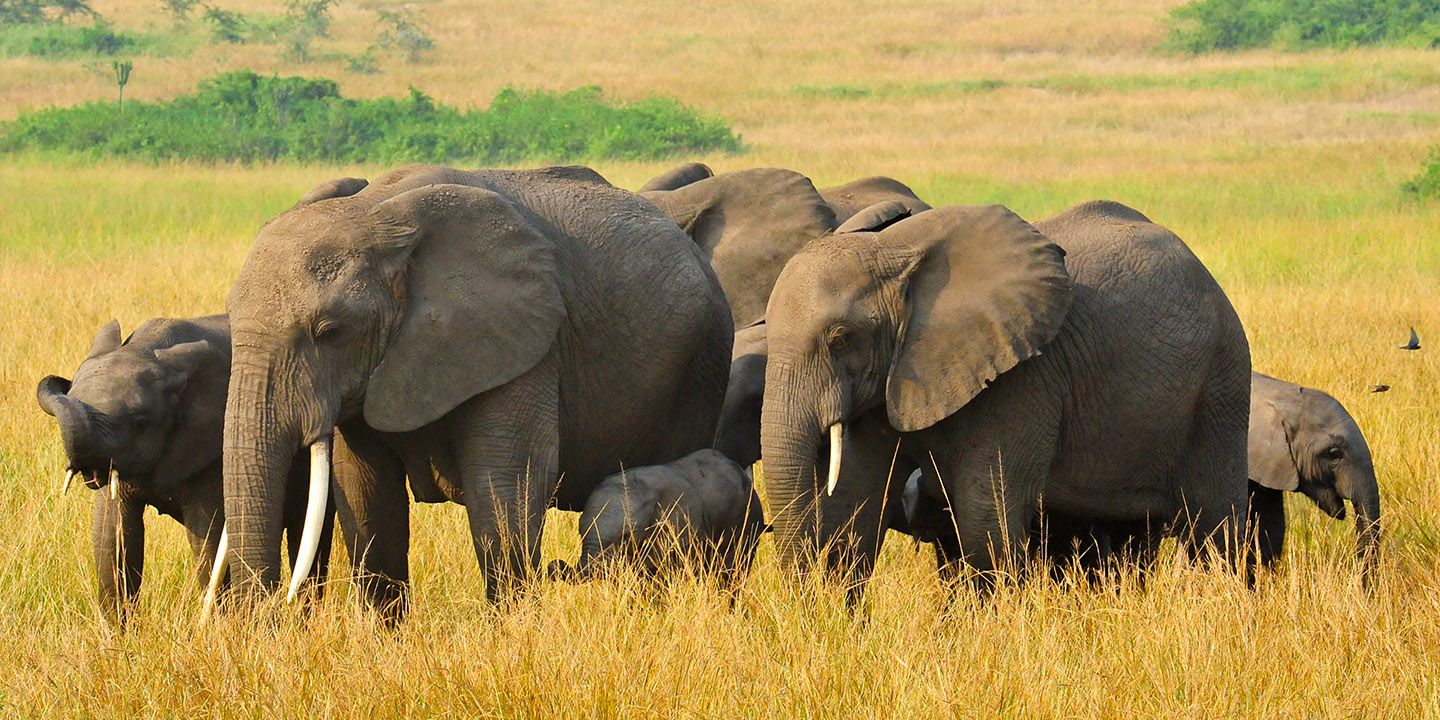 Bird Watching
Uganda is also the ideal destination for bird watchers with over 1,000 species of birds found within her national parks. Some of the best places for bird viewing in Uganda include Queen Elizabeth National Park which has over 600 bird species, as well as Semuliki National Park and Kibale Forest National Park.
Practical Information: Planning A Post Covid-19 Trekking And Tracking Safari
Uganda Gorilla Safaris offers reliable, up-to-date and important travel advice for those who wish to travel to Uganda and other African countries.
Below is important travel information for planning an African Trekking Safari
•Vaccinations: Centers for Disease Control and Prevention in Uganda require travelers to vaccinate for Hepatitis A, Hepatitis B, Yellow Fever, Meningitis, Rabies and Measles. Also visit one's family doctor for a thorough check-up before traveling.
•Weather: Uganda can be visited all year round. However, dry season between the months of June, July, August, September, October, December, and January is the best time to trek mountain gorillas, and forest walking and birding. Other activities like birding watching are best done in the rainy season to see migratory birds.
•Driving in Uganda is on the left-hand side with a valid driving permit. Visitors on self-drive Uganda safaris are advised to hire experienced guides familiar with African roads to avoid getting stuck in the wilderness. The driving speed in Uganda is 80 km/hr. while in Rwanda it's 50 km/hr.
•Visa information. You must have a visa. You can apply for a visa online or through immigration. Those doing Uganda safaris through Rwanda can apply for an East African visa which allows you to travel within Uganda and Rwanda with no difficulty.
•Money to carry. US dollar note is the most acceptable currency by travel operators in Uganda. Most local transactions in Uganda shops and local markets are done in Uganda Shillings by cash. Remember to carry some local currency.
•Tipping Tipping your driver-guide, porter, room attendants, waiters, waitresses and local people in communities is optional but highly appreciated. The amount to tip is your choice depending on the quality of service received. Tipping motivates service providers encouraging them to work harder and ensure quality service delivery.
•Climate in Uganda. Uganda, called the Pearl of Africa, has a tropical climate with temperatures ranging between 25-29°C (77- 84°F); the rainy season in Southern Uganda ranges between mid-September to November, and March to May. The dry season stretches between December to February and June to July.
For further information about Gorilla Safaris 3 Day Uganda gorilla tour let Adventure Safaris help you with all your travel planning.