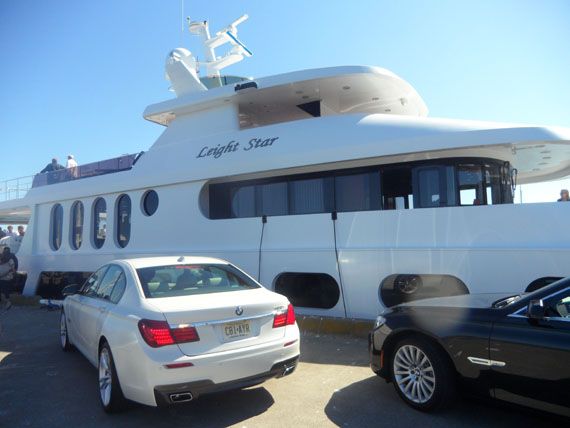 Luxury. Such a simple yet highly subjective word. For some, it is the culmination of wealth. For others, it is merely a game of perception. So, how exactly does one define such an over saturated word? Very carefully.
I like to think that after several years of working in the luxury market, I have come to develop a solid understanding of the concept. While there's no denying the many facets of luxury, there seems to be one underlying thread that holds it all in place. Luxury lifestyle.
Those who lead such a lifestyle appreciate the finer things in life and tend to constantly pursue quality goods and services along the way. Maintaining a luxury lifestyle goes beyond just the possession of designer clothes and luxury cars. After all, anyone with the means can charter a yacht, drive expensive cars, and dine at Michelin Star-rated restaurants. And because we're all human, it's only a matter of time before we want more — not more of the worldly items that already surround us, but rather more opportunities to experience the world around us.
So perhaps the best way to define luxury lifestyle is experiential.
Among the leading luxury brands to exceed the expectations of its affluent consumers is American Express. In fact, the Platinum Card from American Express, which was launched in 1984, was the first of its kind to deliver a loyalty program that rewards customers with the things they want most.
Since most luxury experiences often relate to travel, American Express cardholders receive exceptional benefits at airports and five-star hotels worldwide.
While cardholders can always expect the best creature comforts when traveling, the most memorable times are often those that take place outside the confines of an airport lounge or hotel room.
American Express helps Platinum and Centurion cardholders achieve such memories by offering an exclusive
By Invitation Only
program that transcends everyday travel. Throughout the year, select cardholders are granted access to once-in-a-lifetime opportunities and events that are not typically available to the general public.
So what exactly does an American Express By Invitation Only event entail? Some focus on fashion, others cater to the
epicurean
; most include behind-the-scenes access and meet-and-greets with well-known talent – and each provide memories that will last a lifetime.
Recently I had an opportunity to experience the luxury of By Invitation Only, and in the process, created some lasting memories of my own.
As a native Californian, I've spent a great deal of time exploring the Bay Area, but it wasn't until I traveled with American Express that I truly experienced the best of the city. Five-star accommodations at the
St. Regis San Francisco
and a private yachting excursion with Dennis Conner would surely satisfy any discerning traveler, but American Express is not about meeting expectations, it's about exceeding them.
So what could be better than sailing the
San Francisco
Bay with Mr. America's Cup himself? For starters, sharing wine and cavier with Mr. America's Cup while sailing alongside
Team Oracle
under a sweeping sky of Blue Angels' acrobatics. American Express made it happen.
After an exciting day at sea and a blissful night's rest at the St. Regis, it was off to
Yountville
for a taste of culinary perfection. A scenic drive through the countryside — in a fully-equipped BMW 7 Series, courtesy of American Express — led us to Chef Thomas Keller's famed Michelin-starred restaurant, The French Laundry.
Tucked away in the sleepy hills of Yountville, The French Laundry offers world-class cuisine, exceptional service, and above all, an epicurean experience unlike any other. Each course has been masterfully orchestrated by Chef Thomas Keller so that each bite complements the next and delivers a progression of flavor to the pallet. After a lingering lunch, a tour of the kitchen, and a stroll through Chef Keller's seasonal gardens, it was time to bid farewell to my new favorite restaurant.
If luxury lifestyle is in fact experiential,
American Express By Invitation Only
Platinum and Centurion cardholders are poised to lead an extremely rewarding life of luxury.
American Express Platinum & Centurion Cardholders Enjoy...
*Platinum Dining:
Card members can receive assistance with an array of dining requests – from reservations and suggestions to personalized experiences and more. They also enjoy access to some of the most in-demand restaurants and chefs worldwide and exclusive benefits at premium culinary events and festivals.
*Concierge:
The Platinum Card Concierge can assist Card members with personal tasks so they can have time to do what they want. From help securing last-minute table reservations at some of the finest restaurants around the world to special event planning to providing gift suggestions and sourcing, the Platinum Card Concierge is prepared to assist day and night.
*Platinum Benefit:
Airport Lounge Access (Platinum Card members enjoy complimentary access to participating AA Admirals Club, Delta Sky Club, and US Airways Club lounges with their card. By enrolling in Priority Pass™ Select, Card members can gain access over 600 participating airport lounges worldwide — no matter what class or airline you fly.
*Platinum Benefit:
$200 Airline Fee Credit (Platinum Card members receive up to $200 per year in credits toward incidental airline fees on the Card member's enrolled Platinum Card on their selected airline. Credit applies to bag fees, in-flight food and beverage, extra legroom seat upgrades, and airport lounge day passes.)
*Platinum Benefit:
By Invitation Only Platinum Card members can attend a multitude of exclusive events taking place throughout the year. The events typically include well-known talent, meet-and-greets, behind-the-scenes access, and give access to offerings that are not available to the general public.