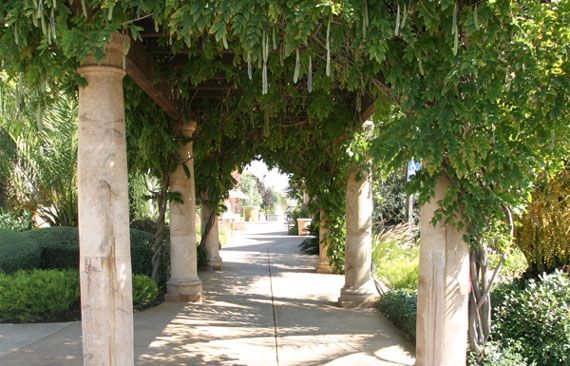 Yountville:
With over 450 wineries,
California's Napa region
boasts 4.5 million visitors a year. My recent trip to one of the World's Nine Wine capitals was limited to only three days, so I had to carefully schedule my time to relish the area's best. That brought me to Yountville, the quaint and budding town in the middle of the valley, a perfect landing spot for exquisite dining and lodging. Here is a very short list of my favorite finds:
Villagio: Yountville couldn't have asked for a lovelier hotel property than Villagio, with its 122 guestrooms. The hotel daily spoils guests with a champagne breakfast buffet, an elaborate afternoon tea, occasional bottles of wine, and a dozen or so more thoughtful touches that make stay special.

After a full day of driving to wineries throughout the valley, I was delighted upon arriving at Villagio to find wineries in easy walking distance. The property has its own vineyard and a short hike away to several wineries, including Jessup and Girard. Villagio is also just a stroll away from renowned restaurants, a few by Thomas Keller (see my French Laundry piece below), and handfuls of Yountville's charming stores and gardens.

Villagio's Spa was wonderful. Housed in a lofty wood beamed facility, Villagio's Spa maintains the same elements of warmth and elegance as the property: plush couches, fresh cut flowers cascading out of vases, and detailed tiling. I was pleasantly surprised to hear my treatment would be upstairs, in one of the Spa's suites. After noshing on fruit kabobs and chocolates, my sweet therapist led me to a massive suite. It was fitted with a fire place, private patio, elaborate shower, deep bath tub and a flat panel TV screen. Following my perfect deep tissue massage, my therapist invited me to linger in the suite and try the steam-filled, multi-jet shower room. This was the ideal energizer for the early evening and post-chocolate, post-massage trance I was in. On my next visit, I'm springing for the Body Strategist, a "nutritional" treatment that lathers exfoliated skin with a mask of pumpkin cells, tomato, artichoke and spinach extracts, and rice protein.




Bardessono: This naturalistic 62-room hotel is on my radar for my next Napa visit. With a rare LEED Platinum certification, Bardessono is seriously committed to sustainability, as well as intimate design and impeccable luxury. The Bardessono family selected Phil Sherburne, the epic green designer of the last two decades, to design the resort on the farmstead property, established in 1929. Green has yet to look this extraordinary.


The French Laundry: Before Yountville became anything more than an exit sign off the Napa highway, Thomas Keller was tromping around the sleepy outpost, admiring the scenery and scents that closely resembled the charm and character he remembered in French countryside. For it was France he apprenticed as a budding chef. In 1994, Chef Keller opened his intimate 16 table restaurant and named it The French Laundry. Soon, the restaurant garnered worldwide acclaim, making the French Laundry, and in turn, Yountville, a hot destination. So hot in fact, that there are hundreds of blog and website posts detailing how one may succeed in securing a reservation at the French Laundry.

Possibly one of the best restaurants of the world, I somewhat expected the French Laundry to be stuffed with a haughty aura. The entire staff completely dispelled that notion. It's one of the magical elements of Keller's creation. When I merely THOUGHT of needing an extra fork, a shawl to warm up with, or a refill of milk for my tea, it was already provided. This is service so anticipated, it's uncanny. What's more, our servers were engaging, fun, and elegant, again shedding any preconceived notion I had about the restaurant being highbrow.

The other magical element of the French Laundry is, of course, its cuisine. If people eat in heaven, then it's cuisine of the caliber and creativity of the French Laundry's. Our nine-course meal took nearly four hours, but it passed all too quickly. Every moment was filled with the delight of eyeing exceptional dishes and the joy of savoring food I never knew I loved so much. The menu changes daily and is prix fixe, although some dishes remain on the menu as signature items, such as the "Oysters and Pearls," a stunning dollop of pearl tapioca and creek oysters sitting on a pillow of White Sturgeon Caviar.

I can't begin to describe every dish we enjoyed because it would become a thesis, probably called, "Theories and descriptions of Food Served in Heaven." However, the Liberty Farm Peking Duck, dressed in caramelized fig and baby corn was one of my favorites. The other was the rabbit sirloin, from Devil's Gulch Ranch, served with a tart bing cherry truffle sauce and sunchokes.

Overall, for anyone traveling near Napa, or in the state of California, for the matter, a stop at the French Laundry is de rigueur.

Villagio

Bardessono

Bardessono

The French Laundry

The French Laundry