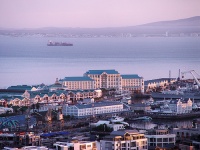 Getting Around Cape Town
Cape Town and its suburbs sprawl for miles, but with the ocean and the dramatic landmarks of Table Mountain and Lions Head the city is fairly easy to navigate. Most of the hotels are situated along the Atlantic Seaboard. Public transport is poor and often unsafe, so most visitors hire a car, particularly if planning excursions from the city. To rent a car, drivers need to be over 23 years old and have a credit card and a full driving license (the license must have a photo and be in English, otherwise an International Driving Permit is required). Driving can be a harrowing experience in Cape Town and lane changes confusing, with signage often easy to miss, and the same road can change names several times.
For trips within the city or to the Atlantic beaches minibus taxis are cheap and convenient and can be hailed by adventurous travellers anywhere along their route, but the vehicles are often in very bad condition and the driving can be appalling. Passengers should expect to pay around R5 for most journeys within the city, but are cautioned against getting into an empty minibus. Golden Arrow buses leave from the main bus terminal to destinations around the city; although timings can be erratic they can be a good option for those on a budget.
Tourists are advised to avoid the trains, with the exception of the Simon''s Town line, which runs through the residential Southern Suburbs, past Muizenberg and along the stunning False Bay coast. Pick pocketing is rife, however, and there have been several attacks on passengers.
Rikkis, or small, open rickshaw type vehicles, are a novel way to explore the city centre and Simon''s Town and are usually safe and reliable. Taxis are expensive but are a good option at night for those without a car.
Public transport should not be taken after dark and the outlying township areas should be avoided at all costs unless on an organised tour.