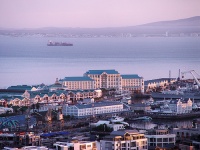 Best Restaurants in Cape Town
One of the many attractions of Cape Town is the quality and variety of restaurants in and around the city, which by international standards remain fantastic value. As well as a wide variety of international fare, there are numerous restaurants offering local Cape Malay dishes and traditional African cuisine, while seafood (especially sushi) is also extremely popular. Fine diners and families with young children will find they are equally well catered for.
Camps Bay and the Waterfront have a wide variety of restaurants, but many of the better ones are outside these tourist hotspots. The town of Franschhoek, 40 minutes outside Cape Town, is known as the gourmet capital of South Africa with plenty of first-rate restaurants, while many of the wine farms in Constantia and around Stellenbosch have fantastic restaurants for long lunching accompanied by a bottle of the superb local wine.
Visitors to Cape Town during the winter months should take advantage of "winter menus" offered by most restaurants - these are astoundingly good value deals, often packaged as a tasting menu of five courses or more.
Restaurants in Cape Town usually add a 10-15 percent service charge to tables of six or more; otherwise waiters expect a tip of 10-15 percent for good service. Recent legislation has banned smoking on all restaurant premises.
For a comprehensive list of restaurants in Cape Town check out