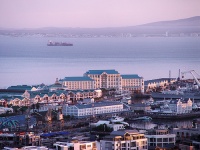 Cape Town Overview
The lure of a holiday in Cape Town lies in its spectacular setting and the beauty of its natural environment, as well as the rich cultural diversity of its people.
It has had a long and turbulent history, and the effects of Apartheid still linger in the minds and hearts of the people. Transformation, however, has led to a feeling of hope in this new 'Rainbow Nation', which can be experienced in the cosmopolitan city centre of Cape Town. Flower sellers, business executives, parking attendants, office workers and shoppers all rub shoulders in a setting of both historical and modern buildings, backed by the city's most famous landmark, Table Mountain. The colourful Malay Quarter, the remains of District Six, St George's Cathedral, Government Avenue and the old Castle are historically significant, while world-class African and international restaurants tempt travellers with their culinary delights. Although an African city, Cape Town has a marked European influence and visitors can experience the excitement of Africa from the comforts of First World surroundings.
Cape Town's unique setting means that it can be enjoyed from various vantage points: Table Mountain, Lion's Head, and Signal Hill provide breathtaking vistas over the city bowl and the Cape peninsula with its beautiful beaches; trips to Robben Island offer a dramatic sweep of scenery across to Table Bay; and harbour tours and old buildings await exploration at the cosmopolitan Waterfront. Many scenic routes meander along magnificent stretches of coastline and inland terrain leading to special places like Cape Point, the meeting place of the cold Benguela and warm Mozambique currents; and Chapman's Peak, which boasts one of the most picturesque drives in the country.
It is a city with four distinct seasons, each working its particular magic on Cape Town and bringing with it a flood of associations - summer and white sandy beaches, autumn's crisp colours, the ferocity of stormy seas in winter, and spring's show of Cape flowers.
This vast combination of culture, history and scenery leads to an unforgettable experience. This is a special place with much to contribute towards its growing reputation as a favoured travel destination.