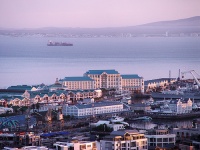 Cape Town Nightlife
By far South Africa''s most cosmopolitan city, Cape Town''s nightlife is definitely something to write home about. This multicultural city has something for just about everyone from fashionable bars and watering holes to classy dance clubs and hotel bars, and visitors and tourists alike will find themselves brushing shoulders with the who''s who in Cape Town''s social scene.
Kick things off by sipping on a cocktail and watching the sunset at one of Camps Bay''s trendy sidewalk cafes in the summer, offering fancy cocktails and gorgeous ocean views. Somerset Road in Green Point is where the main gay and lesbian clubs and bars are situated, although it is not uncommon for straight people to frequent these places.
If that doesn''t float your boat, head to Observatory for a more bourgeois bohemian experience with students from the University of Cape Town. Everything happens at a slightly slower pace here and pool halls, reggae bars, avant-garde eateries and live music are the order of the day. For a younger and more mainstream clubbing experience, head to main road in Claremont where teens prefer to drink and dance the night away at clubs like Tiger Tiger.
Long Street in the centre of town is the heart of Cape Town nightlife however, particularly the mountain end. There is just about every kind of bar or club on offer, from live music and deejay bars to pubs, dance clubs and the more trendy and laid-back ''lounge'' variety. It''s can be a difficult and confusing task choosing a venue to while away the hours, and you are likely to find people from a myriad of nations wandering the streets on weekend nights. Be wary of the numerous pickpockets in the crowd, however, and keep close watch on cell phones and wallets. This strip is happening all the time and there are plenty of quieter and less packed spots hidden away off the side streets. Near to Long Street, The Fez is a long-running popular club where you might run into international celebrities like Paris Hilton, Prince Harry, or Leonardo DiCaprio. There is almost always a great line-up of original South African bands playing at lots of venues around Cape Town, the most popular for rock and alternative music being Zula Sound Bar, Mercury Live and The Assembly, while Manenberg''s Jazz Café at the Clock Tower is a great spot to tap your toe to a bit of jazz.
For culture vultures, there are great local and often international shows to be seen at one of the many theatres such as the Theatre on the Bay, the Baxter Theatre or ARTscape while On Broadway hosts a wonderful mix of comedies and farces. The Cape Town City Ballet, the Cape Town Philharmonic Orchestra, and the Cape Town Opera are all world-class performing groups. Maynardville Open-Air Theatre hosts Shakespeare in the Park performances in Wynberg every summer.
Unfortunately, there is little to no public transport after 7pm in Cape Town, besides private taxis which often need to be booked in advance and can be very expensive, so it is best to organise your own car - but make sure there is a designated driver as the accident rate on weekends is frighteningly high and police road blocks are common. Due to recent legislation, bars and clubs in Cape Town stop serving alcohol at 2am.