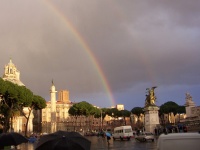 Rome Kids Attractions
Rome has been an enticing, romantic holiday destination for decades, drawing art- and history-lovers from all over the world. This may seem more appealing to adults, but Rome also has a barrage of culture and entertainment to offer children.
A holiday with kids in Rome is made fun and easy by the vast amount of parks, theatres and entertainment centres; while a multitude of galleries and museums bring beautiful images and legendary characters to life. Historical sites, such as the Roman Forum and the Colosseum, are also great for kids to explore.
Most of the attractions in this beautiful, ancient city can be enjoyed year-round. However, the best time to take children on holiday to Rome is during the spring (April and May), when comfortably warm temperatures and blue skies make for perfect sightseeing adventures.