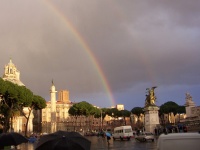 Rome Shopping
Rome, only too aware of its popularity with international tourists and investors, is an expensive shopping destination; however, some deals can be found on trinkets like crafts, leather goods and glasswork. To find these bargains, look to the markets of central Rome, which operate Monday to Saturday from 7am to 1pm. On Sundays, the popular Porta Portese flea market operates from the Trastevere district. While this market is stimulating for shopping enthusiasts, Rome has some of the most skilled pickpockets in the world, and visitors are advised to take care with their possessions.
Another reasonable shopping option popular in Rome, is second-hand book and clothing shopping, with an abundance of stores located throughout the city. Antique shopping is also pervasive but could prove expensive for those who aren''t sure of what they''re doing!
If you have the means, Rome has an assortment of boutique stores, with brands like Prada, Valentino, Gucci and Fendi all represented in the Piazza di Spagna. The Piazza San Silvestro exhibits Rome''s best jewellers, such as Bulgari and Martinelli, among others. In Via del Corso one can find, in addition to an assortment of clothing department stores, the flagship stores for Ferrari (which is worth a look if nothing else) and Swarovski, with exquisite crystal-wrought crafts.
Non-EU tourists can apply for a tax refund of 20 percent on a slip of EUR154.94 or more, so long as the amount is spent in one store. Alternatively, look out for stores which participate in tax-free shopping: they will have a tax-free logo prominently displayed.