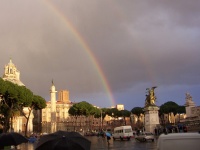 Things to do in Rome
They say: ''When in Rome, do as the Romans do'' - but in a city filled with two millennia of history, there''s much to do and even more to see. Among Rome''s more renowned historic attractions are the Colosseum, the Roman Forum and the Pantheon. The Vatican, locus of the Roman Catholic Church, lies within Rome''s borders and alongside is the Sistine Chapel with its famously painted ceiling. Once the seat of the mightiest empire in existence, the culture of Rome has shaped the face of art, architecture, law, warfare, literature and language in the Western world today; in fact, some refer to Rome as the ''cradle of Western civilisation''.
Most of the historic sites are within walking distance of one another, and it is advisable to walk and take in the city''s architecture while the frantic road traffic passes you by. Otherwise, a taxi or bus is the recommended means of travel. A bustling metropolis, Rome is constantly abuzz with tourists and locals; however, in the late summer, around August, a short holiday window sees locals heading out of the city and providing a little congestive relief.
As of 1 January 2011, the local authorities in Rome implemented a supplementary EUR1 ''tourist tax'' charged on all museum and monument entrance fees. All visitors who do not hold a valid Rome ID will be charged the extra fee. The revenue collected will be used on the maintenance and upkeep of the city''s treasured sights. The same tax is added to hotel fees: tourists to the eternal city are required to pay a supplementary EUR2 per night for stays in three-star hotels, while an extra EUR3 per night is added to the bill of those staying in five-star hotels.