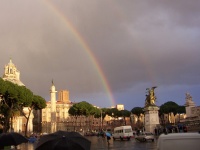 Rome Nightlife
The nightlife in Rome is laid-back, in true Italian style. People like to sit at cafés or restaurants taking their time with lots of food, wine and coffee. Campo dei Fiori, the Piazza Navona area and Trastevere are some of the best places for bars and cafés, while the Testaccio and Ostiense districts are better for nightclubs. Roma C''è and TrovaRoma (free with La Repubblica newspaper) have information on nightlife in Rome.
There are many wine bars and cafés near Campo de'' Fiori, Piazza Navona and Via della Pace. Bar del Fico is good for cocktails and Zest at Es Hotel has a lovely poolside bar. The Vineria, in Campo de'' Fiori, is very trendy and often frequented by movie stars. Freni & Frizioni in Trastevere was a former car workshop, its name translates to Brakes and Clutches. Cafés in Trastevere attract visitors to see Piazza di Santa Maria''s fountain and 12th-century church lit up at night, as well as occasional guitar performances.
Party with the rich and famous at Gilda, close to Piazza di Spagna, or watch paid dancers at Alien on Via Velletri. In Ostiense, hear some great DJs at Goa, or visit Classico Village for good Italian pop, rock and jazz concerts. There are also various , where both eating and dancing are enjoyed. When the clubs close for summer, there are numerous outdoor venues around town and near Ostia; outdoor festivities on Via di Monte Testaccio, in Testaccio, take centre stage and include food stalls and markets.
The Teatro dell''Opera is home to the Rome Opera Ballet and opera is performed at the Baths of Caracalla''s open-air ruins in July and August. Rock bands often perform at Stadio Flaminio and the Palazzo dello Sport.