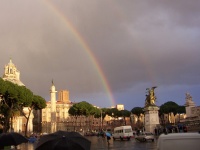 Best Restaurants in Rome
Rome is delicious and affordable when it comes to dining out - and while everyone in the world may claim to ''love'' Italian food, you cannot really compare ''ordinary'' pizza and pasta to the wonderful dishes you can sample in the nation''s capital. Italian food prepared in the Italian tradition is strong on flavour, meagre in ingredients, richer, and high(er) in calories.
The typical meal is accompanied with a (garlic canapé) and grated cheeses. Not surprisingly, pastas and pizzas are provided in abundance, the local varieties of which are not to be missed. Red meat and seafood dishes in the international tradition are also on offer but are more expensive and come in less generous servings.
There are three main kinds of restaurant in Rome. An is an informal gathering-spot, serving basic spaghetti meals and some wine. are more languid, bistro-style affairs, offering large meals in a homely setting. A offers the white table-clothed, silver spoon and wine-list dining experience preferred by the more lavish-living among us. All three can be found in the popular districts of Centro Storico, along Via Cavour and around Stazione Termini. The Borgo district near the Vatican offers the cheapest dining options in Rome.
Breakfasts in Rome, as in most of Italy, are minimal, and people rarely leave the house for their first meal of the day. The main event is lunch, which sees restaurants open between 1pm and 3pm and most locals enjoy their lunch breaks in three courses!