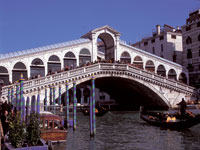 Venice Kids Attractions
With such a rich and diverse cultural history, many would think that Venice would be a dull holiday destination for kids. But on the contrary, this beautiful canal-lined city offers its younger visitors plenty to see and do.
Obviously a ride on one of the famed gondolas will be a memorable experience for children of all ages, and highlights are guaranteed to include spotting the fire fighters'' boat, the ambulance boat and many more. While parents are admiring the architecture in St Mark''s Square, be sure the kids have enough breadcrumbs to feed the hundreds of pigeons this square is known for. Kids will also enjoy the Peggy Guggenheim Collection, as there is lots of space to run around outside, and Parco delle Rimembranze is probably the best-suited park for children in Venice and a great place to head for a picnic or a stroll. For outdoorsy families, a hike or walk in the Po Delta Natural Park is a must.
On rainy days, visit some of the museums this historic city has to offer, such as the Naval Museum or the Museum of Natural History. A trip to the nearby island of Murano is also a must, where children will be mesmerised by the glass-blowers and their incredible creations.
| | |
| --- | --- |
| | The Lido di Venetia, a 13-mile (20km) sandbar that's home to about 20,000 people, is one of Venice's trendiest areas. Looking out on the Adriatic, the Lido is where Venice's International... |
| | On the Lido de Jesolo is Aqualandia, a great new water/theme park that has been earning rave reviews from visitors to Italy. A wonderful selection of attractions such as pools, slides and... |
| | Kids will love the Museum of Natural History, which is home to the skeleton of an Ouranosaurus found in the Sahara Desert by a Venetian palaeontologist in 1973. The museum also features... |
| | With a rich and fascinating maritime history, Venice's Naval Museum is a great place for kids to explore. Displaying intricate models and, in many cases, the real-life thing, kids will find... |
| | The Venetian Island of Murano makes for a great trip for the whole family. Visitors can enjoy watching the local art of glass-blowing and be amazed by the products that are created. And since... |
| | One of the nicest parks in the city, Parco delle Rimembranze is the best suited to a fun day out with the kids in Venice. Featuring plenty of play areas for children and a roller-skating rink,... |
| | Visitors to the Po Delta Natural Park can enjoy a day exploring the great outdoors. Discover the park by bike, boat, canoe, horseback or on foot. Tours are also available for those who want to... |
Travel guide by (c) Globe Media Ltd. By its very nature much of the information in this travel guide is subject to change at short notice and travellers are urged to verify information on which they're relying with the relevant authorities. We cannot accept any responsibility for any loss or inconvenience to any person as a result of information contained above.